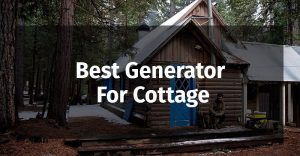 Cottages have been used by many people and for different reasons. When relaxing or doing your thing in a cabin the last thing you need is a blackout. The old days are gone where you would lit a candle or a kerosene lantern to lighting.
Today there are generators that you can fix to your cottage for electricity supply. However, when it comes to choosing the best generator for the cabin, it becomes a problem.
Today the market is full of different brands and types which come in various features and characteristic making it quite confusing while picking. I believe you have experienced the same problem and that's why you're reading this.
I won't disappoint you. I have prepared a simple yet comprehensive review and a buying guide to help make the best decision in selecting the best generator for a cottage. Read it through, and I promise before you even read the conclusion you will have found the best and perfect model.
The 6 Best Generators For Cottage in 2021
If you're looking for the best generator for cottage that uses clean energy and powerful enough to charge your phone, power a small TV and also light up your cabin, then WEN 56200i is what you need.
The unit is a super quiet inverter generator that comes with a portable design featuring a handle. The model can generate 2000 surge wattage and 1600 running watt power.
It uses a 79.7 cc four-stroke OHV engine which operates at a super quiet 51 dB at 1/4 load. The model also features an ultra-efficient 1-gallon fuel tank which provides over six hours of 1/2 load run time.
With the Wen eco-mode, you can maximize the fuel economy by allowing the generator's motor to adjust its fuel consumption automatically. I love the parallel capability on this generator as it will enable you to parallel connect another WEN 56200i to double the power when needed. You will also like to hear that the generator features a lightweight design with a convenient carrying handle which makes it super portable.
Pros:
Automatic Low-Fuel Shutdown
Two three-prong receptacles
EPA III and CARB Compliant
Parallel Connection Ports
Extremely quiet operation
Two-Year Warranty
Cons:
Not effectively designed
No door on the oil-fill cover
Gift yourself with the best generator for cottage which allows you to enjoy personal time by getting a Westinghouse WH2200iXLT. It comes as a super quiet inverter generator with a portable design.
The Westinghouse generator is rated 1800 watts with 2200 peak watts. It is gas-powered and CARB compliant so feel safe while using it. Furthermore, the generator comes with a simple plug-and-plug functionality which makes it more convenient. It covered by a three-year warranty and a lifetime technical support.
The fact that this generator produces low THD makes it safe for your sensitive electronics. The parallel capability allows you to combine your Westinghouse WH2200iXLT with another Westinghouse WH2200iXLT to boost the available wattage and amperage. It's also compatible with the iGen1200, iGen2200, and iGen2500 models.
Pros:
13 Hours of Run Time
Oil Capacity: 400 ml
1.3 Gallon Gas Tank
Efficiency Mode
Three Year Warranty
Cons:
No 24 Hour customer service
Hard starting in colder weather
The Westinghouse WGen7500 is a portable generator that has been used by many customers and proved to be among the best generators for a cottage. Among the features that make it the best and useful is the remote electric start which allows you to power it on remotely.
It has a power of 7500 watts and a peak power of 9500 watts which is quite enough to power up small household equipment. The unit is gas-powered and comes transfer switch ready.
The power of this beast comes from the powerful 420cc Westinghouse 4-stroke OHV engine that comes with a robust iron sleeve. The engine also features a digital hour meter and automatic low-oil shutdown which turns off the engine when the oil level gets too low. Best of all, it comes with everything you need to have it working except for the gasoline –minimal assembly required.
Pros:
Push-Button Electric Start
Transfer Switch Ready
Remote Start Key Fob
Easy Maintenance
3-Year Warranty
Dual Fuel
Cons:
No DC charging
No gasoline drain
The Champion Dual Fuel Portable Generator is a model that you will love having in your cottage. It's a powerful 3800-watt generator with a fast push-button electric start and features a dual fuel system that allows its 224cc engine to run on either propane or gasoline.
The model also features Volt Guard, Intelligence, and cold start technology enabling it to run to up 10.5 hours on propane or 9 hours on gas. The portable design also has a folding handle and no-flat tires which makes it more mobile.
The Champion uses Dual Fuel Technology to runs on either GAS or PROPANE straight out of the box. It's fitted with a safety fuel selector switch which allows you to switch between the two fuels safely. Additionally, the generator comes with an automatic low oil shut-off sensor which protects the engine when the oil goes too small.
Pros:
Runs on PROPANE or GAS
Durable Cast Iron Sleeve
Push-button electric start
3-year limited warranty
4-stroke engine
Low Oil Shut-Off
Cons:
A bit loud
Difficult do an oil change
5. DuroMax XP4400E Portable Gas-Powered Generator
If you're in need for the best generator for a cottage, then DuroMax XP4400E is an ideal choice for you. It's a powerful 4,400 watts, 4-cycle gas-powered generator that feature a portable design.
It comes with a wheel kit and an electric start. It features a powerful 7.0 horsepower air-cooled OHV engine that runs quietly because of its well-designed muffler, emitting 69dB noise only.
The device also features a four-gallon fuel tank that provides continuous power for up to eight hours in 50 percent of its maximum load.
With the Duramax noise isn't a problem thanks to the super quiet muffler which reduces engine noise. When it comes to fuel efficiency, this generator is a king. Its idle control holds the engine rpm at a constant level even when connected to heavy loads for better fuel savings and excellent noise reduction.
Pros:
Durable air-cooled engine
Heavy-duty steel frame
Super quiet muffler
Low oil shut down
Electric Key Start
Cons:
No run-time meter
Inconvenient oil drain
Customer service isn't up to par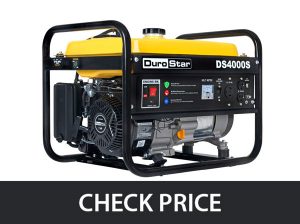 Enjoy a great relaxing time in your cottage without worries of blackout when you install the DuroStar DS4000S. The DuroStar DS4000S is a portable gas-powered generator with a rating of 3300 running watts and 4000 starting watts, making it ideal for lighting and powering a small house like a cottage.
With this portable generator, you will be able to safeguard your family. The unit also comes with a super quiet muffler which reduces engine noise. Additionally, this durable Durostar generator uses a 7 HP, air-cooled OHV engine that features low oil shutoff which protects it when the oil level gets too small.
Connect your cottage appliances and lights without any worries as the generator features urge-Arrest which protects your generator and its loads from power surges. When it comes to durability, there is no doubt this generator is built to last.
It features all-metal construction for improved durability. Give yourself the best time with a generator that provides reliable and continuous power for extended runtime.
Pros:
Easy-to-read fuel gauge
Air-cooled OHV engine
Heavy-duty steel frame
Super quiet muffler
4-gallon fuel tank
Low oil shutoff
Best Generator For Cottage Buyer's Guide
Buying the best generator will require more than a list of top best models. You need to check some factors and features to ascertain it's the ideal model. The following considerations will help you determine the perfect generator for your cottage.
Your power requirements
Your power requirements will help you decide on the generator power you require. Depending on what you want to power in your cottage, you will need to do an estimate of the total wattage required. The best thing is to get an electrician to help you. Use this info to estimate the best generator wattage that will work great for you.
Outlets
Once you have known the amount of power you require, it time to determine the power outlets you need the generator to have. Will you be connecting the appliances directly or will you be having a circuit wiring running through your cottage? If you are connecting your appliances directly, you will need a unit that comes with 120v AC outlets and maybe some USB ports.
If you go for a heavy-duty generator, you will find that they come with both 120v and 240v outlets. If you are wiring the generator to the cottage electrical system, then you will need a unit with 240v plugs. Additionally, if you will be using the generator from outside make sure it comes with GFCI protected outlets.
Noise Level
A cottage requires the noise level below. If you are in an area where neighbors, they will appreciate it if you use a quiet generator. The best generator for the cottage will need to feature a smooth design to give you and your neighbor-if any some quiet time. You need to know that a model with 4000 watts or higher wouldn't be categorized as a smooth model. Also, the diesel generators are louder than a gas generator, so, keep that in mind while doing your search.
Fuel Tank
The larger the fuel tank, the longer the generator will be running before you can refuel it. Many generators feature a fuel tank that gives them 7-9 runtime hours at a 50% load. That means you will run longer when you use a lesser load percentage and shorter if you run a more substantial amount. If given a choice for a large and small fuel tank, it's better to go larger. But remember, large fuel tank means the generator will be more massive especially when full fuel.
Starting
Some generators come with a (one push) electric starter while others come with a recoil cord for starting the engine. If your budget doesn't constrain you too much, go for an electric start. It is a one push button that will make super easy for you to start the generator. Remember, most of the generators use lead-acid batteries like a car while others use lithium-ion batteries. No matter what kind of cell you model to use, you need to make sure you charge the battery before use.
GLOBO TOOLS OVERVIEW:
Where are you plan on placing your generator after buying? Is it well prepared? Will you need the help of an electrician to connect it? These questions require your answers before you buy your unit.
Get the placement area cleaned, with a solid base and free of water. If you are wiring the generator to your cottage electrical system, then get an electrician to do the job for you. Hoping that the above information has provided you with the best generator for the cottage, it's your time now to head to the market and get.
Related Articles: