What do you do if there is a power outage? Most of us run to their power backup generator. Most of the generators are standby models that are meant for use in that one area.
So what do you do when you need the same power supply while camping, tailgating or which staying at motorhome or cottage? It's here that you start thinking of the best portable generator 12000 watts.
An excellent portable 12000-watt generator will supply you enough power wherever you want it. So, how do you find the best in the current market? As you might have noticed, the current market has lots and lots of models that become so hard to pick the best.
I have prepared a detailed review that presents to you the best portable generator 12000 watts models available and a buyer's guide to help you. Use this information to find the one model that will offer you the best service.
Top Best Portable

12000

Watts

Generator  in 2021
The Westinghouse WPro12000 comes as an ultra-duty Industrial Generator with 12000 Rated Watts and 15000 Peak Watts. It is gas-powered. It also features an electric and Remote Start.
Furthermore, the model has been built for the most stringent power requirements. The generator is moreover is OSHA and CARB Compliant.
It is made from cast iron sleeve that features internal components. The unit runs on a 713cc V-Twin OHV engine that runs for around 16 hours with its 10.5-gallon gas tank.
Additionally, this WPro12000 feature protective features which are designed at prolonging its service time. It comes with a fully GFCI protected panel and also is fitted with an automatic low oil shutdown, that turns off the engine when the oil level goes below the required.
Pros:
Ultra Duty OHV V-Twin Engine
Automatic Low Oil Shutdown
Rubber Outlets Covers
Remote Electric Start
Digital Hour Meter
Full Panel GFCI
Cons:
Somehow expensive
Flimsy plastic parts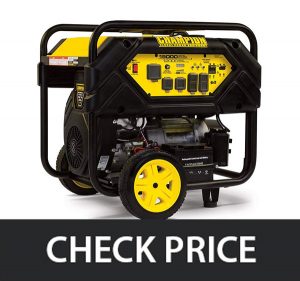 The champion portable generator with a lifting hook and an electric is what you need if you are seeking for the best portable generator 12000 watts model that is constructed with safety and convenience in mind. It comes with intelligence that monitors voltage, operating hours and frequency.
The lifting hook employed on this model plus the U-shaped handle and the flat-free tires make it super easy to carry, load and move it anywhere you need power.
The Champion 100111 engine is protected from low oil levels by the small oil shutoff sensors which turn it off whenever the oil level goes too little. The convenient electric start makes it quite simple for anyone to start the generator, even for the beginners.
Pros:
4-Stroke 2-Cylinder Air Cooled Engine
Durable steel frame
Low Oil Shut-Off
Electric Start
Lift Hook
Cons:
Quite heavy
The engine requires lots of maintenance
Most generators aren't accepted for use in most states like California for not being EPA and CARB compliant. But that isn't an exception with the Ai Power SUA12000EC as it's CARB and EPA compliant allowing to use it in more than 50 states.
It features 12,000 starting watts and 9,000 running watts provided by its powerful 16Hp 459cc single-cylinder engine which is air-cooled keeping it from overheating. It's a four-cycle engine that features a quick electric start making it much easier to operate.
If you've many appliances to connect, do not worry as this model comes with multiple front panel outlets which allows you to distribute the load, thus minimizing the generator strain. Its ergonomic handles make it easy to transport and store.
Pros:
An ergonomically angled control panel
Powerful single-cylinder engine
High-performance alternator
Multiple front panel outlets
EPA, CARB compliant
Cons:
Expensive
Somehow loud for some customer
4. WEN 5613K – Gas-Powered Portable Generator
If you need the best portable generator with 12000-watt power, then you need to try out the WEN 5613K. It is a gas-powered model that has 11000 running watts and 13000 starting watts.
Yes, it might be over 12000 watts, but in most cases, it will provide you with 12000 watts. It brings a safe and reliable source of backup power. It comes with an electric start and also features a padded down-folding handle and wheel kit for better portability.
Its reliable performance relies on the durable, dependable twin-cylinder engine that runs silently. The low oil shutdown protects its internal components that might wear out when the lubricating oil runs low.
Pros:
Wheel and Handle Kit
Twin-Cylinder Engine
8-Gallon Fuel Tank
Low Oil Shutdown
2-Year Warranty
Cons:
Heavier than advertised
Quite loud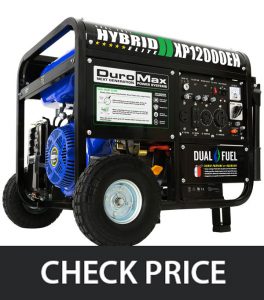 The DuraMax Hybrid, a dual fuel portable generator, is what you need if you're looking for the best portable generator with 12000 watts. It offers great versatility and will get you prepared for any home power outages.
The 12000-watt power will give you comfort against weather storms. Its lightness and portability allow it to be used in camping, tailgating event or a motorhome. It can handle both propane and gasoline to provide a reliable power supply.
Another thing worth mentioning about this model it the heavy-duty construction. It features a heavy-duty frame and fully isolated motor mounts which ensures that this model can handle the vibrations while also keep its components safe.
Pros:
Fully isolated motor mounts
Smooth, quiet operation
Dual fuel technology
Heavy-duty frame
Full power panel
Low oil shut-off
The A-iPower is a powerful 12000-watt portable generator that will provide you with enough power wherever you want it. It is powered by A-iPower 459cc powerful engine that gives out 12000 starting watts and 9000 watts running power.
It's an ideal match for those seeking the best portable generator 12000 watts model perfect for the construction side of home backup power supply. It features a keyless one-touch electric start allowing an easy machine to start up.
The convenience of starting this generator is quite simple, all you need is to press the one-touch electric start, and you will be good to go. The wheel kit on this generator allows you to take power wherever required and with ease.
Pros:
Steel fuel tank construction
Rigid tubular steel frame
Built-in DC Adapter Plug
GFCI Protected Outlets
Powder coat finish
Electric Start
Wheel Kit
Cons:
Somehow hard to move around
Expensive
The Cat RP12000E is a portable gas-powered generator that is designed for heavy-duty and ready for big jobs. The machine can comfortably power your home, play, and work. It's high-quality and easy to use features makes it quite convenient and useful.
Caterpillar has designed this model to offer you what other big, portable and fancy generators can give. The model also comes with a rugged steel frame, padded bar handle, and lighted operators station features that allow it to last for long.
I wouldn't like to forget mention that it works with a powerful, reliable V-twin OHV motor which allows it to prove excellent reliable performance. With its portable and weight balanced design, this generator is ideal for any outdoor activities.
Pros:
Powerful V-Twin OHV motor
Weight balanced design
Pressurized oil system
Removable lifting eye
3 Year Warranty
EPA Compliant
Cons:
Flimsy plastic parts
Metal parts not that strong
The New XP12000E is yet another well-performing 12000 watts generator from DuroMax. It comes with a lightweight and portable design that will allow you to have a power supply wherever you need it. It's also prepared to provide you will enough power when there are any power outages.
Many call it the "BEAST" because of the electric power it provides as it matches the electric power found on most high-class home standby units. The unit will give you and your family a comfortable uninterrupted life.
Another thing I love about this "Beast" is the structural design. Everything on this generator is designed to support a smooth long-life service. It features a heavy-duty frame that protects its components. The engine also features a rust-free sleeve protecting the internal components while also radiating the build-up heat.
Pros:
Smooth, quiet operation
Isolated motor mounts
Heavy-duty frame
Full power panel
Low oil shut-off
Quiet Muffler
Cons:
Not suitable for RV use
Non-CARB compliant
12000

Watts

Generator

Portable Generator

Buyer's Guide:
After knowing the best products available it's high time you understand how to pick the perfect model. The following are some of the consideration that you can use to find the ideal and the best portable generator 12000 watts model for your need.
Power requirement
What do you intend to power? What is the purpose of the generator? How many wattage power do you need to form the machine? You need to get answers to all this question for you to understand what size and electric power you need. Under most circumstances, you'll find that the total wattage of your appliances will tell you the amount of electric power you need. If it becomes hard to determine the electrical power you need, then you can ask an electrician to do it for you.
Storage space
How much space do you have for storage? Will you be storing it in a garage or will you need a small structure for it? Depending on the size and space for the room, you need to pick a model that fits perfectly and can also leave some extra space. But remember not to compromise quality for size.
Noise level
Even though you need a portable generator 12000 watts model, you need to make sure it's not too noisy. That way it will be friendly to your ears every time you turn it on.
Start
Some models with a power of 12000 watts use a recoil cord which is hard to apply to power on the generator for some people. For you to avoid the hassle, pick a model that comes with an electric start. That way you will need to push a button or turn on a switch, and you'll be good to go.
Warranty
A generator is a machine that can fail anytime due to manufacturer defect. You need to protect yourself from paying for repairs you never caused by getting a model that comes with a warranty. Additionally, a model from a brand that offers lifetime support will help you get an assistant when you get stuck when operating the machine.
GLOBO TOOLS OVERVIEW
A suitable generator will give the power you need and any time you need it. The end is here, and I hope I have been able to shorten your searching process and helped you get the perfect and the best portable generator 12000 watts model.
Read Also: