Champion Power Equipment is here to make your lives more comfortable and better – that is what many will tell you especially when they consider what their best champion Dual Fuel Generator has done for them. I also think so too.
I believe you're convinced too and that is why you are searching for the best Champion dual fuel generator reviews. There are more than seven dual fuel generator models from Champion Equipment, but I will be reviewing the top six.
The generators have proved to many that they are reliable and provide enough power and that is why I have featured them here. I hope that these reviews will help you make a decision on which Champion dual fuel generator to buy. So let's jump to it.
Top 6 Best Champion Dual Fuel Generator Reviews in 2021
When people talk of the Champion 3800-watt generator, you might think they are talking about their tractor. I never understood why until now. It's not the most powerful in the list, but it's the most rated.
The Champion Power Equipment 76533 is a powerful, high performing generator that features a quick electric start. It can operate off gas and propane right from the box, and the propane hose is included.
The best part about this generator is the fact that its power is generated by the reliable 224cc Champion air-cooled engine which runs quietly and is fitted with a low oil shut-off sensor. It's a well-designed power backup source. It's a power source that will make your life easier.
Pros:
Reliable 224cc Champion engine
Quick push-button electric start
Built-in Volt Guard protector
3-year limited warranty
RV Ready
Cons:
Not that quiet
Heavier than I thought
2. Champion 100263 – Multi Fuel Portable Inverter Generator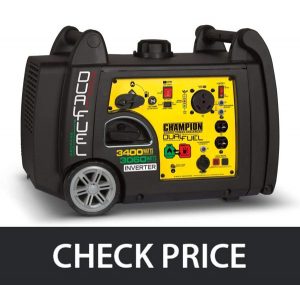 Can you imagine the frustration you can feel when you try to start your generator to warm yourself while camping and it doesn't start? Yes, it can be terrible. But that isn't the case with my next best champion dual fuel generator.
The Champion Power Equipment 100263 portable inverter generator brings a combination of convenience and versatility. Starting this generator relies on the convenient electric start which includes a battery and Cold Start Technology to ensure it begins quickly in cold weather.
With its powerful 192cc Champion OHV engine, the generator provides 3400W starting power and 3100W running watts and runs for 7.5 hours at a quarter load. The best part is, it produces clean power keeping your sensitive electronics safe.
Pros:
Convenient Electric Start
Ultra-Quiet Operation
Recoil backup start
Quick Electric Start
Quick Touch Panel
Clean Power
My next generator is the Champion Power Equipment 100165 dual fuel generator. If you need a generator to power your home or your next DIY project, then this is the generator to have. But why?
It merges convenience and versatility into a single unit to make its performance convenient than ever. Its powerful 439cc Champion OHV engine operates silently with both propane and gasoline. The quick electric start, battery, and the Cold Start Technology make it super easy to start the generator even in cold weather.
It also comes with an Intelligauge that will allow you to easily monitor the power output while also tracking maintenance by keeping track of run time, voltage and frequency. It's a generator I can recommend for camping and home power backup.
Pros:
Safety Fuel Selector Switch
Push-button electric start
Propane Hose Included
GFCI protected outlets
10W-30Oil Included
Similar to the previous model is the Champion Power Equipment 71531 portable generator. It's a power generator that runs on both gasoline and propane. When it arrives, you can use either LP/Propane gas or unleaded gasoline using the integrated fuel selector switch for safe operation.
The best part about the generator is that runs through a powerful Champion 439cc OHV engine. The engine can run for up to 9 hours on a full 6-gallon gasoline tank or 9 hours on a full 5-gallon propane tank both at half a load. It's quite impressive.
A generator is a well-designed unit that comes with extra safety features like overload protection and low oil sensor which work by turning the engine off when the output overloads it or oil level goes too little.
Pros:
Operates off LP/Propane or Gasoline
2 Year Limited Warranty
EPA/CARB approved
Overload Protection
Engine oil included
Low Oil Sensor
5. Champion 8000-Watt – Dual Fuel Portable Generator with Electric Start
My next champion dual fuel generator is the most powerful of all. The Champion Power Equipment 100297 runs on a powerful 459cc Champion air-cooled engine which produces 10,000W starting power and 8000W running power for 8 hours and at half a load when running off 6.1G gasoline tank.
When using propane, it produces 9025W starting power and 7250W running power for 5 hours at half capacity running on a 20lb propane tanks. If asked, I would say this a job site machine.
The best part is, with all this power the generator is still portable. IT comes with two flat-free wheels and a U-shaped foldaway handle that makes it easy to transport.
Pros:
Powerful Champion OHV engine
Built-in Volt Guard surge protector
3-year limited warranty
Low oil shut-off sensor
Intelligauge Display
Handy electric start
6. Champion 5500-Watt – Dual Fuel Portable Generator with Wheel Kit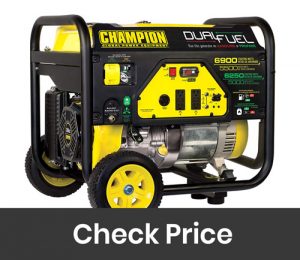 The Champion Power Equipment 100231 ends the champion dual fuel generator reviews. One thing I should tell about this sturdy unit is that it's a portable, high-power unit that you can take wherever you go.
The U-shaped foldaway handle and its two flat-free tires allow for easy transport. Additionally, it comes fitted with a built-in Volt-Guard Surge Protector which prevents overloads thus keeping your electronics, appliances, and equipment safe from voltage spikes.
When you go camping or if you will be using it in cold weather do not worry as it uses Cold Start Technology which works together with the convenient electric start to ensure it starts quickly.
Pros:
Patented fuel selector switch
3-year limited warranty
GFCI protected outlets
Low oil shut-off sensor
Fuel Safety Switch
Intelligauge
Best Champion Dual Fuel Generators Reviews Buying Guide:
When you were reading the above reviews, you might have noticed all the generators are quite similar. But that isn't the case. Some models have higher power than others and many more differences. And to make sure you make the right choice, it's vital that you consider the following factors.
Power requirement
Yes, you need a generator, but what for? What do you want to power/run with it? How much power do you need? The answers to these question will help you decide on the size of Champion dual fuel to buy. You need to add all the appliances', electronics' and equipment's wattage and get to know the amount of power they need.
Run Time
How long do you need the generator to be running? Will it is easy for you to refill the generator or will you rely on a single tank? Mostly backup generator does not need to run for long. However, if you live in an area where natural disasters occur from time to time, then you might want a long time running a generator. Also if you will be going camping with the generator, you need to be sure that it will serve you through the night and you won't need to wake up at night to have it refilled.
Start type
Most of the generator in this Champion Dual Fuel Generator reviews use the electric start. It is much convenient than the recoil start. However, it can fail any time because of the low battery charge, that why a recoil should be in place to act as a backup. Also if you live in cold areas or you will be camping where weather gets freezing, you might want to ensure that the generator you decide to purchase comes with a Cold Start Technology for easy starting in cold weather.
Portability
Yes, different people buy generators for various reasons. But one thing remains the same; after use, they will need to store it. So, how easy will it be for you? You need to pick a generator that's portable and easy to transport for you. It can be a lightweight model which you can lift or a generator with sturdy handle(s) and wheels for easy pulling/pushing.
Frequently Asked Questions (FAQs)
Q: Does Champion Power Equipment offer warranty to all its dual-fuel generators?
A: Yes! They cover the generators with a 3-year limited warranty and free lifetime support from their experts.
Q: Are all the Champion dual fuel generators portable?
A: Yes! If you consider their design, they are all portable. The small one comes with ergonomic handles for easy carrying. The big one comes with two non-flat tires and foldaway grips which makes it easy to transport.
GLOBO TOOLS OVERVIEW
I don't want to add anything more on this Champion Dual Fuel Generator review. I have given you enough info to make your search process as easy as possible and also help you find the ideal generator for your needs. Believing you have read the whole article, it's your time to make your selection and head to the market to make your purchase.
Read More: