I love outdoor activities, and I have built a small cabin in one of my farms in remote areas. The only problem I had was the inability to access the national electricity grid connection.
Besides, the climatic conditions of the place could not allow the use of solar power. Thanks to a colleague who introduced me to portable generators. I found them very useful in such a place, especially in cold weather. I had to take some time to look for the best generator for a small cabin.
It was not an easy task because there are several gadgets in the market and I had to consider several features such as its suitability to cold weather, the power requirements, and many other factors. At the end of my analysis, I was able to come up with some of the best generators especially for small remote cabins as follows:
The 5 Best Generators for Small Cabin in 2021
1. DuroStar DS4000S – Gas Powered Portable Generator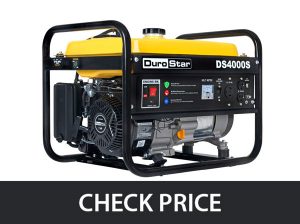 This is the first device I experienced, and the output was quite amazing. It has a powerful and durable Durostar Engine which is a 7.0HP air-cooled engine. In could use it on my appliances without any problem. The starting power is 4,000 watts, and the stable running power is 3,300 Watts.
The device is also characterized by a power panel which allowed me to select outlets for maximum compatibility. Some of the available options include two 120V households' outlet and one 120V, 30 A twist-lock outlet. This is important as it allows the user has a variety of outlet options.
Besides, the device has a low oil shut-off device that shuts off when the oil level is lower. This is an important protective device in case of lower oil levels.
Finally, another amazing feature is the quiet operation and have been licensed to be used everywhere. Therefore, the user can move with it to any small cabin in any part of the world.
Pros:
It is powerful
Has a power panel
User can Monitor Voltages
Low oil shutoff safety device
It is lighter
Has quiet operations
Cons:
It is not easy to get some spare parts
This is another type of generator I tried when I was looking for the best generator for a small cabin. It has a dual fuel feature that allows the user to use either propane or gasoline. This gives the user an option to choose between propane and gasoline whichever is easily available and cheaper.
It has a starting power of 4,750 watts and running watts of 3,800 Watts. It implies that it can provide sufficient power when in full tank of the gas continuously for 9 hours. On the other hand, it can provide continuously for 10.5 hours when using 20 lb — propane tank.
The generator has a 224cc engine with a touch start provision including a battery. When using gasoline, the starting power is 120V-35.6 A, and the running power is rated at 120V-31.7 A. on the other hand, when using propane, the starting power is 120V-35.6A, and the running power is at 120V-28.5A.
The running frequency is at 60Hz and has several household outlets to allow the user to select appropriately. The outlets are also protected by a volt guard so as to protect all appliances from power surges. The device is light and has a simple operation of just push buttons, and this makes it very easy to operate.
Pros:
Dual Fuel feature
It has several household outlets
It has a volt guard
It is lighter
Has a simple operation
It is powerful and efficient
Cons:
Sometimes it can overheat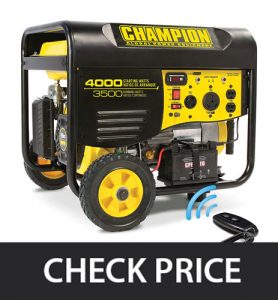 This is another reliable and powerful generator that can be used in a small cabin. It has a starting power of 4,000 watts and 3,500 running watts, and this implies that it can run continuously for up to 12 hours when full of gasoline.
The noise level is controlled at 68 dBA from 23 feet which is within the required noise levels. The device is also designed with unique safety features which include low oil shut off sensor. This ensures that the generator shuts off when the oil level is below the required limits to prevent overheating.
It has several power outlets to allow the user to have several options to choose from when using. Furthermore, the outlets have volt guard to ensure that in case of a power surge, the electrical appliances are not destroyed.
The included voltmeter also ensures that there is constant monitoring of voltage. Therefore, if you are looking for the best generator for a small cabin, it is one of the options to be considered.
Pros:
It has low oil shut off sensor
It is powerful
Has a durable steel frame
It is portable
Quiet
Cons:
Some of the spare parts are not easily available
4. Pulsar PG1202S – Carrying Handle Portable Generator
This is a generator that can be used comfortably in a small cabin. It has a peak power of 1200 Watts and running power of up to 900 Watts. It is a single-cylinder with 2 stroke engine having a recoil start.
It is durable because of stronger hardware and has a compact design which makes it very suitable for use in outdoors. It has a 1.1-gallon fuel tank which allows continuous operation using gasoline for up to 5 hours when on half load.
It has two power outlets so as to provide the user with ample space to power all electrical appliances.
Finally, it is light in weight to enhance portability and has several safety features to protect the appliances against excess power and fluctuating voltages.
Pros:
It is Light hence portable
It is powerful
Stable power supply
It is very efficient in fuel usage
Have two power outlets
Cons:
Some spares not easily available
This is the last generator I tested when I was looking for the best generator for small cabin. It has the largest tank in the industry with extended run time. It has built-in fuel gauges that can comfortably operate for 10 hours on the half load while using 1.7 gallons of fuel.
The device can supply stable power output and has a rating of 12V-8.3A. Besides, it has super strong hardware to ensure that it is durable and can overcome stresses in the outdoors.
It is also quiet in operation with maximum sound levels of 63dBA. Finally, it has a multi-featured control panel with an outlet cover to protect the delicate inner parts from dust and water droplets.
Pros:
It is a powerful
It is very efficient
Durable
It has a lot of safety features
Cons:
Sometimes it can overheat when overloaded
Best Generators for Small Cabin Buying Guide:
Ability To Be Used On Outdoors And Varying Climatic Conditions
This is important because some of the small cabins can be located in remote places with different weather conditions. The device chosen should be able to overcome such physical conditions without fail.
Customer Reviews
The customer reviews should be positive. This means that the features and specifications are satisfactory.
Availability Of Spare Parts
All the spares needed should be easily available. Besides, any other necessities and consumables should be easily accessed.
Price
Choose the cheapest option but never compromise on the quality of power output. This gives the buyer a chance to not only get the cheapest but also get the quality gadget.
Best Generators for Small Cabin (FAQs)
Q: Is it bad to run a generator out of gas?
A: Yes, you should not run a generator out of gas because some of the portable generators can be easily damaged.
Q: Can generators be used in winter?
A: Yes, some of the generators are made with features that adapt them to cold areas. Therefore, it is advisable to select appropriately a generator suited for cold regions.
Q: What type of Oil does a portable Generator use?
A: Use SAE 30 at temperatures above 32oF. At below 40°F to -10oF, it is advisable to use 10W-30. Synthetic 5W-30 is suitable to be used on all temperatures.
Read More: