Camping is used by many as a gateway from stressful, busy days and to have some family time. While camping there is the need for power supply since camping areas are remote areas that don't have electricity.
By getting a camping generator, it can be quite advantageous and ensure you don't pollute the environment getting a silent model will always be the best. For that reason, you need to make sure you buy the best silent generator for camping. But it won't be as easy as you might think, and I think you already know this and that's why you're reading this.
What I can tell you is you're in the right place. I have prepared a very comprehensive review and a buyer's guide to offer you help with the search for the best model. Read it through and make sure you don't skip any point as everything in this article is valuable.
Best Silent Generator For Camping in 2021
1. WEN 56200i 2000-Watt Super-Quiet Inverter Generator
Camping is full of fun and the night and phone charging shouldn't kill your enjoyment. With the Wen 56200i portable generator, you will be able to charge your phone, and power other essential applications that you carried with you for camping.
It's a super quiet model that is CARB compliant so that you can use it in national park freely and safely. It utilizes a 79.7cc 4-stroke OHV engine that operates under 51 dB at a quarter load thus limiting its invasiveness while you're camping.
Pros:
CARB and EPA III Compliant
Low-Fuel Automatic Shutdown
Extremely quiet operation
4-stroke OHV engine
Overload Protection
Two-Year Warranty
Cons:
Lacks wheel kit
Tough to refill engine oil
2. WEN 56180 Portable 1800-Watt Generator
The WEN 56180 is a super silent portable generator that will serve your hunger for the best silent generator for camping.
It uses a CARB and EPAIII compliant and 98cc which has an internal air cooling system to provide 1800 surge watts and 1500 running watts which is enough to run a blender, slow cooker, microwave, television or anything you need for camping.
Even though it doesn't come with wheel kit or handle, its frame can be used to carry it comfortably.
Pros:
CARB and EPAIII compliant
Lightweight and compact
4-stroke OHV engine
Low-oil shutdown
Spark Arrestor
Cons:
Difficult to access engine oil tank
3. Yamaha EF2000iSv2 Gas-Powered Portable Inverter Generator
Yamaha EF2000iSv2 is a model that has been used by lots of campers, and they have been impressed by its performance and quietness.
The model is around 45 pounds in weight, giving it a lightweight design. It's also compact making it easy to transport and store.
It comes as an inverter generator that quietly powers a wide range of application and for an extended period. Its portability and the retro-cool engine allows it to be the best silent generator for camping.
Pros:
USFS-approved spark arrestor
Auto-decompression system
Convenient parallel function
Clean, high-quality power
Long Run Time
Cons:
A bit expensive
No oil drain plug
If you're searching for a reliable, silent, portable, powerful camping generator, then the Westinghouse WH2200iXLT is an ideal choice for you.
Its gasoline powered inverter generator that will offer you a variety of premium and innovative features at very affordable price. I love this model because of its simple plug-and-play functionality, and the compact, lightweight design which allows makes it easier to transport.
It also features two 120v household power outlet that will get you high-quality power conveniently and safely wherever you need it.
Pros:
Lightweight and Portable Design
Automatic Low Oil Shutdown
High-Efficiency Run Mode
EPA/CARB Compliant
3-Year Warranty
Cons:
Lower run-time
Less sturdy construction
If you need the best silent generator for camping that is lightweight and portable enough, then you need to get the Champion 3100-watt inverter generator.
It's a model that comes RV-ready and with a plug-and-play functionality allowing you to start and use it. It relies on its Champion 171cc air-cooled engine to run for around 8 hours at a quarter load.
It also comes with a quick-touch panel and an economy mode making it a perfect silent, portable power solution for camping.
Pros:
3-year limited warranty
Ultra-Quiet Operation
Smart Economy Mode
Quick Touch Panel
RV-Ready
Cons:
Sounds Louder
Complicated Break-In Cycle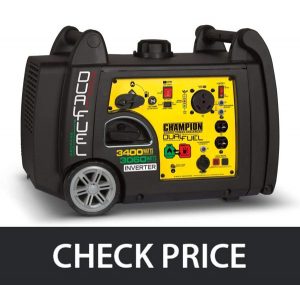 Boost you camping fun by making Champion 3400-Watt your companion. It's an inverter generator that features an electric start. The model can use both gasoline and propane giving it a better fuel versatility.
It comes RV-ready and with plug-and-play functionality that makes it an ideal camping model. And to ensure that get the best, quiet camping, the generator has an ultra-quiet operation. Running at 59dBA is perfect for tailgating, camping, and RVs.
Pros:
Convenient Electric Start
3-year limited warranty
Ultra-Quiet Operation
Dual Fuel technology
RV-Ready
Cons:
Not weatherproof
Don't work well on grassy surfaces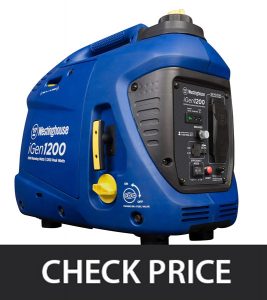 When planning for your next camping trip, gift yourself with the best silent generator for camping by getting the Westinghouse iGen1200.
It's a compact, portable, super quiet inverter generator that will provide you with enough electricity supply to power your applications in remote locations like a campsite.
Its lightweight design also features a handle that makes it super easy to transport and store. The unit also features built-in USB outlets and two 120-volt household outlets making it easy to power any equipment or equipment.
Pros:
Lightweight, Portable Design
Extremely Fuel Efficient
Super Quiet Operation
Three Year Warranty
CARB Compliant
Cons:
Expensive
No External fuel indicator
8. Pulsar G2319N – Portable Quiet Inverter Generator
Lighten your camping experience and add more luxuriousness by making the Pulsar 2,000-watt inverter generator. It's a gas-powered unit that will provide you with pure, clean power.
The generator produces 59dB of noise only which makes it virtually silent, making it ideal for camping. The generator weighs 47 pounds and comes with a "suitcase" design so believe me when I tell you it will be a great companion to your next camping trip. It also features a direct connect USB outlet and its parallel compatible.
Pros:
Stable Sine Wave Technology
Automatic Voltage Regulator
Compact Suitcase Design
Parallel Capability
Low Oil Shut-Off
Cons:
Loud for some users
No electric start
Best Silent Generator For Camping Buyer's Guide
After reading the above review, you will agree with me that finding the best model wouldn't be as easy as you might have thought. But since I promised this article would help you find your perfect model, I have provided the following guidelines to assist you further. Use it to identify a model that will give you the best silent generator for camping.
Power
What are you planning to power on your camping trip? How much wattage will you need? These two questions will assist you in deciding on the amount of energy you need from your generator. I recommend you pick a model that gives a higher amount than what you need. That way you won't have to worry when you connect another appliance.
Noise level
Camping is an endeavor that requires some quietness, and when you go with a generator that will make a lot of noise, you might end up creating invasiveness. Get a model that produces less than 55 decibels of sound. That is considered low, and many of the models in this level are CARB compliant for use in national parks.
Fuel Efficiency
While looking for the best silent generator for camping, you should always go for a small, quiet yet efficient model. That means it shouldn't be too small that you will need to refill the fuel tank every couple of hours. It should have a container that can get you through the night if you're using it for heating and also be efficient and not gas crazy.
Quality
It's always the best idea to go for a product that is of high-quality. That means going for a generator that is made from high-quality materials and features a robust and durable construction. Don't go cheap and forget that you might be forced to buy another generator in a couple of months or years.
Warranty
Generator warranty is the thing that will cover you from paying for extra bucks for repairs that you had nothing to do with. Sometimes these machines can develop a problem due to manufacturer faultiness, and for you to except yourself from that is by getting a model that comes with a warranty. The more comprehensive it is, the better.
GLOBO TOOLS OVERVIEW
I believe I have provided enough information to help you purchase the best silent generator for camping. The review gives the top best models to choose from, and the buying guide gives you the best way to select a perfect model. Believing you have gone through the whole article, it's your time now to pick that one model that you think will give you the best camping.
Readers Recommendation: