Champion Power Equipment has been in the manufacturing industry for a very long time. As a market leader in the power generation equipment industry and years of experience, I think they are more than capable of providing reliable and durable power generators.
Their 3500-watt inverter generators have proved to many their worth by delivering high-reliable, clean, and stable power. Today, I will be going through some of these champion 3500-watt inverter generator reviews so that I can give you an insight into what you want to buy.
5 Best Champion 3500-watt Inverter Generators
In the first place, I give you the dual-fuel, RD-ready inverter generator with a compact body. Its power output is a bit lower than the 3500-watts, but with the right load, you could enjoy the same energy supply. The reason it's in this review is, apart from being close to the power range, the generator is a highly rated Champion Inverter model that has proved to provide versatile, reliable power.
The generator is cable of giving you 3100 running watts and 3400 starting watts, which 100 watts less than what you're looking for. According to customers' reviews, everything from starting to the maintenance is smooth and hassle-free. I was also intrigued by the different systems put together in this compact unit to give you reliable, portable, and functional inverter power.
Its operations are also super quiet thanks to covered construction and smooth engine that comes with a convenient electric start. And you know what, for a faster and more relaxed start, the electric start is also fitted with a 3-position ignition switch. Best of all, the use of a quick touch panel offers the easiest way to operate the generator, even for the first time.
Pros:
3-Position Ignition Switch
Convenient Electric Start
Low-oil shutoff sensor
Dual Fuel Technology
Ultra-Quiet Operation
Quick Touch Panel
Cons:
Only one twist outlet
Difficulties changing engine oil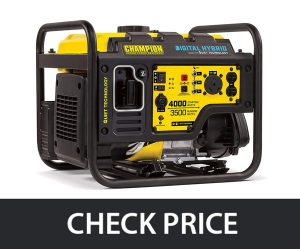 The next generator in the list is a 4000-watt Digital Hybrid generator that gives you RV-ready, super-quiet power. The generator is designed to bring you 3500 running watts and 4000 starting watts of portable power. I also noted that it has an Advanced Open Frame Inverter Design, which allows it to give you a 50 percent quieter and 20 percent lighter power that a traditional generator.
Additionally, the use of Quiet Technology is another plus. The innovation allows this generator to operate quietly, making usable in lots of places that need quietness. Extended time is another feature that customers praised. With a single fuel tank, these models are capable of running for up to 17 hours. And best of all, it is parallel ready, giving you the option of connection another Champion of similar output to increase the power.
Pros:
Exclusive Advanced Open Frame Design
Convenient Quiet Technology
Economy Fuel-Save Mode
Extended Run Time
Clean electricity
Parallel Ready
Cons:
No Mobility Wheels
No Automatic Voltage Regulation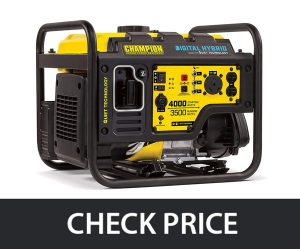 I give you another Digital Hybrid Series, this time with a Wireless Remote Start. Before telling what that means, let check out what the generator has to offer. It's designed to deliver 3500 rated watts and 4000 serge watts of portable power. Another thing, the use of an Advanced Open-Frame Technology allows it to provide 50 percent lighter and 20 percent quieter power compared to a traditional champion generator of the same size.
As a digital hybrid, the generator comes with a feature-packed, innovative design to ensure you get hassle-free, reliable, and durable power. Now, you can enjoy a super quiet, lightweight model, an excellent addition for your RV, camping, tailgating, or home emergency power. And getting back to the starting system, the generator is fitted with a combination of an electric start with a battery, a recoil back, and, best of all, a convenient wireless remote start. All this combination is put in place to ensure you always get a seamless, faster engine start.
Pros:
Digital Hybrid Open Frame Design
Advanced Innovative Technology
On/Off Push-Button Electric Start
Wireless Remote Key Fob
Quiet, Lightweight Power
Cold Start Technology
Cons:
No Voltmeter
No GFCI Outlets
The next model is an upgraded version of the first model in the list. As a 3400-watt generator, it's here to deliver to you 3400 surge power and 3100 running watts. It is run by a Champion Engine designed to ensure you always get reliable and super quiet power. Another thing, the rugged, compact, fully-enclosed body construction, ensure you get a portable, easy-to-carry model that you can take with you wherever you go.
The most-terrain wheel kit and the foldaway handle fitted on this model allows you to enjoy better and simplified mobility and storage. Starting the generator is seamless thanks to its convenient electric start and an effortless recoil backup. There is also a wireless key fob adding more convenience and easiness of starting the engine. At full load, the generator is capable of giving you up to 7.5 hours of extended time.
Pros:
Parallel Configuration Capability
Compact, Portable Design
EPA and CARB Compliant
Wheel Kit Included
Full Power Switch
Remote Key Fob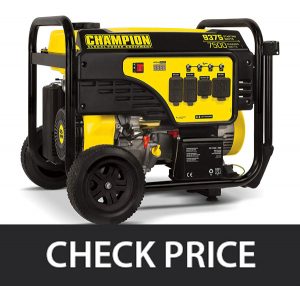 The list ends with another Digital Hybrid Series, a dual fuel inverter generator. The Champion 100574 DH inverter generator is here to ensure you get reliable, clean, and stable power. And you know what, it uses the Champion's advanced hybrid technology to ensure it delivers 50 percent quieter and 20 percent lighter power.
It's a feature-packed model that uses Exclusive Quiet Technology to provide quiet power ideal for use in low-noise-demanding areas. Above that, the generator is designed to use an economy mode plus its high fuel efficiency to give extended runtime. It is the parallel capable, meaning you can connect another Champion generator of a similar type when more power is needed.
Pros:
Digital Hybrid Open-Frame Design
Clean, stable inverter power
Parallel Kit sold separately
Dual Fuel Technology
Quick Touch Panel
Economy Mode
Cons:
High price
No Mobility Wheels
Champion 3500-Watt Inverter Generator Buying Guide:
When you're checking out the best Champion 3500-watt inverter generator to buy, their certain features you have to consider while making your selection. And here are some of these things as they will smoothen the assortment.
Power ratings
I assume you already know the amount of power you need, which is something around 3500 watts. However, that might be the starting or the running, and unless you get it right, you might not get the most out of your generator. The generator has to offer you enough rated and starting wattage. Check your requirement list before buying your generator.
Runtime and fuel tank capacity
For an enjoyable use of the generator with limited disturbances when it comes to refueling, a generator has to have an available runtime. I would recommend a 6-hour runtime, but it all depends on the usage and preference. Another thing, this can tell you how the generator fairs in terms of fuel efficiency. A high-capacity fuel tank must give you better runtime.
Mobility
Most of the Champion inverter generators are portable, but not all, and some mobility isn't that great. Getting a mobile unit, with wheels and a handle, will make your work super easy to transport and store. It also helps while moving it around in the work area.
Starting system
The best starting system is the electric start since all you need is to press a push button or use a simple on/off switch. The recoil start comes as a backup system, but some units use it as the primary starting system. If you decide to buy a generator with a recoil start, you have to ensure it's effortless to use. There is also a choke and cold start technology, which help is making a start easier and seamless.
Frequently Asked Questions (FAQs)
Q. Do Champion 3500-watt inverter generators come with a warranty?
A. Yes, according to the maker, Champion Power equipment offers a 3-year limited warranty is a package that includes a FREE lifetime technical support.
Q. Can run my Champion 3500-watt inverter generator all night?
A. Yes, but you will need to refuel it. One thing you should know is, you should never, and I mean never try to refuel the generator while it's running. At this time, the engine is hot, and the fuel is flammable, imposing a fire hazard situation. Wait for it to cool down and then refuel.
Conclusion
Champion 3500-Watt Inverter Generator Reviews I have provided are here to give you an idea of what a 3500-watt generator can offer you and the best models you can buy. The buying guide will help you ease your search process, and in the end, you will be able to settle on your best generator for your needs. Good Luck!