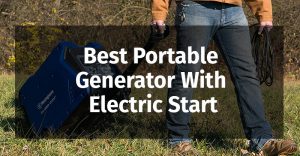 A portable generator is a machine that has been used by many people for power supply in a lot of places and a lot of applications. A generator with an electric start makes it quite easy to use/operate since all you have to do is either use a switch to switch it on or use a push button for the same.
That allows any person of any skill and strength to operate the machine. But not all generators are the best; some are poorly made while others aren't powerful enough as advertised. So how do you choose the best portable generator with electric start?
Best Portable Generator With Electric Start in 2021
Since the selection is quite long and tedious, and I don't want you to undergo the same process I went through; I have prepared a comprehensive review and a buying guide that's meant to shorten your search process and also help you select the perfect model. Read it through to understand where and how to find the best portable generator with an electric start.
The Westinghouse WGen3600DF is a dual fuel portable generator that has earned its position in the top list of the best portable generator with electric start. It can use both gas and propane and feature a quick electric start.
The generator combines compact, portable power with an ability to give you more power in a convenient and energy efficient way.
The combination of an electric push button and a wireless fob remote makes it even easier to start the machine. It also comes RV ready with TT-30R 30A 120v outlet.
Pros:
CARB, EPA, and CSA Compliant
Plug-and-Play functionality
Push Button Electric Start
Intuitive Control Panel
Camper and RV Ready
3-Year Warranty
Cons:
A small number of outlets
No GFCI protected outlets
If you're in search for the best portable generator with electric start that is powerful enough and CARB compliant, then Westinghouse WGen7500 is the machine you need.
It comes as a perfect portable power solution that will provide you will power supply at a campsite, tailgate event, RV or act as a back power supply for your home.
It is also a transfer switch ready dependable and easy-to-use generator that provides a variety of premium and innovative features at a value incomparable with other models.
Pros:
Push Button Electric Start
Transfer Switch Ready
Remote Electric Start
Easy Maintenance
CARB Compliant
3-Year Warranty
Cons:
Flimsy plastic parts
Customer support could be better
3. DuroMax XP4400E – With Wheel Kit And Electric Start
Gift yourself with a powerful gas powered generator that will provide you with 3500 running watt and 4400 starting watt by getting the DuroMax XP4400E.
The generator uses a powerful 7.0 HP 4-cycle OHV engine that is gas powered. The engine is air cooled and runs thanks to its well-designed muffler quietly.
It comes with two all-terrain wheels and a handle for easy portability and storage. The unit is EPA and CARB approved allowing to be used in camps sites and national parks.
Pros:
Air cooled OHV 4-Cycle engine
Smooth, quiet operation
Isolated motor mounts
Dual fuel technology
Heavy duty frame
Low oil shut-off
Cons:
Somehow heavy
Loud for some users
The DuroMax Hybrid is yet another well performing portable generator with an electric start. It offers maximum versatility and keeps you prepared for power outages.
The DuraMax operates on a 457cc air cooled OHV engine which feeds its fully loaded power panel that allows the operator to pull-up 12,000 watts of power. The model can operate on either propane or gas thus offering versatility and saving all in one package.
The machine will help you power your appliances and even the comfort technologies during unexpected outages to have you comfortable and live uninterrupted life.
Pros:
Smooth, quiet operation
Dual fuel technology
Heavy duty frame
Full power panel
Low oil shut-off
Quiet muffler
The Champion inverter generator is a 3100-watt unit that comes RV-ready and with a portable design. The model is the answer if you require the best portable generator with electric start.
It comes with a manual and wireless remote electronic stat that makes it easier to operate the machine. It is a great, quiet and lightweight companion for your next RV-tour camping or even a tailgating weekend. With the wireless start, you can turn it on/off up to 80 feet.
The model uses a reliable, air-cooled 171cc single cylinder engine that produces 3100 starting power and up to 2800 running watts.
Pros:
FREE lifetime technical support
Convenient electric start
3-year limited warranty
Wireless Remote Start
Ultra-Quiet Operation
Quick Touch Panel
Cons:
Pricey somehow
Hard to do an oil change
6. Pulsar PG10000B16 – Go Technology & Electric Start
The Pulsar portable is among the most potent movable generator in this list that features an electric start. The model is a dual fuel unit that can use either propane or gasoline.
The generator runs on a reliable and powerful 420cc 15 horsepower single cylinder four-stroke OHV engine that allows it to provide 10,000 peak watts, 8,000 gas running watts and 9,000 LPG running watts.
It is an ideal choice if you're seeking the best portable generator with electric start that can provide you with backup power for powering large appliances.
Pros:
Powerful 4-stroke air cooled OHV Engine
Switch & Go technology
1-Year limited warranty
Fold-down handles
Low oil shutdown
Never-flat wheels
The All Power America is yet powerful dual fuel generator that features an electric start. It's the most cost-effective generator among its competitor.
It provides a running power of 8,000 watts with gas and around 7500 watts with propane. It can run for 11 hours at 1/2 load.
The electric start feature is a great addition and comes with a generator to provide the starting power.
Pros:
Electric start button and a recoil start
Low operating Noise level
Air cooled OHV engine
Flat-free wheel kit
EPA certified
Cons:
A bit heavy
Non-C.A.R.B. Compliant
Best Portable Generator with Electric Start Buyer's Guide:
Now that you know the best portable generator with electric start available it's high time you get to know how to pick the best model that will give you the best results. The following considerations are meant to help understand what type of generator you need. So, read it through and use it to pick a model for the list I have provides.
Purpose
What do you need the generator for? Is it for camping, tailgating, for your RV or a home backup? For you to get a model that will meet your needs, you need to know the purpose and the amount of power you need. A portable generator can give you the benefit of having a power supply wherever you need it, but it will need to have the right amount of power for it to be effective.
If you require a portable generator for your home backup plan, then you will need something sturdy that will be able to restore lights and also power other home applications. Estimate your power requirements and pick a model that offers a higher value than what you found.
Noise
Most of the time, generators are known to be quite loud. However, when it comes to portable generators especially the inverters, their noise level is quite low. But that doesn't guarantee that all are quiet. Some can be quite loud, and therefore you need to check the noise level. And because many will be buying online, and there is no way you can test to check the noise levels, check the product descriptions and also refer to my review products features.
Ease of use and maintenance
The primary reason behind finding the best portable generator with an electric start is to eliminate the hassle of pulling the recoil start cord which can fail for several trials. A model that is easy to use will be quite convenient as it won't need only one person in the household to operate it. Additionally, maintenance is a vital thing in these machines, and you might want to make sure the model you pick doesn't demand a lot of attention from you.
Warranty
And since a generator is a machine with which it contains too many parts brought together, failing to work correctly can be a regular thing. For you to make sure you are protected from manufacturing failures, it's crucial that you make sure the model you pick has a warranty.
GLOBO TOOLS OVERVIEW
With all the above information including the review, finding the best portable generator with electric start will now be a breeze. I believe I have offered you enough information to help you obtain that one model that meets all your needs. So, it's your time now to pick the model and head to the market for the purchase.
Related Information: