Pressure washing has a lot of advantages from helping you deal with stubborn dirt, clean unreachable places, or even earn you money by car washing. However, if you're using an electric pressure washer, at times, you might want to wash some places with no place to hook up your pressure washer for power.
It's at this moment when you'll realize you need a power generator. Today, there're lots of generators you can always buy to have a backup for situations like those.
Luckily, as a guru in this area, I've decided to search for you the top best generators for pressure washers available. I've also prepared a buying guide that will ensure you buy the right model for your specific needs. Let's get started.
Top 6 Best Generator for Pressure Washer in 2021
Here is a list of the top-performing generators ideal for use with pressure washers. Each model on the list has something unique to offer. Use this list to shorten your choices, and at last, you will have a model that you can say, 'this is the one!'
Westinghouse Super Duty Generator is my first model. It's a powerful model that is ideal for connecting two or three pressure washers at a go. Why is it on my list? Apart from providing reliable power, this generator can also be used as a home backup power when there is a power outage.
And the best part is, you can add your pressure washer in the list of appliances to run in your home. You might argue that it's too powerful, but if you consider it when you want to run a couple of appliances at once, it might be the best option. Yes, the pricing might be high, but it's still worth it.
The generator, as a gas-powered unit, it provides 11500 starting watts and 8500 running watts. Another thing, it does come with convenient electric and remote start modes making it quite easy to operate.
Pros:
Minimal Assembly Required
Super Duty 457cc OHV Engine
Automatic Low Oil Shutdown
OSHA & CARB Compliant
Automatic Idle Control
Full GFCI Panel
Plug-and-Play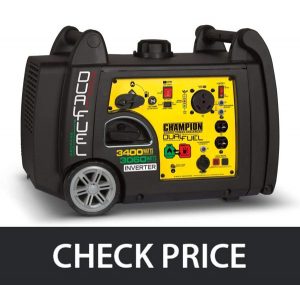 Champion Power Equipment is a brand that isn't new to many. Their generators have proven to be reliable and also robust. The Champion 100263 is here to offer you the same and much more.
Furthermore, it's designed to combine versatility and convenience for all the applications, including powering a pressure washer. It's a unit that you can rely on when you need portable and noiseless power.
On top of that, this Champion generator uses dual fuel; it can run on either liquid propane or gasoline. That gives you the flexibility to choose the available fuel type for you. Additionally, it comes with an electric start with a battery included. Besides that, the model does feature the Cold Start Technology, which ensures you have an easy time starting it during the cold weather.
Pros:
EPA certified and CARB compliant
Versatility and convenience
Convenient full mobility kit
Built-in propane regulator
Smart Economy Mode
Inverter Technology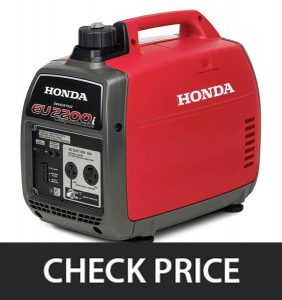 Honda EU2200i portable generator is the most common model among many campers, RVers, and even pressure washing companies. But why? One, it can operate various applications and provide reliable power wherever needed.
What's more, it works quietly, allowing you to run it at home or in public places without disturbing anyone. Another thing, this unit is parallel capable, meaning you can connect another EU2200i to almost double the power when need be.
Many of its users also love the fact that it has excellent fuel efficiency, running for more than four hours on a single tank. Its Inverter Technology, on the other hand, ensures you get stable and clean power in a compact, lighter package.
Pros:
Ease of Use and Maintenance
Portable User-Friendly Design
Color-Coded Startup Points
Inverter Technology
Fuel Shut Off Valve
Super Quiet Series
Here I have another model that has performed very positively among its users, the Wen 56310i portable generator. It's another reliable inverter generator designed to provide you with quiet, clean, and compact power for running your pressure washer.
With it providing 3100 starting power and 2800 running power, this inverter generator can be your answer. It comes in a lightweight, user-friendly design featuring built-in wheels and also a collapsible handle. The construction makes it ultimately portable and quite easy to store even in your car trunk.
Additionally, this Wen Generator does also come with an economy mode that allows it to maximize fuel economy. What's more, the feature also reduces the operation noise and boost the engine life span.
Pros:
Powerful 212cc air-cooled OHV engine
Lightweight, portable design
EPA III and CARB Compliant
Tranquil operation
Produce clean energy
Parallel Connection
Briggs & Stratton is another trustworthy brand that provides high-quality and powerful generators like their 30676 Portable model. It's specifically designed to provide you with reliable power for your home essentials.
With a rating of 3500 running watts and 4375 starting watts, this generator is a unit you can rely on when it comes to running your pressure washer. It has the power to ensure you never go without power. Its powerful Briggs & Stratton Power Engine is quite durable and reliable to ensure you're always with enough running power.
The best part is, with a single tank, this generator can run for about 14-hours at half its load. It's quite impressive. It's never-flat tires, and the foldable handle allows you to take power wherever you do it.
Pros:
Never-flat tires and folding handle
208cc Power Built OHV Engine
Multi-featured control panel
Convenient portable power
Power Surge Alternator
My last product on the list is the powerful Firman H08051 portable generator. It's a dual fuel generator that can run on either gasoline or liquid propane. It does run on a durable and reliable Max Pro Series 439cc engine allowing it to provide dependable power.
On top of that, the motor has the Phoenix Fat Head Block, which enables it to be extra efficient. Another thing, at full capacity, this generator can run for around 12-hours at its load, giving you enough to pressure wash for a day.
Starting the generator is quite simple thanks to its convenient button-push electric start. If you need portable power, a thing generator will also give you that as it features an exclusively mobile design.
Pros:
Lock automatic voltage regulator
Powerful 439cc Firman engine
Phoenix Fat Head Block
Whisper Series muffler
Dual-fuel technology
Ultimate Portability
Best Generator for Pressure Washer [Buying Guide]
When it comes to buying the best generator for a pressure washer, you can close one eye and pick any model that you come across. You have to ensure you buy a generator that gives you enough and reliable power. And to do that, you need to consider the following aspects:
1) Your Power Requirement
Yes, you want to power your pressure washer, but not all generators have the power to run all types of pressure washers. Some pressure washer model requires more operating power compared to others. That's why I recommend you check the power rating of your pressure washer before deciding on which model is ideal for it.
Check on the wattage required at its back power rating tag or on its user manual. You should get the starting power and the running power since it does use a compressor. If the info isn't available, there should be the voltage and amperage values. Use the values to calculate the power it needs using this formula:
Power (Watts) = Voltage (volts) x Amperage (Amp)
I.e., if the rating is, 120-volts and 50 amp, then its running power is,
120 x 10 = 1200 watts
So, you need something with a starting power over 1200 watts and almost double that for the running power. And if you're planning to connect other appliances or even to pressure washers, you will have to do the same for them and add up the power.
2) Run Time
How long do you need the generator to run while you pressure wash? You need to figure out the time it will take you to complete the cleaning job. That way, you will have an idea of the run time – the time it takes the generator to consume all the fuel in its tank, you need. Pick a model that allows you to complete the task without requiring refilling.
3) Construction Quality
A generator isn't a cheap investment; you will have to spend hundreds or thousands of dollars to acquire one. It needs to operate long enough to return the investment you used. And to ensure it does that, you have to buy a model with a durable protective structure. It needs to feature durable materials, protective framing, and also rust-free elements.
On top of that, there should be safety features put in places like Circuit breakers and low oil shutdown switch. These will protect you and your generator from injuries and damages.
4) Inverter or Convectional Generator
Mostly, with a pressure washer, you need a portable model that you can take with you wherever you go. That call for either a portable inverter generator or a conventional generator. The two are quite different when it comes to size, shape, and general power. The two can offer you reliable power for running your pressure washer.
The difference comes in when you need to run other appliances. The inverter is the most applicable model to run sensitive tools since it provides clean power. It's also much quieter, making it ideal for use in a quiet neighborhood.
Frequently Asked Questions (FAQs)
How often should I operate my generator?
It's recommended you start your generator at least once in a month and allow it to run for a few minutes. That will enable it to keep everything lubricated and run smoothly next time you use it.
Is it dangerous to add fuel to my generator while it's running?
Yes, quite dangerous! You should never add gas to your generator while it's running or when it's hot. Gas is a flammable substance that can ignite any time, and it can create instantaneous fire or even explosion. Ensure you turn off the generator motor and allow it to cool down before you can refuel.
GLOBO SWIM OVERVIEW
It's always my happiness when I see I have helped a buyer buy the right model. I hope you were able to find a generator that meets your needs. If you still having issues picking the best generator for a pressure washer, choose a model that fits in your budget, a generator with the right power rating, and proceed to purchase. You won't regret a thing as they are all capable of running a pressure washer correctly. Good Luck!
Related Buyer's Guides and Review Lists: