As you well know, mobile detailing involves several activities from auto cleaning, restoration, and finishing for show-quality cleanliness and polish. As the name suggests, mobility might not be an option for you. While in this business, you will need to visit customers' homes, or even be forced to go to a remote area for the job.
That calls you to have a reliable source of power to run your mobile detailing electrical equipment. A generator can do the trick. Today, the market has different generator types and models, some powerful while others aren't, some conventional while others are inverters.
You need to make sure you buy the best generator for mobile detailing for the best results. But how? Luckily all you need is the information I've provided here. The guide will help you identify the top best models available and help you choose the ideal unit for your needs. Let's jump right in!
6 Best Generator for Mobile Detailing in 2020
Yes, the market might be overflowing with lots and lots of generators you can use for mobile detailing. But here is a list of the top best generators for mobile detailing that you can buy and expect to get excellent results.

Honda EU3000iS is the most commonly used generator in this mobile detailing industry. But why? One, the generator is a portable inverter generator providing clean power wherever needed. Its inverter technology ensures you get decent energy in a compact, lightweight package.
Two, the model offers reliable and enough ability to operate a variety of appliances. Another thing, the model does also operates super quietly, making it ideal for use in areas that require quiet operations.
On top of that, the generator allows the parallel connectivity of another EU3000i when more power is needed. And thanks to its Eco-Throttle Mode, this EU3000i generator can offer improved fuel efficiency.
Pros:
Large spout and oil drain gutter
Ease of use and maintenance
Color-coded startup points
Smooth, light effort recoil
User-friendly design
Fuel shut off valve
Next is the powerful and reliable Champion 75531i. It's a robust portable inverter generator that comes RV-Ready. With 2800 running watts and 3100 starting watts as the power output, it's a powerful generator enough to run a couple of mobile detailing tools and equipment.
And you know what, it also features a quick touch panel which gives you access to all of its controls in one spot. It does also come with a low-oil shut-off sensor that kills the engine when the oil level goes too low.
I think you will also be impressed to hear; it offers ultra-quiet operation, making it an ideal unit for use in a populated neighborhood. Lastly, its Smart-Eco-Mode can be quite user-friendly as it reduces the electrical load while providing quieter operation and bettering fuel efficiency.
Pros:
EPA certified and CARB compliant
Built-In Carrying Handles
Low oil shut-off sensor
Smart Economy Mode
Ultra-Quiet Operation
Quick Touch Panel
Cons:
No parallel connection capability
If you're a beginner in this mobile detailing industry, the WEN 56200i portable inverter generator can be your savior. It's a powerful, super quiet generator with enough power to run a couple of mobile detailing equipment like the pressure washer.
It generates 2,000 surge watts and 1,600 running watts. It's lightweight and portable design makes it easy to carry around with you to meet client needs. Additionally, the generator runs on a powerful 79.7cc OHV Engine that operates extremely quiet. I was also impressed by the fact that it has a parallel capability.
That allows you to join two 56200i generators almost to double the power when needed. And since you might also want to run your sensitive appliances, the generator does provide you with clean energy and ready-dedicated outlets.
Pros:
Low-oil and-fuel automatic shutdown
Powerful 4-stroke OHV engine
Lightweight, portable design
Epa III and CARB Compliant
Tranquil operation
Eco-Mode Throttle
Cons:
Parallel Kit sold separate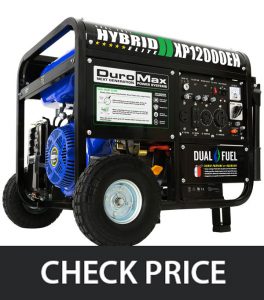 My 4th model is the Hybrid Elite from DuroMax, the powerful DuroMax XP12000EH. It's a dual-fuel portable generator enough to run all your mobile detailing equipment. The generator runs on a robust 457cc OHV engine that allows it to provide reliable 9,500 running watts and 12,000 starting watts.
It's a power generator ideal for handling the high amperage power tools. The dual-fuel technology employed here allows this beast to run on either propane or gasoline. That gives you the freedom and flexibility of choosing the available fuel.
That's not all; the generator also uses the DuroMax MX2 Technology. The system allows you to operate it at either 120V or 240V receptacle, or both simultaneous or even at 120V with full power.
Pros:
Powerful 457cc OHV DuroMax engine
Durable all-metal construction
DuroMax mx2 technology
EPA and CARB approved
Dual fuel technology
Here is another robust and powerful Champion generator, the Champion 46596, that you can rely on when it comes to mobile detailing. It's designed to provide you with constant 4000 surge watts and 3500 running watts, enough to run.
It's also built to run quietly and offer you 12 hours of run time. Its portability and lightweight design allow you to take it wherever you need power. It's also a generator built for safety, and that's why it features a volt guard, which prevents overloads. The system also keeps your valuable equipment safe from voltage spikes.
Besides that, the unit does also comes with a low-oil shut-off feature to protect the engine while the oil goes to low. There is also a voltmeter, which provides an easy way to monitor power output.
Pros:
Rugged – Durable steel frame
Convenient Volt Guard
Low-Noise Operation
Optimized Cold Start
Intelli-gauge
Cons:
EPA certified but not CARB approved
The list closes with the powerful, high-power generator from Pulsar, the PG7750B. It's a portable dual-fuel generator, and by the generator utilizing the dual-fuel technology, it allows flexibility and freedom to choose either liquid propane or gasoline.
It provides 7750W peak watts and 6250W rated watts when running on gas and 7500 peak watts and 6000 rated watts when running on LPG. With this generator, you're confident your mobile detailing job will always be perfect. The generator runs on a powerful 420ccOHV engine, which is a 4-stroke and air-cooled unit.
The system is also protected by a long-lasting powder-coated Steel frame for sturdiness and rigidity. You will also love the Switch and Go technology, which allows smooth transitioning between gasoline and LPG while it still operates.
Pros:
Electric push start with recoil backup
Continuous, reliable operation
Low-oil indicator shutdown
Mobility never-flat wheels
Switch & Go technology
Fold-down handles
Best Generator for Mobile Detailing: Buying Guide
The above are some of the most reliable, applicable, and high-quality generators you can buy for a mobile detailing workshop. However, as you might have noticed, some models are inverters, and others are conventional. That means they have different power ratings and also features. For you to ensure you buy the ideal unit for your mobile detailing needs, you have to consider the following aspects during purchase.
(1) Power Requirements
The number one thing to consider is the amount of power you need. For that, you need to take a pen and paper, write down all the power equipment and appliances you need for mobile detailing. Calculate their power requirements, including the starting and running watts for the heavy-power tools like the air compressors. All the values need to be in watts, if not then you will need to work it out using this formula;
Power (Watts) = Voltage (V) x Amperage (A)
So, take the voltage rating, i.e., 120V and multiply with the amperage i.e., 10A and multiply them to get the power, = 1200 watts. With that, all you will need is to add all up and get the final wattage. Remember to pick a model with a higher rating for allowance when you need to connect other appliances or upgrade the current ones.
Note: the running watts is the power that the generator provides continuously. The starting power, on the other hand, is the energy supplied for some seconds to start motor-driven equipment.
(2) Generator type
Most of the generators used in the mobile detailing jobs are either convectional generators or the inverter generators. Reason? These generator types are easier to handle, require less maintenance, and are quite portable. However, they are different when it comes to usage and applicability.
Yes, they can all run most mobile detailing equipment, but the convectional generators are much powerful and can run multiple units at a glance. The inverters, on the other hand, provide cleaner power, and they are much quieter than conventional counterparts.
(3) Fuel Tank Capacity and Runtime
The generator run time is essential, especially if you will be working in areas far from a gas station. The generator will, at times, be required to run continuously, and if the fuel tank is too small, then the run-time will be short. Fuel efficiency is also essential since a generator with less fuel usage is always the best.
(4) Noise Level
Yes, some of the mobile detaining equipment is noisy, but that doesn't mean you have to buy a noisy generator. Today, most portable generators run quietly, and that can be an advantage for you. Check on the noise rating, labeled in Decibels (dB) before you buy. Pick a model with a low noise level, mainly if you mostly operate in a condensed area.
(5) Extra features
Safety features and ease-of-use features are the most important things I need you to consider. Something like low-oil shutoff or Volt-guard comes in handy in protecting your generator and the connected appliances. Also, you need to find an effortless electric start or a model with a convenient crucial remote start. Additionally, the eco0throttle mode is another feature you might want your generator to have. It reduces the electrical load, minimizing noise, bettering fuel efficiency, and, lastly, extending the engine life.
Frequently Asked Questions (FAQs)
Can I run an air compressor and car washer at the same time using a generator?
Yes, provided the generator has enough starting and running power required by the two equipment. Else you will need to run each unit singularly.
Why does my generator increase the noise level when I connect an air compressor?
The air compressor draws a lot of power from the generator, making it run faster to sustain a continuous flow of energy. When the engine increases its running speed, the noise levels also go up.
GLOBO TOOLS OVERVIEW:
Everything in this guide is meant to leave you with the best generator for mobile detail. You shouldn't ignore anything. Also, remember to use the buying guide to ensure you have settled on a unit that meets your needs best. All the models listed here will serve both the mobile detailing beginner and the experts in this area. Good Luck!
Related Buyer's Guides and Globo Tools  Review Lists: