Briggs and Stratton's generators have proven their worth in one way or the other. According to customer opinions, the generators are highly reliable, durable and top-performing. Today, the Briggs and Stratton generator line is wide enough to cater to every person's needs for power. The structure of these generators is designed to ensure their efficiency is on another level.
The Briggs and Stratton generators come fitted with noise-reducing mufflers. The work of a quiet muffler for Briggs and Stratton Generators is to lower the noise caused by hot gases forced out of the engine cylinder during the exhaust stokes. It does also prevent sparks from existing or igniting any leaves, dry grass or debris. After a period in operation, cracks, soot build-up or hole can reduce the muffler efficiency.
Why Replace Briggs and Stratton Generator Muffler?
If your generator has increased the operation noise or if it's struggling with exhaust breaths, you should start thinking of replacing it with a better one. You might also be wanting to replace an effective muffler to try and combat the high noise production of your Briggs and Stratton generator. Whichever the reason, replacing the Muffler requires you to find the ideal model to fit your generator type and size, for both standby and portable generators. You need to find the best Quiet Muffler for Briggs and Stratton Generators.
How Do Inspect Briggs and Stratton Generator Mufflers for Repair or Replacement?
It would be best if you inspected the Muffler well to know when it needs to be replaced with a better Quiet Muffler for Briggs and Stratton Generators. It's paramount that you ensure your quiet Muffler for Briggs and Stratton generators is working correctly before it ruins your generator engine or causes other property damages. Inspecting the muffler engine is quite simple. Here are the steps:
Locate the generator engine muffler. It's usually near the engine cylinder head; it's not easy to miss it.
Determine if the Muffler needs replacement by removing it when cold and shaking it. It should have little, or no noise heard. Another thing, the inside should have a limited amount of rust and debris.
If you get a significant amount of noise and or debris after shaking, your Muffler is probably deteriorated from the inside and needs to be replaced.
If the interior is good, inspect the exterior for signs of dents, holes, cracks and rust. Any of them restricts the exhaust and reduces mufflers effectiveness. That's why you need to replace it.
How Do You Remove and Replace a Briggs and Stratton Generator Muffler?
The steps to removing and replacing a Briggs and Stratton Generator Muffler hugely depend on the generator model. Some have theirs screwed to engine body or attached directly to the engine using mounting bolts. Some generators come with a muffler extended outside the generator boy with pop threads.
Steps to follow when removing and replacing a Briggs and Stratton Generator Muffler:
Step 1: Check if your generator muffler is attached using mounting bolts and if it has locking tables around them. If it has tabs, bend them back far enough to give allowance for your wrench to fit over the bolt head. Loosen and remove the both and after that remove the Muffler.
If the Muffler is screwed directly to the engine, you need penetrating oil to apply to the engine threads. Leave it for few minutes to take effect and unscrew Muffler.
For those mufflers fastened with a threaded lock ring, tap it anticlockwise with a pin punch and a hammer to loosen it. At this point, you can grasp the Muffler using a pair of slip-join pliers. Unscrew the threaded lock ring in anticlockwise turn.
Step 2: Check the Muffler of soot build-up by tapping it with a mallet or hit it on a hard surface. If it's damaged or it has a significant quantity of soot, it needs replacement. If the Muffler has a small amount of soot and not rusty, it's in reusable condition; you can reattach it.
Step 3: If it needs replacement, kindly pick a model from the list provided below. It gives top rates quiet mufflers for Briggs and Stratton Generators. Pick a model that is compatible with your generator in terms of size and horsepower.
Step 4: While attaching your Muffler, don't over-tighten it. If your generator uses a lock ring, you'll need a pin punch and a hammer to install the Muffler. Place the smooth lock ringside against the cylinder if your generator uses an aluminium-block engine. For the cast-iron engine, place the tooth side against the cylinder.
Top 6 Best Quiet Muffler for Briggs and Stratton Generators Update for 2021
Here is a list of the best quiet mufflers for Briggs and Stratton generators that you can use to replace your generators muffler. The best part is, these models have been proven to work by the customers. According to the many reviews about these mufflers say they are top quality with excellent performance.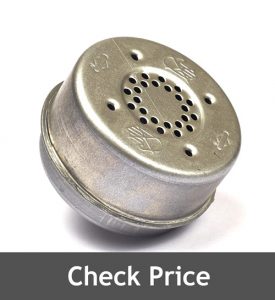 For those searching for an identical Briggs & Stratton replacement for 3 to 4 horsepower vertical engine muffler with 1/2 –inch NPT, Briggs & Stratton Lo-Tone Muffler is the unit to buy. The model is made easy to install; it fits perfectly. And you know what? You just need to screw it right on with no tools required except a wrench. It's an original OEM replacement from Briggs & Stratton offer at an excellent price for a new muffler.
As a low tone model, you can expect it to lower your generator noise by almost half. That's the beauty of replacing your Muffler with this model.
Pros:
Compatible with 3 to 4 HP Vertical engines w/1/2-inch NPT
Identical OEM replacement
Good price for new
Easy installation
Lo-Tone muffler
The 299477S Muffler is another recommendable and durable model from Briggs & Stratton. It comes as a smaller version standard muffler designed to fit 8 to 16 horsepower horizontal engine models with a cast iron sleeve and 7-inch pipe length plus 1-inch NPT. As a Briggs & Stratton genuine part, it's specifically designed to match OEM standard.
What's more, the model is made and tested to help in the delivery of optimum performance in those compatible Briggs & Stratton engines, both generators and mowers.
Pros:
Standard Muffler Design
Fits 8 to 16 HP Cast-Iron horizontal engines
For engines using 7-inch pipe length/1-inch NPT
Genuine part specially designed w/ OEM standards.
Deliver optimum performance
If you need an OEM replacement for your 10 to 12.5 horsepower vertical or horizontal generator or mower engine, the Briggs & Stratton 691874 is the product to check out. It comes as a Lo-Tone muffler designed to improve noise-reducing performance on your engine. It comes featuring an exclusive RAF reduced noise design required for an improved muffler replacement.
It's a model that will ensure your Briggs & Stratton engine complies with all applicable (EPA) emission regulations. It will also help in maintaining the valuable Briggs & Stratton warranty coverage.
Pros:
Fits 10-12.5 HP horizontal/vertical engines
Maintains valuable warranty coverage
Superior RAF reduced noise design.
Lo-Tone muffler design
Maxpower 334140 Engine Muffler is yet another quiet muffler for Briggs & Stratton Generators. It's designed to replace Briggs & Stratton 299477 and 299477S 1-inch pipe muffler. It does also fit Kohler 275679S, Tecumseh ST105122 and 32043A, among others.
What's more, this is a muffler you can use with John Deere, Power King, Gravely, Wisconsin and Wheel Horse applications. Its installation is nothing but easy and straightforward; no assembly or tools required.
Pros:
High-quality OEM replacement
No assembly required
Wide compatibility
For 1 Inch Pipe
Solid construction and threaded style are what you get to enjoy on this next model, the Briggs & Stratton 392989 Muffler. It's an exact replacement for generator and mower single-cylinder engines of size 9 to 18 horsepower that use reduced pipe extension.
As a standard muffler, it's easy to install; the threading allows you to mount it quite easily. It comes with a thicker wall that improves its durability and also helps lower the engine noise by almost half.
Pros:
Exact fit
Easy installation
Way thicker walls
Standard Muffler Design
Decreases Noise level by half
Fits 9-16 HP Single-Cylinder engines
For those searching for an excellent noise-reducing muffler for their generator or mowers, the Briggs & Stratton Super Lo-Tone 498984S is a perfect choice for them. It comes as a Super Lo-Tone muffler. Do you know what that means? This a model you can expect to reduce the generator engine noise exponentially. It's designed to fit horizontal engines rated between 8 – 11 HP, both generator and mower.
What more, it can fit opposed twin 18 HP horizontal engines and some selected OHV Twins models, both horizontal and vertical c/s models/remote mount.
Pros:
Exact OEM replacement
Superior RAF reduced noise design.
For Horizontal Engines of 8 – 11 HP
Ideal for Opposed Twin 18 HP Horizontal Engines
Final Thoughts!
For most generator owners, not only Briggs & Stratton users, inspecting, removing and replacing Muffler is a nightmare. They would prefer hiring a generator maintenance and servicing company for the job, costing them money. As you can see, installing a quiet muffler Briggs & Stratton generators is an easy and straightforward process requiring at most two tools, nothing more.
Related Articles: