Powering your whole house isn't the same as running a few appliances in your home. You need a generator that meets the heavy-duty power draw. Yes, there models out there with enough power to run an apartment, mansion or the likes. However, most of these generators are designed to deliver power for a short period. If you need the best generator for whole house, you need to get a high-performance, reliable and durable unit.
How do you do that with the current status of the market? Well, the answer is simple; read this post to the end. Here I've used my researching skills to compile a list of the top-performing highly rated models to ensure you get the best chance to take home a generator that meets your needs. I've also given you a buying guide to simplify the purchase.
Let's get started!
Best generator for whole house in 2021
With a rating of 12000 running watts and 15000 peak watts, the first generator in the list, the Westinghouse WGen12000DF is an ideal whole-house generator. It comes as an ultra-duty portable generator designed for strength and reliability. It has the muscle and design to ensure it delivers a go-to power solution. The construction is heavy-duty, ensuring your investment lasts long.
Usability of the generator is top-notch. There're certain features employed here that ensures you get the best functionality and make it easy for you to operate the generator. As a dual-fuel model that gives you the flexibility of choosing the available fuel, it has an on-the-fly fuel change allowing you to switch between the fuels easily and secure. The best part is, the generator has four 5-20R GFCI household outlets providing generous versatility.
Pros:
Tough, powerful V-Twin engine
'On the Fly!' Fuel Change
Transfer Switch Ready
Electric Start Key Fob
Ultra-duty strength
Cons:
Heavy for outdoor applications
Can be quite noisy
The next best generator for the whole house is this DuroMax XP12000EH, a portable dual-fuel generator that comes with an electric start for starting convenience. It comes equipped with a powerful 457cc DuroMax OHV Engine allowing it to deliver whopping 9,500 running watts and 12,000 starting watts enough to power most of your house appliances.
It's a generator that can handle heavy loads from refrigerator to your central air conditioner. It's also powerful enough to run your power tools. The dual-fuel technology is here to give you the freedom to select between propane and gasoline, whichever is available and accessible for you. The generator is a perfect home and outside power source that you can rely on when there is a power emergency.
Pros:
Powerful DuroMax engine
Automatic low oil shutoff
Duromax mx2 technology
Convenience idle control
Dual-fuel technology
Here I have another model, the A-iPower SUA12000E that has proved to be more than a regular generator. It's a portable generator that delivers reliable power when you need it most. With an output of 9000 running watts and 12000 starting watts, this is a generator you can use to power your whole house. What more, it comes with multiple GFCI-protected outlets allowing utmost versatility and safety.
Another feature well-praised by its customers is the heavy-duty frame that offers it the extra strength and protection. The functionality of this generator is top-notch, and usability is nothing less of effortless. It comes to a one-touch keyless button offering top-notch convenience of starting the generator. The wheel kits and handle offers you high mobility for easy transportation and storage.
Pros:
Heavy-duty construction
Large Never-Flat wheels
Built-in DC adapter plug
Keyless effortless start
GFCI protected outlets
With the praises around Generac Portable generators, it would be a shame not to have one model here. Fortunately, there is one you can buy for your whole house, the Generac 5734 GP15000E. It's a power-beast with 15000 running watts and a whopping 22500 starting watts. That is enough power to run most of your home appliances.
And the best part is, with all this energy to give, the model is also portable. It comes with a conveniently designed wheel kit and a foldaway handle providing top-notch mobility. The use of a hardened steel tube cradle is an assurance of added durability and strength. There's also an integrated lifting eye offering easy transport and security while using it in a job site.
Pros:
Full-pressure lubrication system
High-Performance OHVI Engine
Overload-Protected Outlets
Automatic-idle control
Safe, Quiet Operation
Built-in fuel gauge
Cons:
A manual transfer switch required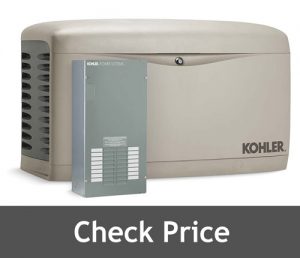 Be it a mansion, apartment or a bungalow, this next model, the Kohler 20RESCL-100LC16 is powerful enough to keep your whole house power. It comes as an air-cooled standby generator built with power emergency in mind. It comes with an automatic 100Amp transfer switch, providing much convenience when there's a power emergency. The best part is, when the power goes off, you do not have to worry about staying in the dark until the generator comes on.
All thanks to its fast power restoration response. Quiet operation and premium power quality is something you'll be enjoying. Its heavy-duty construction features corrosion-proof enclosure offering protection from weather elements even the harshest seaside conditions.
Pros:
Exclusive POWERBOOST technology
Corrosion-Proof Enclosure
Fast Automatic Response
Premium Power Quality
Heavy-duty engine
Long Warranty
Cons:
Require expert installation
Generac 70432 is a home standby generator working on a goal of giving your reliable power when disaster hits. As a Generac Guardian Series Generator providing 22kW starting and 19.5kW running watts, this air-cooled generator will ensure you have enough energy during an emergency. The best part is, for automation of the power connection, the generator comes with a Wi-Fi transfer switch.
On top of that, its response time is super quick, around 10 seconds. What's more, the generator is dual-fuel type; it can run on your existing LP or natural gas fuel supply. It's engineered and built in the US using high-quality materials. Its enclosure is highly corrosion resistant to ensure optional durability and ability to handle all weather elements.
Pros:
Engineered & built in the US A
Generac's g-force engine
Innovative engine design
Automatic backup power
Removable door panels
Rigorous testing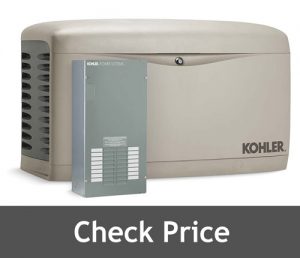 If you're looking for reliability and durability in the best generator for whole house, then this next model, the Kohler 14RESAL-100LC16 is your generator. It's an air-cooled standby generator that comes with an automatic transfer switch for extra connection convenient and safety. The generator is an industry leader when it comes to extraordinary performance and reliability.
When the power goes off, this generator automatically kicks in a short time, thanks to its fast response. It's built to handle the most robust condition the Mother Nature throws at it. Its enclosure is made using corrosion-proof, highly durable material to maintain style and protection. The installation of this generator is made easy by ensuring it comes with every accessory needed; however, professional installation recommended.
Pros:
Automatic transfer switch included
100% corrosion-proof enclosure
Premium power quality
Automatically start
Quiet operation
Fast response
Cons:
Quite heavy – fixed installation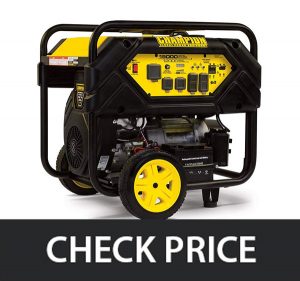 Apart from giving you portable power to take wherever you go, the next generator in the list, the Champion 100111 from Champion Power Equipment can also run your whole house. With it providing 12000 running watts and massive 15000 starting watts, it's for sure a generator with lots of ability. The versatility provide by this generator is also enormous; you can use it for home emergency power, job site and outdoor applications.
What's more, this Champion generator is run by a reliable and robust V-twin Champion engine fitted with an electric start and low-oil shutoff feature for protection. There is also a built-in Cold Technology, ensuring you get a smooth start in cold weather. The portability kit featured here comes with a wheelset and a foldable handle improving its mobility.
Pros:
Safe and secure transport Lift Hook
Reliable V-Twin Champion engine
Built-in Cold Start Technology
Built-in surge protector
Reliable toggle switch
Intelligauge
Cons:
Oil leak
High noise level
Briggs & Stratton 40450, smaller, sleeker standby generator designed to provide your family with peace of mind during a power emergency is the next model here. Although it looks small, it is a robust model that packs plenty of power for all your home's basic circuits and appliances. It's engineered and assembled in the USA using domestic and foreign parts.
The use of corrosion-resistant and durable enclosure made from galvanneal steel ensures your investment is protected for years to come. The generator also uses a high-power Commercial Vanguard™ Engine allowing it to provide premium-quality power. Besides this, the unit uses Symphony® II Power Management that manages the power distribution to your selected appliances automatically.
Pros:
Best-in-the-industry Vanguard™ Engine
200-Amp Automatic Transfer Switch
Automatic overload and shutdown
InfoHub™ Wireless Monitoring
Best in Class Warranty
Cons:
Installation costs
Modules sold separately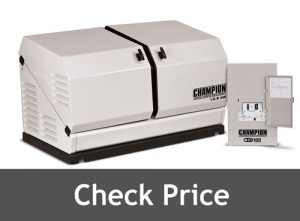 Last in the list is the Champion 100176, a reliable, high-performance home standby generator. It's the quietest in the standby class thanks to the utilization of advanced sound dampening. It also uses a low-tine muffler giving your residential-friendly noise level. It comes with an automatics system featuring an ATS100 Emergency Automatic Transfer Switch with 12 available circuits for versatility.
It's a generator that gives you seamless power to run your whole house during an outage. Its reliable starting system operates optimally in both sub-zero and extreme heat conditions; no warming kit needed. The best part about this generator, it's able to perform self-diagnostic test weekly making the maintenance routine easier for you.
Pros:
Champion Auto Control Module (ACM)
A specially designed low-tone muffler
439cc Champion OHV engine
All-weather steel enclosure
Reliable starting system
Cons:
Costly professional installation required.
Best generator for whole house Buying Guide:
Well, that's a long list of the best generators for whole house. The fact is, every model in the list is capable of running a house, apartment or a bungalow. The question now is, how big or small does it need to be? What's your wattage requirement? What do you prefer –portable or standby? To answer this, you need to go through the following considerations:
Power Requirements
Even though it's tough to get the power requirements of a whole house, you still need to get the best estimation of the wattage you need to keep everything running. The best way to do the evaluation is to calculate the power requirement of the essential appliances and other high-power units you have. Once you have that, you can do an estimate of the remaining electronics and appliance. Remember to get a generator with 30% more wattage.
Generator type – portable or standby
Here the big question to answer is, do I need a generator purposely for emergency power only or do I need a generator that I can use for outdoor applications too. If you need a generator for emergency outage situations, getting a standby generator with an automatic transfer switch is the best move.
However, if you're for a generator that powers your whole house and still run your power tools in your garage or job site or even a model you can take with you to a remote location, then get a portable generator.
Construction and durability
Well, I did an exhaustive job to ensure I give you a list of high-quality models only. However, when you visit the market, not everything is built with the same high-quality materials. That's why you need to consider the construction integrity and durability. Get something protected from rust and corrosion, especially for the standby generators that are installed outdoors.
Installation or storage area
Before you decide to buy a generator, you need to make sure you have enough storage area for storing or installing your generator. For the portable generator, you need sufficient space to store your generator and also enough area for keeping it while it runs, a few meters away from the house.
For a standby generator, you need a space for the installation. Good, flat and away from your bedroom or sitting room to prevent disturbance from the noise. Also, consider the installation cost- will you afford it?
Frequently Asked Questions (FAQs)
Q: Can use my standby generator on a generator cart?
A: Well, it depends on the fuel source and the compatibility of the cart. If the generator fits on the cart, why not. Another thing, if you can connect the generator to a portable fuel source that means you can move it around.
Q: Do I need to connect my portable generator for whole house using a transfer switch?
A: Of course, yes! You have to use the transfer switch to make the connection safe, eliminate the use of extensions, prioritize the appliances to run with it and also fulfil government requirement.
Conclusion
And there you have it; top best generators for whole house and a buying guide to help you buy the best model for your needs. Everything is for simplifying your hunt for the best generator for whole house. I hope I've given you everything you need to know. Pick a model that meets all your needs and proceed to purchase. Good Luck!