Installing an AC in your home is one thing but keeping it running nonstop is another. Sometimes disasters or emergencies happen, and the power goes off. That is the time you start feeling like the sun has dropped an inch closer to your house.
At the time the temperatures get too high, and you can even breathe well. For you to prevent that, it's crucial that you have a power backup source that you can use to run your AC (Window or Central) when power fails. Owning a generator is the best way to deal with this problem.
However, you need to know that the power consumption of an AC is quite high compared to other appliances in the house. So you need to be keen on why picking your best generator for AC. Inside this article are some of the top best generators ideal for running ACs that you can buy.
There is also a buyer's guide to help you decide on which generator to buy. So read it through, and when reaching the end, you will have found a generator that you can take home.
Top 5 Best Generator For Ac in 2020
My first best generator for AC is the premium Westinghouse WGen7500DF. The generator is a dual fuel portable unit that provides you comfortability and ease.
It can run on both propane and gasoline providing you with the flexibility when you're out on the road or when there is an emergency. When running on gasoline, it provides 7500 running watts and 9500 peak watts, and when running off propane.
It's able to give 6750 running watts and 8550 starting power enough to run your central AC and also leave you with some potential to run other appliances. The use of a powerful engine and extended run time makes this generator a machine you can rely on to power your life.
Pros:
CARB, EPA, and CSA Compliant
Automatic Low Oil Shutdown
Plug-and-Play connectivity
Push Button Electric Start
Intuitive Control Panel
Remote Start Key Fob
Cons:
Quite heavy
Not that quiet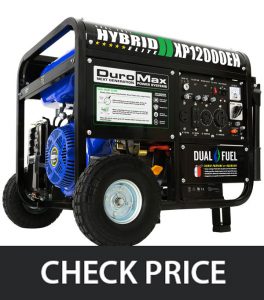 The DuroMax Hybrid Dual Fuel Portable Generator comes next. It's a power source that will keep you ready for anything. The DuroMax Hybrid provide power found in home standby generators but is in a portable package, and that is why it's nicknamed the 'BEAST.'
With it offering reliable power and versatility, this DuroMax XP12000EH is ideal for powering your AC and even other home appliances through a power outage, emergency or during a storm.
The generator uses a powerful 457cc 4-stroke OHV engine that is air cooled and fitted with a low-oil shut-off which protects it when the oil level gets too low. Its user-friendly features like the keyed electric start and the recoil start makes it quite easy to use and operate.
Pros:
Oversized noise reducing muffler
Smooth and quiet operation
Fully-isolated motor mounts
Heavy-duty all-metal frame
Fully loaded power panel
Built-in spark arrestor
Easy to transport
Cons:
Hard to drain the oil
Some performance issues reported
Champion Power Equipment is a well-known and bestselling brand in this area. Next up is their powerful, well-performing generator, Champion 100165. It's a dual fuel generator that provides reliable portable power with versatility and convenience. It's a dependable unit that will power your AC for a long time.
With the fact that it's run by a powerful 439cc Champion Engine which, the machine can provide you with 7500 running watts and 9375 starting watts when running off gasoline and when running off propane it provides 8400 starting watts and 6750 running watts.
One thing that impresses me more on this generator is the convenient electric start which utilizes Cold Start Technology. The technology ensures that the engine starts quickly even in cold weather. Everything about this champion generator is quite impressive.
Pros:
Safety Fuel Selector Switch
Smooth and quiet operation
Heavy-duty all-metal frame
Push-button electric start
Fully loaded power panel
GFCI protected outlets
Cons:
A bit difficult to do oil changes
4. Pulsar PG10000B16 – Dual Fuel 10000w Portable Generator
My next best generator for AC is yet another powerful dual fuel generator from the Pulsar community. It's a portable generator that will help you power your AC and keep you from the hot summer.
The double fuel feature brings the flexibility of either using gasoline or propane providing more options and peace of mind when there is an emergency or a disaster. Its power is delivered by the durable, powerful 420cc single cylinder OHV engine.
When running off gasoline, the engine can provide 10,000 Peak Watts/8,000 Running Watts and 9,000 Peak Watts/7,000 Running Watts when running off liquid propane. With its durable steel frame, flat-free wheels and the convenient foldaway handles, this model is a portable unit that will provide you with power wherever and whenever you need it.
Pros:
Durable Never-flat wheels
Convenient drop-down handles
Convenient Electric Start
Switch & Go Technology
Durable steel frame
CARB Approved
Cons:
Can be fairly loud
Shakes a lot while running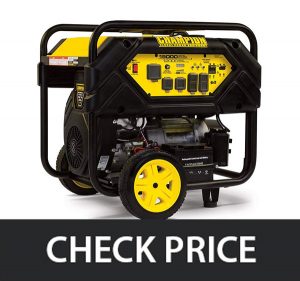 My list ends with yet another high-performing generator from Champion Power Equipment, the Champion 100111. It's a compelling model when you consider the power output it provides.
The use of a durable and powerful 717cc V-Twin Champion engine with a cast iron sleeve ensures that you get a reliable backup power supply perfect for running your AC.
The generator features an Intelligauge which allows you to keep track of the power output in voltage and frequency as well as the running power.
The Lift Hook, never flat tires and the foldaway U-shaped handle makes it easy while loading, unloading or moving your energy where you need it. Starting the generator isn't a problem thanks to its convenient electric start, and the Cold Start Technology which ensure the engine starts quickly even in cold weather.
Pros:
GFCI protected household outlets
EPA certified and CARB compliant
Electric Start and Lift Hook
Low oil shut-off sensor
Cold Start Technology
Durable steel frame
Handy electric start
Best Generator For AC Buying Guide
Finding the best generator for AC isn't a joke. You need to make sure the generator you pick can power your unit. So, what factors do you consider to ensure that you make a perfect choice? Here they are;
Power output
The best generator for AC should be able to provide you with enough power to run the AC along with other appliances and electronics in your home. You need to estimate the amount of energy the devices will need and add it to the AC requirement.
If you own a vast AC or a central AC system and you want to power some other electronics along with it, then you need to a relatively big generator which will be able to power them all without any issue. For you to be on the safer side, keep the maximum power output of your generator at least 10-20% more than the total power output required.
Fuel source
The fuel type that you want to use is also a factor to consider. Some people would feel comfortable using the cheap, and readily available propane or natural gas, whereas others would love to use the powerful gasoline. You need to buy a model that runs on the fuel source which is readily available to you. That will make sure you do not have to face any issues while finding fuel to run your generator. If you need convenience and flexibility then it is better you buy dual fuel generators.
Noise
Generator noise can be quite disturbing. If you want to have some quiet time while enjoying the cold, you should be able to listen to your TV or audio system, be able to speak and also keep it quiet for your neighbors. That is why it's vital that the generator you pick to operate at a low noise level.
Overall construction
The best generator for AC should be an investment that can last for years. That is why you need to check the durability of the overall construction of your generator. The body frame should be heavy-duty to ensure that the generator components like the engine are well protected. The metallic parts should be made from durable, robust, rust-resistant materials that can pass the test of life.
Portability
Since you might be running the AC using a generator mostly during a power outage or when there is an emergency. You might want to go with a portable model that will be easy to store or transport wherever power is needed. Pick a model that is easy to maneuver or a model that comes with a wheel kit.
Frequently Asked Questions:
What is a manual transfer switch?
A generator manual transfer switch is a small panel wired into the home electrical distribution system allowing a generator to be used to supply power in the house. It's used to prevent the generator from back-feeding and to reduce potential lineman injury.
GLOBO TOOLS OVERVIEW:
In your sear for the best generator for AC, ensure that you buy one with enough wattage capable of supporting starting/running your AC and also help your other electronics and appliances. Pick a generator that you will be convenient to use, not a model that gives you a headache. If you have a small AC unit and your home appliances do not need that much power, there is no need for picking a large generator. It can be a wastage of your money.
Read Also