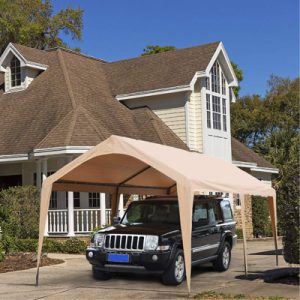 I don't think there is anyone who loves brushing snow off their car every morning while hurrying to work. Right? Apart from being annoying and a hard job, snow can also cause severe damage to the vehicle. If the ice gets to the engine, it could damage the moving parts or even cause the engine belt to skip off.
Additionally, when your car is buried in snow, it can cause several surfaces like the brakes to rust or even cause corroding to the car paint and finish. For you to guard yourself and your car from all these, you need to get the best car canopy for snow.
Different models are made in such a way that it provides the necessary shelter and protection for the falling snowfall. Most people will tell you that buying such a product in the current market is impossible. But I say otherwise. My article will give you a list of top best car canopies you can buy and a buying guide to help you purchase the ideal model.
Top 6 Best Car Canopies for Snow in 2021
Very few car canopies are ideal for covering your car from snow. Without the right model, your purchase can be a waste. Here is the list of the top 6 best car canopies available in the market today and which are worth your investment.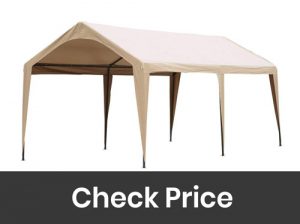 The first best car canopy for snow is the highly-rated, super-durable outdoor carport from Abba Patio. The reason many consumers trusts it is the fact that it comes with sturdy, high-grade construction.
It's made from top-quality materials which allow it to withstand weather conditions and resist fade and UV rays. Its double polyethylene fabric keeps away UV-rays, water, wind, rain, and snow. Its heavy-duty steel frame is powder-coated to ensure it resists chipping peeling, corrosion, and rust.
Its structural strength ensures it remains firm even during storms. Another thing you will love is the user-friendly, lightweight, and convenient design. It's created with you in mind and comes with an easy-to-read manual for straightforward setup.
Pros:
Heavy-duty coated steel frame
Heavy-duty bungees cord
Double polyethylene fabric
Quick and easy set up
Fully collapsible
Wide foot pads
Cons:
No storage bag
Weak included ground anchors
The next model is the Quictent Carport Gazebo Canopy. It comes as a heavy-duty car shelter to provide the ideal snow protection during the winter. One thing that makes this canopy to outstand the other is the top-quality, heavy-duty construction.
Its main cover and the doors are made using durable UV-resistant poly. The material is washable and quite easy to clean. On top of that, it does feature a Round or Arch style unit which provides some extra space along its sides of the enclosure.
Furthermore, it uses a heavy-duty coated steel frame, which gives it the strength to hold strong wind and lots of weight from the snow. Its removable sidewalls allow it to be used as an open sun shade during the summer.
Pros:
Rust and corrosion resistant frame
Reinforced polyethylene roof
Heavy-duty coated steel pipes
Heavy Duty Metal base plate
Safe and secure packaging
Clear pane style window
Cons:
Quite heavy when disassembled
Next up is another Abba Patio model, the Heavy Duty Beige Carport with sidewalls. It comes as a portable and versatile car canopy ideal for protecting your car from snow. One thing that supports its heavy-duty characteristics is the double polyethylene fabric used on the roof and sidewalls.
The material keeps its water-resistant, protecting the car from rain, snow, and wind. In addition to that, the framework uses heavy-duty steel which is powder-coated to ensure it resists peeling, chipping, rust, and even corrosion. The construction also provides increased stability.
Setting up this canopy is quite easy and straightforward, thanks to the easy-to-follow instructions with guided steps. One more thing; the footpads used here offer some added stability and easy access to the secure anchor point.
Pros:
Heavy-duty bungees cord
Strong steel framework
Fully collapsible design
Pre-installed foot pads
Easy and quick set up
Versatile design
Cons:
The anchors provided are weak
Setup requires more than one person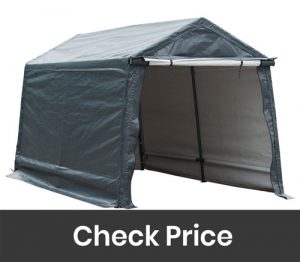 Next is yet another Abba Patio Model which is a storage shelter. The Outdoor Carport Shed comes as a heavy-duty car canopy aimed at keeping your car and other belongings safe from rain, snow, and wind. It comes in three sizes allowing you to choose the ideal one for your needs.
Its construction gives it the much-needed strength to withstand weather elements and give it long durability. What's more, its framework features powder-coated steel which resists rust and corrosion, chipping and also peeling. At the same time, steel gives it the required strength and stability.
It's also noticeable that the sidewalls and the roofing are also heavy duty. It features waterproof, and UV-and-fade resistant polyethylene which ensures your car gets the right protection.
Pros:
Powder-coated steel frame
High strength and stability
Polyethylene top cover
Fully collapsible design
Detachable zipper door
Easy to set up
If the top four aren't fit for you, here is another high-quality model worth your investment, the Bestmart INC Carport Canopy. It comes as a new compact, heavy-duty auto shelter perfectly designed for unbeatable durability.
The fact that it uses high-grade steel frame allows it to have the ideal strength and stability to handle strong winds and heavy snow. Additionally, the steel used here is powder-coated, which means it cannot rust, corrode, chip, or even peel.
Above that, the roofing and the sidewalls, including the door, are made from heavy-duty polyethylene materials. That allows it to provide drum-tight coverage which is waterproof, anti-fungal, anti-aging, and never-fading and will never yellow.
Pros:
New compact portable design
Ratchet TITE tensioning system
Premium powder coat finish
The polyethylene material
High-grade steel frame
Simple installation
Cons:
It's heavyweight when disassembled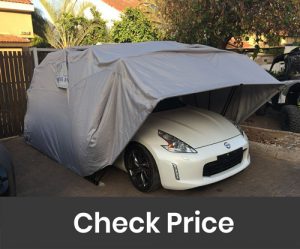 The list ends with another heavy-duty car canopy, the Ikuby All Weather Proof Carport. It comes as a car carport ideal for use as a car- shelter, awning, garage, shed, house, or park. As its name suggests, this heavy-duty model is all weatherproof.
It comes with a super sturdy structure which allows it to handle the strong winds, the heavy snow, and beating from a hailstorm. With it using the durable 600D oxford fabric that features PU coating makes it waterproof and snow proof. On top of that, it comes with a new and excellent shell look design which allows it to add an elegant touch to your backyard.
It's quite easy to set up, open, and close. Lastly, this model is foldable, retractable, and lockable for easy transportation and storage.
Pros:
Quick and flexible installation
Durable 600D oxford fabric
PU waterproof coating
Super Sturdy structure
Cons:
Weak anchors
Small sizes only
Best Car Canopies for Snow Buying Guide:
As you might have noticed, each model in the list offers something different and feature a different construction. That means, for you to buy the best canopy for snow that meets all your needs then you have to be a bit keen. But since you might be in a hurry, here are top considerations to keep in mind while you make your selection.
Size
Now that you know the models to buy, do you understand the size you need? How big is your car and will it fit inside the carport? How big is the installation area? Answer these questions before you decide on which model to buy. Check the length, width, and height sizes before purchase and ensure you get the ideal size. A small sized car canopy won't offer the required protection. Also and oversized canopy might not fit well in your packing area.
Construction Quality
Here you have to make sure the car canopy has the strength needed to handle snow weight, hailstorm, and also strong winds. I suggest you pick a model that uses a robust, especially metallic framework like coated steel. A material that resists rust, corrosion and maintains its aesthetic touch.
While checking the construction, you also need to check the covering and sides. You need to buy a model that uses waterproof, UV-resistant and if possible all weatherproof like an aluminum sheet or polyethylene.
A model utilizing this kind of materials will have extended durability and also ensure your car gets the right protection from snow and other elements.
Installation difficulty
When making your selection for massive structures, never forget to check on the installation difficulty. You have to first check on the instruction manual, next check on the labeling on the poles. You need to buy a model that comes with labeled poles and easy-to-read instructions with a step-by-step guide.
Other Features
Check to see if the car canopy come with the required securing bungee cord and the anchors for stability. You can also check for foot pads as they offer added balance.
Best Car Canopies for Snow (FAQs)
Can I use my car canopy to store other belongings?
Yes. If your car canopy is big enough to accommodate the car and your items, then why not?
Is it a must I install my car canopy on a concrete ground?
Not really. All you have to do is make sure the ground you're installing the car canopy on is super solid to support the legs and the anchors.
GLOBO TOOLS OVERVIEW
Everything here is aimed at ensuring you have bought the best car canopy for snow. With the right model, you will get to enjoy the winter without having to brush snow off your car every morning. Also, by protecting your precious vehicle from the snowfall, you will be saving it from future damages. So, I suggest you choose wisely and slowly without hurry. Good Luck!
Related Information: