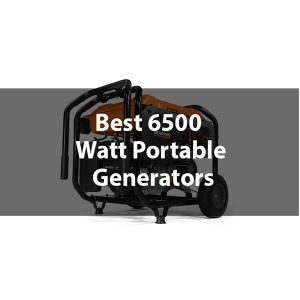 Generators are handy machines that save us from the horror of darkness, keep us safe, fuel our life, and, best of all, allow us to enjoy our outdoor experiences. And did you know with a portable generator, you have the power to take the generator wherever you need it most? Well, with a 6500-watt portable generator, your needs for emergency home backup, camping, tailgating, RVing, or job site power needs are reliably met.
As fun as it may sound, finding the best 6500-generator isn't. However, I have decided to offer my expertise in helping you find the right model. After detailed research, I was able to gather crucial information you need during your purchase and top-performing models you can buy. This info is inside this guide article, read it, and in the end, you will have a model that deserves your money.
Top Best 6500-Watt Portable Generator in 2021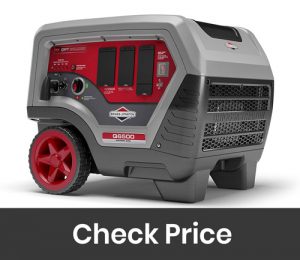 My first best 6500-watt generator is Briggs & Stratton 30675. It's a Q6500 Inverter Generator that comes with a portable design. The generator is here to give you quiet, reliable, and stable power when you need it most, be it during an emergency blackout, power outage, camping or RVing, with it delivering 60% quieter than a standard generator.
For quality delivery and reliability, the generator is not only equipped with inverter technology but also a robust and highly-efficient 306cc integrated engine. There is also a protective and noise-reducing shell that plays a great deal in reducing noise and keeping the generator's internal components safe—the all-steel frame for durability.
Pros:
Highly-efficient integrated engine
QuietPower inverter technology
Quiet, portable power
Noise-reducing shell
Telescoping handle
Another 6500-watt generator that has received a lot of praise from its customers is this Generac 5946 GP6500. It's a portable and gas-powered model here to give you a versatile and transportable power ideal for a variety of applications. You can use it to make your camping more comfortable, and contractors can appreciate the flexibility brought to a job site.
Thanks to its highly-reliable Generac 389cc OHV engine, now you can expect to enjoy 10 hours run time at half load with its 6.7 gallons of fuel. The generator engine also comes with the low-oil shut down for protection and an hour meter for the maintenance alerts. On top of that, there is splash lubrication that prolongs the engine's life.
Pros:
Never-flat wheels and handle kit
Hardened steel-tube cradle
Incorporated fuel gauge
Low-oil level shutdown
Splash lubrication
Green-power America GPG6500EW, a Pro Series, is a portable gas-powered generator intended for an emergency, home, and recreational use. The generator is built with the highest material-quality to make it ideal for use in various places. With praises on quality, durability, innovative features, and longevity, this a model I would trust you can buy.
It's fitted with a highly reliable LCT 420cc OHV engine that allows producing 5500-Running Watts and 6500-Starting Watts. With its 6.6-gasoline tank full, the generator is capable of giving you around 8-hours run time at half load. Manual recoil and electric start offer quick and effortless starting. The large solid wheels and the two foldable handles offer excellent mobility to the generator.
Pros:
Effortless Manual Recoil and Electric Start
Robust OHV LCT Professional Engine
EPA and CARB approved
Wheels kit and handles
Lithium-Ion Battery
CAT is a well-known brand that produces high-quality machines, this RP6500E 6500-watt portable generator being one of them. It's a small yet robust model designed for reliable power supply, quiet operation, and durability. The generator has a heavy-duty all-steel construction that ensures it stays in shape and protects its interior parts like the engine.
If you want a portable model that you can take with you to the campgrounds, in your RV, tailgating, or to your job site, then this is it. The generator has a rugged, lightweight construction that keeps the engine compact and easily transportable. Additionally, it features dual never-flat rubber tires, and doubles fold-away handle for high mobility.
Pros:
Padded Double Hinged Handle
LED-Lit Control Panel
Single Side Operation
Solid Rubber Wheels
Electric Start
Easy to Use
When you're selecting the best generator with 6500-watts power, you cannot forget to check out this next product, Generac 7690 GP6500. Yes, it's a lightweight, compact engine with high portability, but it's also a heavy-duty model designed for reliable and consistent power supply. With this generator, you can count on secure camping, home backup, or construction power.
From the heavy-duty wheels, easy fold-away handles to the heavy-duty all-steel tube framing; the generator has the best mobility and protected design. It does also use robust advanced technology to deliver more than 40% boosted starting capacity, which in return allows you to do more with less.
Pros:
Power Rush advanced technology
Generac durable OHV engine
Incorporated fuel gauge
Low-oil level shutdown
Splash lubrication
If you want the best 6500-watt generator purposely for constructors and various construction sites, then this last product, Generac 6827 XC8000E, is the generator to buy. It's a Generac's NEW XC professional series generator with a portable design. It's here to give you a resilient, reliable, sturdy, and durable power you can transport wherever you want.
For better durability and strength, the generator has an impact-resistant fuel tank and a full-wrapped frame featuring heavy-duty 12-Gauge steel tubing. Additionally, since the model is heavy-duty, it's also heavy to lift, for that it does come equipped with a steel lifting pocket for easy crane lifting and transportation.
Pros:
Durable Generac G-force engine
Never-flat wheels w/steel hubs
Full panel GFCI protection
True power technology
Idle control feature
Steel lifting pocket
Best 6500-Watt Portable Generator Buying Guide:
When you start your search for the best 6500-watt generator, remember you're investing your valuable money to get quality and reliable service in return. With this in mind, it will be easier for you to know what you need from the generator. While doing so, you will need to consider the following factors:
1) Power Needs
Before checking out the available 6500-watt portable generators, you got to ask yourself the amount of power you need from the generator. Do a simple summation of all the appliances'' power rating to have an estimate of the total wattage. Compare the result with the generator's output to ascertain it is the perfect match.
2) Run Time
The run time is crucial as it tells how long the generator will run before the next refueling. You need to have a rough estimate of the time you need the generator run. If you need it to run the whole night, you might want to consider a model with at least 8-hours of run time.
3) Portability
I understand you need the best 6500-watt portable generator. That calls you to be extra keen while checking on the portability and mobility on the generator construction and design. If you need a generator, you can carry with you a compact and lightweight design that will be the best. For easy and comfortable mobility, you need a generator with a wheel and handle kit, as it eases storage.
4) Noise
For a better experience, and not disturb your neighbors and home residents, you go to pick a model with low noise operation. That also applies if you need a generator to use in a campground or tailgating site.
Frequently Asked Questions (FAQs)
Q. Is it fair to say a generator is a noisy machine?
A. Yes, a generator has a running engine that vibrates and rotates to produce power, thus creating noise. But considering some models are low-noise, it would be fair to say some generators are noisier than others. Most inverter generators are the units with the lowest noise levels.
Q. Can I replace my generator's wheel kit?
A. Yes, if the wheels are worn out, you can take them out and replace them with newer ones. Most generators will have a pin or a screw securing the wheels, so it is quite easy to do the replacement.
Conclusion
There you go, everything required to find the best 6500-watt generator. In this guide, everything has been simplified to make the process as smooth as possible. I hope you are now in a place to find a generator to order quickly. If you do, do not hesitate to proceed to purchase. Good Luck!