Admit it! You're already fantasizing about what you would do with a 5000-watt generator. Right? Well, for a start, you can use it as a small home backup unit; use it for recreational purposes like camping or uses it to power your small workshop or job site power tools. Today, the 5000-watt generators are multiple, and now you can even buy an inverter model of such capacity. That opens up more versatility of what you can do with a 5000-watt inverter generator.
However, for all that to be possible and to enjoy the real, clean, reliable, and durable power, you need to buy the right generator for your needs. It might sound simple, but it's not! I will try to make it as smooth as possible. Here I will give you the top best 5000-watt inverter generator you can buy in 2021 and also give you a buying guide to help you with the purchase.
Let's get started!
Top 6 Best 5000-Watt Inverter Generators in 2021
The first generator in the list is the Westinghouse iGen4500DF, a dual-fuel inverter generator with high portability. The generator produces 3700 Rated and 4500 Peak Watts on gasoline, which is around the 5000-watts you're searching for. One of the many reasons why I have included it here is, the generator is an RV-ready and comes with household outlets, and on top of that, it does have built-in USB ports.
Generally, this a generator you can rely on when you need recreational power or an emergency backup source. The best part is, it is designed for maximum fuel efficiency, and that's why it comes with a high-power O.H.V. Westinghouse Engine with variable speed. The design allows the motor to reduce its R.P.M. to match the load connected to it and return saving on fuel and increasing its service life.
Pros:
Extendable suitcase-style handle
Wireless remote key fob start
Lightweight, compact design
Push-Button Electric Start
Automatic digital display
Variable engine speed
Dual Fuel Technology
Honda is a well-established brand that builds long-lasting and reliable machines, and now you have the chance to get one for yourself by acquiring this next model, the Honda Eu7000is. It's an inverter generator designed with portability, convenience, and durability in mind. Another thing, this generator is designed to employ Honda's original Sine-Wave Technology, allowing it to provide you with high-quality electrical output inside a small, low-noise unit.
Additionally, it can give you a simultaneous output of 100v and 200c single-phase current; that makes it an ideal generator for both emergency and commercial use. That's not all! The generator has a double-layer soundproof construction covering the engine and a 3-compartment configuration with a separate motor, exhaust, and intake compartment. The structure helps with noise reduction as well as improving liquid cooling.
Pros:
Double-layer soundproof construction
Tri-compartment configuration
Simultaneously outputting
Convenient electric start
Electronic Fuel Injection
Super quiet operation
Stable Inverter power
One of the many praises about Champion Power Equipment as a brand is producing power machines with cutting-edge innovation. My next model is one of their high-power, reliable, and conveniently portable Champion 100519. It's a Digital Hybrid Series Inverter generator that comes with an Advanced Open-Frame Design. The construction allows this model to be 20-percent lighter and 50-percent quieter compared to a conventional 5000-watt Champion generator.
And now, with a generator in your garage, you will know that you have yourself covered when you need emergency home backup, some recreational power, or enough power to power your power-tools. With 6250 starting and 5000 running watts, this generator is capable of handling multiple applications. You also get to enjoy quiet technology.
Pros:
Innovative Digital Hybrid inverter
Advanced Quiet Technology
Cold Start Technology
Extended Run Time
Economy Mode
Intelligauge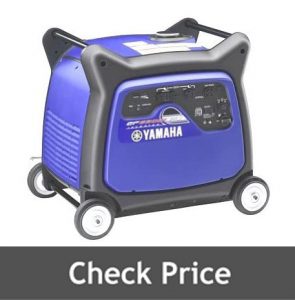 If you need an inverter generator that gives you clean, stable, and portable power that you can move around quickly, then you need the Yamaha EF6300iSDE. It is everything you need from a beautiful, powerful, and clean Yamaha package. The generator comes with a stylish design, an elegant appearance with a modern design, all meant for better and optimal power.
With 6300 starting watts, 5500 running watts, and Pure Sine Wave Inverter System, this a generator you can rely on multiple applications. You can use it to run your electronic equipment and appliances, including variable-speed power tools and computers. There is a Smart Throttle feature designed to automatically adjust the generator engine speed to match the power needs which reduces noise, motor engine, and improve fuel consumption.
Pros:
Stylish and Modern design
Automatic Smart Throttle
Wireless Remote Control
Quiet Noise Block
Automatic Choke
Power Meter
Cons:
Quite Heavy
Hard to change engine oil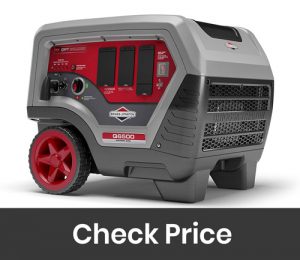 Briggs & Stratton 30675, the Q6500 Quiet Power Series, is an inverter generator that is more than 60-percent quieter and portable power. It's designed to deliver highly-efficient power using its integrated engine and alternator, providing up to 14-hour run time. The inverter technology employed here supplies consistent, clean, and stable power for use with essential home appliances, and that includes the sensitive electronics.
What's more, the generator will give you quiet and portable that you can take wherever you need it to go, all thanks to its mobile design that includes never-flat tires and a foldaway handle. Another thing, its enclosed design is 45-percent compact and 30-percent light than a standard generator of similar capacity. The multiple outlets fitted on this model provide great versatility.
Pros:
Highly-efficient Integrated Engine/Alternator
Noise Reducing, Protective Shell
Telescoping Handle & Wheels
Quiet Power Technology
Briggs & Stratton P4500, a PowerSmart Series Inverter, close my list. It's here to give you clean and stable 3700 running watts and 4500 starting watts, which is enough power ideal for R.V. and campsite use. As a super-quiet and power-smart model, the generator will deliver not only quiet operation and portable energy but also reliable and efficient power.
Another thing, this generator comes with a multi-functional display panel, which makes the usage and maintenance super easy for you. It does monitor the power usage, run time, and also fuel level. What's more, unlike other gas generators, this model comes with a C.O. Guard Shutdown Technology which is designed to kill the engine when harmful carbon monoxide levels are detected.
Pros:
Protective Noise-Shell Minimizing
CO Guard shutdown technology
Multi-functional Display panel
Push-button electric start
Inverter technology
Automatic choke
Best 5000-watt inverter generator Buying Guide:
It's every buyer's happiness to take home the right model that delivers as expected. And that applies to buy a 5000-watt inverter generator. For that, you need to consider the following selection factors I'm giving you below.
Generator Capacity
Before anything, you will need to have the right power wattage you need from the generator, which is the running and the starting wattage. With the rating, you can now ensure that the model you are buying gives more than your wattage rating. Another thing, since you're looking for the best 5000-watt inverter generator, you might want to prioritize your needs to essential appliances.
Generator Type
5000-watt inverter generators come in two types; there's a single-fuel generator running gasoline or a dual fuel generator using either propane or gas or both. Here the best thing is to consider your budget. The best recommendation is a dual-fuel generator, as it gives you the freedom to select the most convenient and easily accessible fuel. However, the dual-fuel inverter generators are high on price compared to the single fuel.
Portability
Portability is another thing. While buying, you're the generator; you already have plans lined up on where and how you want to use the generator for. If you're planning on getting a generator that you can transport from one place to another, get a generator that is mobile and also portable. A compact, lightweight design combined with wheels and a handle are the feature you need to check out.
Number of outlets
Versatility all lies in the type and number of outlets the generator has. If you need an R.V. ready generator, then it needs to have an RV-ready twist outlet. The same goes for the home application; the generator must have a 20Amp or 30Amp outlet for a comfortable and safer connection. Another thing, some generators come with a USB plugin that adds more convenience to the generator usage.
Frequently Asked Questions (FAQ)
How does an automatic choke work?
When there is a problem starting the generator, its controls will activate the automatic choke, which will mix the gas with fumes for better and easier ignition.
What does Tri-compartment configuration mean?
The Tri-compartment configuration is mostly used in the inverter generator as it is designed to reduce the noise levels produced by the engine. The setting means, the shell is a divide in three separate sections, the input, motor, and exhaust sections.
Conclusion
The best 5000-watt generator can be a real asset for a home backup system, for a small workshop owner or a camper. Yes, I might have given you a guide for the buying the best 5000-watt inverter generator, buy the last decision is all on you. For you to get the best model, you have to make sure you consider your needs first, and the rest comes next.