A 3500-watt generator is a portable, compact generator with enough electrical energy to power a home during a blackout or provides ideal power for camping, tailgating, and RVing. And you know all this, and you're searching for the best 3500-watt generator to buy. Right?
Well, this article is here for you. Inside it, I have provided you with a top-class model's list that you can use to select the best performing generator. There is also a buying guide featuring some top considerations you need to use to ensure you buy the best 3500-watt generator that's a perfect fit for your needs.
Top 9 Best 3500-Watt Generators for 2021
Another ground-breaking generator you can buy and expect the best performance is the high-performing Westinghouse iPro4200. It comes as an industrial portable inverter generator designed to provide 3500 running watts and 4200 starting watts of power. The generator is engineered for both professional and industrial applications.
The powerful and reliable 212cc Westinghouse OHV engine allows it to provide enough energy to run your power tools and also the job site essentials. Its heavy-duty construction, durable steel tank, and a rugged steel frame ensure it last for a lifetime. Another thing, the generator is OSHA compliant with a full panel GFCI protection. There is also an 'Efficiency Mode' put in place to increase fuel efficiency.
Pros:
Durable Steel Fuel Tank and Rugged Frame
Reliable 212cc Westinghouse OHV Engine
Fuel-Saving 'Efficiency Mode'
Automatic Low Oil Shutoff
Full Panel GFCI Protection
Overload Protection
Cons:
Quite heavy
No portability wheel kit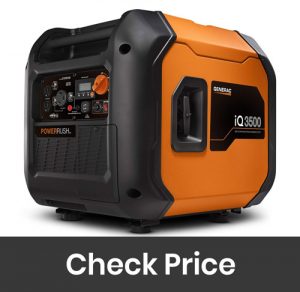 Lastly, I give you a unique, and durably-made portable inverter generator designed with quality and quietness in mind, the Generac iQ3500. The generator features advanced inverter technology and a total-enclosure design that ensures it provides optimal quiet performance. According to third-party testing, this model is 40% more silent and 16% more potent than the Honda EU3000is.
Durability here is something commendable. The generator features a durable steel enclosure designed to protect all the internal components and also stay rust-free. The lightweight, compact, enclosed design makes it easy to transport and store. The PowerRush Advanced Technology employed here allows the generator to provide more starting power.
Pros:
PowerRush advanced technology
Advanced inverter technology
Optimal quiet performance
Start/Run/Stop PowerDial
Clean inverter power
Smart Digital LCD
Cons:
No Wheel Kit
Parallel Kit sold separately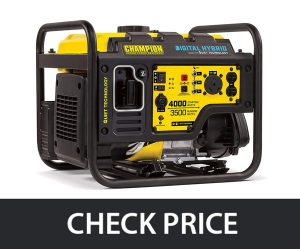 Champion 100302 is another well build 3500-watt inverter generator. The generator uses Champion's innovative Digital Hybrid Technology to ensure it is 50% quieter and 20% lighter. It does also use Advanced Feature-Packed Power Solution, which includes Quiet Technology, Economy, Clean Power, and Mode Extended Run Time. All these ensure you get reliable, clean, and safe power for a long time.
The Inverter Technology employed here ensures the generator provides clean, sine wave power safe and stable enough to run sensitive appliances. Another thing, this model runs on a robust, reliable 224cc Champion OHV engine to ensure it delivers 3500 running watts and 4000 surge watts. Its parallel capabilities, on the other hand, allows you to increase the power output by connecting another Champion 100302 with this.
Pros:
Reliable 224cc Champion OHV Engine
Digital Hybrid Open Frame Design
Convenient Quiet Technology
Clean, stable electricity
Parallel Capabilities
RV Ready
Cons:
No Voltmeter
No Automatic Voltage Regulation
Yamaha is another brand that deserves to be represented here, and that's why I'm giving you the Yamaha EF3000iSEB. It is among the most innovative portable inverter generators you can buy. It's here to provide you with an extra power boost to get your appliances or power tool started fast and efficiently, all thanks to the Yamaha Boost Technology.
Another thing, this EF3000iSEB is a perfect choice for RVing, Camping, Tailgating, and other outdoor applications. It has a compact, portable design and also fitted with never-flat tires and push handles for easy transportation. It does also come with performance-enhancing features like the inverter technology, noise block, and smart throttle, all to make sure it delivers optimal performance.
Pros:
Inverter Technology w/Smart Throttle
Low-Oil Watch Warning System
Clean, high-quality electricity
Tranquil operation
Sound absorbing material
Newly designed muffler
Another reliable, highly-rated 3500-watt generator is this powerful, heavy-duty PowerSmart Series Inverter Generator, the Briggs & Stratton P4500. It comes as a portable, gas-powered model delivering reliable 3700 running watts and 4500 starting watts. The generator can provide you with enough power for up to 16-hours of extended operation at 25% load. It's here to ensure you get efficient power anywhere you need it.
Many also adore this inverter generator for its CO Guard that shuts the generator when hazardous CO levels are detected. Another thing, the generator has a compact design with an extendable handle and two never-flat wheels providing secure storage and handling. The Stable Sine Wave Technology used on this model gives the generator the power to provide pure, safe electric power for running and charging sensitive appliances.
Pros:
CO Guard shutdown technology
Protective noise-proofing shell
Compact, lightweight design
Pure, safe electrical power
Quiet Power Technology
Automatic choke
It's RV Ready
Cons:
No idle
The parallel kit sold separately
The model is a highly-durable, heavy-duty WEN 56352 Portable Generator. It's durable enough for all the job sites and ideally compact enough for easy transportation. The generator is also equipped with a powerful, rugged 212cc OHV engine that allows it to provide you with whopping 3000 running watts and 3500 surge watts of power.
With its 4-gallon tank of fuel full, the generator can give you up to 11-hours at half load. The reliable engine does come with a low-oil shutdown feature that has overload protection safeguarding it from damage. When it comes to portability, the generator comes with a wheel kit and two handles for optimal transportability.
Pros:
Low-oil shutdown & overload protection
Space-saving fold-down handles
Rugged 212cc air-cooled engine
Smooth-rolling wheel kit
Easy Portability
Spark arrestor
Cons:
A bit loud
Vibrates a lot
Sportsman GEN4000 is another well-build model that can give you reliable 3500 Running Watts and 4000 Starting Watts of power supply. Best of all, the generator is lightweight and compact, making it portable. The engineering employed here wants you to get a reliable and perfect power source for power outages, week getaways, tailgating, RV, or camping.
The generator does run off a gasoline-powered OHV engine that is fitted with a low oil shutdown feature offering added safety. It does also provide an ideal 10-hour run time on a full 3.6-gallon fuel at half load. The recoil start used here provides an effortless way to start the engine and a long-lasting battery charging.
Pros:
Dependable 4-Stroke OHV Engine
Automatic Low Oil Shutdown
Engine Shut-off Switch
Decent fuel efficiency
EPA approved
Cons:
No electric start
Not CARB-compliant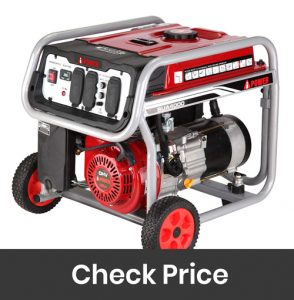 In the last position, we have yet another durably-made and high-performing model, the A-iPower SUA4500 Portable Generator. It's a sturdy, reliable, affordable, compact, and purpose-built generator here to make your life better and more straightforward. The generator features a robust, rugged 208cc heavy-duty air-cooled engine allowing it to provide dependable and long-lasting 3500 running watts and 4, 500 starting watts of power.
The heavy-duty all-steel frame provides long-lasting protection to the interior parts and ensuring durability for the whole unit. It does also come with an easy-to-reach, conveniently-placed, and ergonomically angled control panel to give you smooth, user-friendly access and visibility to it. The generator is also fuel-efficient and provides up to 11-hours of run time at half load and with 4.0-gallon of fuel.
Pros:
Intelligent automatic voltage Regulator
Heavy-duty all-steel construction
Reliable OHV 4-stroke engine
High-performance alternator
Overload protection
Never-Flat wheels
Cons:
Not CARB Compliant
Louder than expected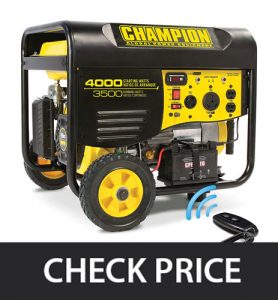 When thinking of a 3500-watt generator, you should think of a reliable and robust model that you can take wherever you want, and that's what you get from this first model, Champion 46539 Portable Generator. The generator is run by a robust, long-lasting, and reliable 196cc Champion engine that comes with battery and an electric start.
The electric start also features a 3-way ignition switch and a built-in Cold Start Technology for an easy allows the generator to start quickly in cold weather. The generator also has a wireless remote key fob that comes with a push-button that adds more convenience when starting. Best of all, it does come to RV-ready, allowing you to connect it directly to your RV.
Pros:
Reliable 196cc Champion engine
Built-in Cold Start Technology
Wireless remote key fob
Built-in surge protector
3-way ignition switch
Battery included
Cons:
Short run time
Relatively loud
Best 3500-Watt Generator Buying Guide:

I believe you know what would happen if you bought the wrong 3500-watt generator, be it low-quality, low starting/running watts or non-reliable model. Well, if you don't, know you will be wasting your investment. And to avoid that, I give you a list of considerations that will help you select the best 3500-watt generator and at least a model that's perfect for your needs. They include:
Power Output
The terms to use here are running watts and starting watts. What's, is the difference? Starting wattage is the amount of power supplied in a split of a second to start motor-driven tools and appliances while the running wattage is the amount of energy provided to keep the load running.
The two are always different in capacity with the staring watts higher than the running watts. So, if you need a 3500-watt generator, make sure you know what this value stands for before paying for it. If it's the starting power, then ensure your power requirement is below that value.
Portability
Portability is necessary if you want a generator you can use for camping, tailgating, RVing, and the likes. The best 3500-watt generator with a compact and lightweight design easy to carry with you. Best of all, if the generator has a wheel kit and a handle(s), then that is the best when it comes to portability and transportability.
Noise
Do not forget to check on the noise levels of the generator before putting your money on it. Ensure you get a generator that gives you silent power, something under 65dB will be great.
Safety
Here you have to consider the safety features included on the generator like the low-oil shutoff feature and overload protection. They offer extra safety to you and your connected appliances.
Run Time
The run time is the time the generator runs at a specific load with a single tank of fuel. Why is it crucial? Imagine you're camping and the generator runs out of fuel in the middle of the night. It can be a real bother for some. Right? For you to avoid such inconveniences, consider buying a 3500-watt generator with dependable and convenient run time.
Frequently Asked Question (FAQs)
Do I need a transfer switch to connect my 3500-generator to my home?
Yes, if you want to connect directly to your dedicated electric line. But if you're going to join the appliances and tools directly to the generator, you do not need a transfer switch.
Should I permit you to install a transfer switch to my home?
Yes! When you're changing the home electrical system, you need a permit for that, and hiring a reputable electrician should take that problem away from you. The electrician is obliged to get it for you as it's needed for the job to happen.
What's the purpose of the Low Oil Shutoff feature?
The Low Oil Shutoff feature is a safety feature put in most top-end generators to cut off the power to the engine when the engine oil goes too low.
Do all inverter generators provide clean, stable sine wave power?
Not all can give you clean and stable power. However, all the high-end models will provide you with a reliable, clean power ideal for running sensitive appliances and electronics.
Conclusion
Now you have everything you need to keep your home operational, power your RV, get reliable camping power source by using this info to buy the right 3500-watt generator. Smile at yourself by ordering a model that you're gives you the best service. Durability and budget shouldn't conflict; buy a high-quality model that falls under your financial plan. Good Luck!
Read Also: