A 2200-watt generator is not only portable but also powerful enough to power a couple of appliances in your home, power tools in your garage, or a job site. The generator also gives you compact, transportable power ideal for use in camping, tailgating, or even in your RV. And this might be the reason you're searching for the best 2200-watt generator. Right? Well, you are in the right place.
Here I have brought together some vital information that will help you with your search. There is a list of the top best performing models and a buying guide. The products are all high-quality, top-performing, and highly rated. So, you can buy whichever model that meets all your needs.
Top Best 2200 watt generators in 2021
Westinghouse iGen2200, a Portable Gas Powered Inverter Generator, starts the list. Why? Apart from being the highly-rated model in this list, it does also provide reliable 1800 Rated Watts and 2200 Peak Watts. As a super quiet Westinghouse Generator, it delivers power when and where you need it. It comes with a portable design featuring a compact brief-case design and a conveniently placed handle.
With it operating for up to 12 hours on 1.2 gallons of fuel, this generator is for sure more fuel-efficient than the traditional generators. The best part is, if you ever need more power, this iGen2200 is parallel ready, allowing you to connect another iGen2200 using the Westinghouse Parallel Cord to double the power.
Pros:
Lightweight and Compact Design
Built-in suitcase-style handle
Hassle-free transportation
Clean, stable power
Quiet Operation
Cons:
Somehow challenging to do an oil change
The Parallel Cord is sold separately
Next in the list is the high-performance WEN56225i, a super quiet inverter generator. It's a model designed to provide you with clean and quiet portable power, free of drops and voltages spikes. It relies on a robust and reliable 79.9cc OHV engine that allows it to provide 1800 rated watts and 2250 surge watts of power.
For safeguarding your investments, the generator is fitted with a low fuel shutoff designed to turn off the engine before using up the fuel in the carburetor. That helps in preventing buildup and blockages from stagnant fuel inside there. It does also have a low-oil automatic shutdown that kills the power to the engine to protect it from running dry, thus prolonging the engine's life. It's a well-built generator with long-lasting service life.
Pros:
Reliable 79.7cc 4-stroke OHV engine
Low-oil and low-fuel shutdown
Built-in overload protection
Fully-packed power panel
Eco-mode switch
Parallel ready
Cons:
Difficult changing oil
The noise level isn't ideal for some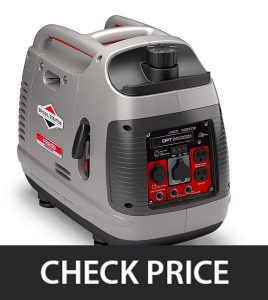 Briggs & Stratton 30651 P2200 is another generator you can buy. As a PoweStamrt Series model, this portable inverter generator brings your transportable power ideal for carrying with you whenever needed. Its lightweight easy-to-carry design allows you to have a smooth, quiet power ideal for tailgating, camping, and a food truck or a residential backup power needs.
Another thing, this PowerSmart machine is equipped with Briggs & Stratton Quiet Power Technology at the flip of a switch. The system allows it to adjust the engine speed and reduce noise at the same time, saving on fuel to run longer. Similar to the first two models, this model has parallel capability too. It allows you to connect another PowerSmart for additional power supply.
Pros:
Fuel efficient OHV engine
Quiet Power Technology
Smart H-handle design
Super Low Tone Muffler
Easy-Carrying Design
Parallel Capabilities
Cons:
No electric start
Not CARB compliant: Not usable in California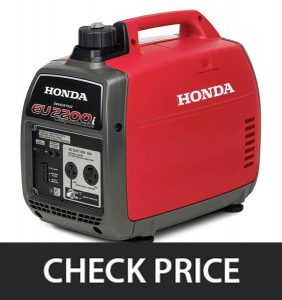 Honda EU2200i from Honda Power Equipment is a reliable and powerful generator designed to give you dependable and portable power. Honda, a reputable and self-built company, produced this generator to provide a generator ideal for giving you reliable, clean, and safe power with this inverter generator. And now you can enjoy more than that.
The generator comes with a user-friendly, portable brief-case design with a built-in handle for easy transporting and storage. It's run by a robust and dependable Honda GXR120 engine allowing it to deliver continuous power. The unit is also equipped with three led indicators for low-oil alert, overload alarm, and output indicator. The increased ventilation incorporated here improves airflow leading to better cooling of the generator's components.
Pros:
User-friendly portable design
Color-coded startup points
Honda GXR120 engine
Fuel shut off valve
Parallel capable
Eco-Throttle
Cons:
The pricing is a bit high
Difficulties changing oil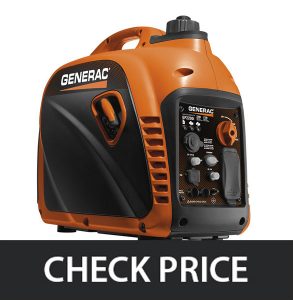 Generac isn't a new brand to many, and the same goes for their powerful Generac 7117 GP2200i generator. It's a portable inverter generator providing outdoor enthusiasts with transportable power solution ideal for a variety of outdoor festivities like tailgating. All this is thanks to its compact, fully-enclosed, and lightweight design.
It's a model that brings you the power you need without disturbing your neighbor or the surrounding. The fact that this generator comes with TruePower Technology, it's capable of giving you clean energy required to power sensitive appliances, electronics, and tools. Besides that, it has an economy mode feature allowing the generator to save on fuel and reduce noise.
Pros:
Compact, fully-enclosed, lightweight design
Integrated OFF/RUN/CHOKE knob
Quiet, Compact, Easy to use
LED status lights alert
Truepower technology
Clean, stable power
Parallel capability
Cons:
Parallel kit sold separately
6. Pulsar PG2300iS Portable Inverter Generator
Lastly, I give you the Pulsar PG2300iS, a portable, super quiet inverter generator. It's a reliable generator ideal for providing you with transportable power. The generator is run by a powerful and long-lasting single-cylinder OHV generator allowing it to produce whooping 2300 starting watts and 1800 running watts.
What's more, its handy, lightweight, and compact design gives freedom to take the generator wherever you need the power, be it camping or tailgating. The generator also provides clean, sine wave power safe to power your sensitive appliances and electronics. Best of all, there is a USB port where you can charge your portable devices directly from the generator.
Pros:
Convenient 'Suitcase' Design
Clean, safe sine wave power
Quiet inverter technology
Parallel capability
Economy Mode
Cons:
Parallel cable sold separately
Best 2200-watt generator Buying Guide:
One thing is clear; you need a top-performance, reliable, and long-lasting 2200-watt generator. Right? Well, finding the best model, even from the list above, will require you to consider some features and aspects. Here are the top things to consider while making your purchase.
1. Does it give you the right power output?
As you might already know, a generator has two power ratings, starting wattage and running wattage. Now, even though you want a 2200-watt generator, the generator might have 2200 running watts or starting watts. With a generator having 2200 starting watts, the running watts are lower than this, around 1650 watts and 1850 watts. And depending on your power needs, this might be enough or not, so make sure you buy the right generator with enough wattage.
2. How portable is the generator?
A 2200-watt generator is generally small and should be portable enough for you to take wherever you need power. When making your purchase, you got to choose a model that gives you much portability convenience, a model with a lightweight, compact, and durable design.
3. Inverter or convectional generator?
I always say the inverter generator is the best. An inverter generator gives you a quiet, portable, and lightweight power source. However, pricing and usability are so different. A convenient generator is designed for heavy-duty applications that require a continuous drawing of power. Also, the pricing of a convectional generator is lower in most cases.
Best 2200 Watt Generators (FAQs)
Do I need a transfer switch to use an inverter generator?
No! You don't. Reason? An inverter generator uses inverter technology to provide you with clean power free of voltage spikes and drops, allowing you to connect the appliances and electronics directly. However, if you plan to join the generator to your home power line, you will need the transfer switch to keep the track off and prevent back feeding.
Can I use a 2200-watt generator with my RV?
Sure. A 2200-watt generator is enough to power essential RV appliances and charge your electronic devices provided their wattage needs do not exceed the generators running watts.
Conclusion
That is everything you need to buy the best 2200-watt generator for your home or outdoor needs. Everything I have provided will, in the end, smile at you as you open a box of a generator that gives your reliable and long-lasting power. So, do use this info well and ensure you pay for a model that meets your requirements. Good Luck!
Read Also: