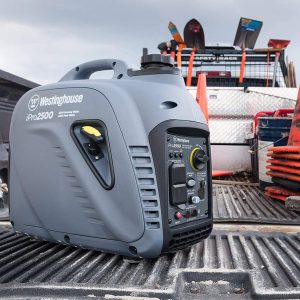 Westinghouse Electric Corporation is a reliable company that provides smart home appliances and energy solutions. They have a huge catalog of generators that deliver different power capacities. Assuming you're looking for the best 2500-watt generator, Westinghouse ipro2500 and Westinghouse igen2500 can be your perfect choices from the Westinghouse brand.
The two models deliver the same power output, have the same size and weight, but their pricing and names are different. According to the maker, Westinghouse Electric Corporation, these portable generators are functionally tested in the factory to ensure they deliver as they're supposed to. For that reason, they may contain minimum residual oil and fuel odor.
So, what differentiates them? Here is an insight on each model, what they have in common, and their differences.
Westinghouse ipro2500 is an inverter generator built for professionals. It's designed to deliver up to 2200 running watts and 2500 starting watts. It's a perfect generator for delivering dependable power for job sites and backup power during emergency events. You can also use it for camping and also home backup power needs. As an inverter generator, it's here to deliver you a clean and stable power ideal for use with your sensitive appliances. Its output has less than 3% THD.
Besides that, its OHV engine has variable speeds that allow it to be 50% fuel-efficient than a traditional generator. The small, compact design allows you to carry it with you wherever you go. With it weighing 48 pounds only, this generator is a lightweight for easy portability. It does also come with a full-enclosed body that protects all its internal parts, including the engine. The design also allows the generator to reduce noise from the motor rotation, making it quieter than a typical generator. Ipro2500 comes protected with a 3-year limited warranty and also a lifetime technical support.
Pros:
Perfect for sensitive electronics
Small, lightweight design
Easy to use and operate
Low operating noise
High Fuel Efficient
Highly portable
Cons:
Fuel tank capacity could be better
Hard to change engine oil
Westinghouse iGen2500 is a portable inverter generator here to give you up to 2500 starting power and 2200 running power. It comes as a small, lightweight model ideal for emergency home backup or recreational uses like camping and tailgating. It uses a 4-stroke OHV engine with a variable speed motor. The design allows it to deliver higher fuel-efficiency compared to traditional generators. It weighs around 48 pounds and comes with an integrated handle for easy carrying. And since it's a home-preferred generator, it comes with an ultra-low tone that makes it ideal for community-friendly use.
What's more, its operating noise is around 52dBA, making it a low-noise generator. The use of inverter technology in this model allows you to get clean, stable power. That means you can use the generator to charge your sensitive appliances such as a laptop and smartphone. It also comes with some inbuilt features such as low oil shutdown and the overload protection for protecting your investment. The generator does also comes with an information-rich LED Data Center. It features a rotating digital display that shows the fuel level, generator power output, the remaining run time, and the voltage output.
Pros:
Low operating noise
Easy to use and operate
Ideal for use with sensitive electronics
Lightweight and Compact
Highly Fuel Efficient
Parallel Capable
Cons:
Not industrial-grade rated
No GFCI outlets
Westinghouse ipro2500 vs. igen2500: Similarities
The two generators look quite alike in terms of size and design, except the color; you might confuse one with the other. Both have several similarities and also differences. It's time we get through the similarities.
Construction
These generators feature a fully-enclosed body. The enclosure material used on them is high-quality plastic with high resistance to UV rays and also impact. The double-insulated enclosure design protects the generator interiors, including the generator engine, while also reducing the overall operating noise.
How is the engine cooled now that the generators are fully enclosed? You might ask. They use asymmetrical cooling fans, and the cover has small ventilation to allow cold air to the engine.
The generators also use low-tone mufflers designed and put in place to reduce the operating noise. Apart from this, there is the inclusion of overload protection and low oil shutoff features in both generators to keep them safe during operation.
Power Output
Both the ipro2500 and igen2500 are designed to deliver up to 2200 running watts and 2500 starting watts for up to 10-hours. The ipro2500 has a 1-Gallon fuel tank, while the igen2500 model has a 0.98-gallon fuel tank, which is probably the same.
Portability
The inverter generators come with a small, lightweight design that makes them highly portable. To make things even better, Westinghouse equips both models with an integrated handle to ease how you carry them around, perfects the transportation. Both models have an overall weight of 48 pounds, making them easy to carry with one hand comfortably.
Parallel capability
It might not be mentioned in the ipro2500 product description section, but the generator does come with parallel connection outlets similar to the igen2500 generator. That means they are both parallel capable. That allows you to connect another inverter generator using the Westinghouse WHPC parallel cords. It's a perfect way to try and double up the generator output.
Inverter technology
Both generators, ipro2500, and igen2500 feature Inverter Technology to ensure they deliver safe, stable, and clean power. Their power output has less than 3% TDH meaning they are safe for use with your sensitive equipment and electronics such as a cell phone, tablet, laptop, and the likes.
Engine
Another similarity is, Westinghouse employs 4-stroke OHV engines made by their experts on both generators. The type generator engine used here features variable speeds allowing them to produce the right amount of power needed to meet the load needs. The design does also increase fuel efficiency, reduce the operating noise, and lower exhaust emissions.
Power panel
The power panel used by these two generator models is also quite similar. They both have two 120-volt AC outlets and two 5-volt USB outlets. Besides these, there are LED alarm/warning lights and breakers for all AC outlets. The panel cover acts are the ground for the power output.
Westinghouse ipro2500 vs. igen2500: Differences
There aren't many differences between the two generator models, especially physically, except for the colors, which is insignificant in usability, application, and operability. Here are the two main differences between ipro2500 and igne2500.
Application
When it comes to application, the iGen2500 is designed to bring power to your home when there is a power outage. You can also use it for recreational activities like camping. The iPro2500 generator, on the other hand, is designed for professionals needing power in job sites. It comes equipped with full panel GFCI designed for a safe, dependable work environment.
Data Center
The two generator models' power panel might look the same, but something lacks the ipro2500 model. The iGen2500 does come with an exclusive LED data center designed to relay you real-time data. It displays remaining runtime and fuel, voltage output, and lifetime hour data. It's a useful feature missing from the ipro2500 generator.
Final Verdict!
From a physical perspective, the two generators look quite similar. The same is manifested with what both generators deliver, from the power output, noise, portability, and design. Overall, these models are the same if you need a residential or recreation power. However, the ipro2500 generator is designed for use with professionals. That's why it comes with a full-GFCI power panel ideal for safe job site applications.
Related Articles: