A generator is a life-saving machine that comes in handy during a power emergency, blackout or outage. While connecting the generator to your home as a power backup system, you got to make sure certain things are in line.
One of them is the transfer switch. Is it your first time to hear the word? Well, don't panic, I'm here to tell you what it is, how it works, top best products you can buy, and how to buy.
So, let's get started!
What is a Transfer switch?
Well, a transfer switch is a particular gadget that works similarly to an electrical switch. The sole purpose is to transfer electrical power between various power sources –in this case, the generator power and that from the power grid. Another thing, the transfer switch allows you to energy certain appliances with the generator. That gives you the option to run necessary and vital tools only. With it installed on your power system, you eliminate the need for hard-to-organize, running extension cords for each appliance. The simple gadget makes your home safer.
How a Transfer Switch Works
Now that you know what a transfer switch is, do you want to know how it works? I guess you do! Right?
Well, the gadget uses a simple mechanism of switching one power source, allowing the other line to supply the mainboard. When there is a power outage, and you connect the generator for backup, the transfer switch turns off the utility line and switch on the backup system. It works with dedicated switches for each of the circuits that need emergency power.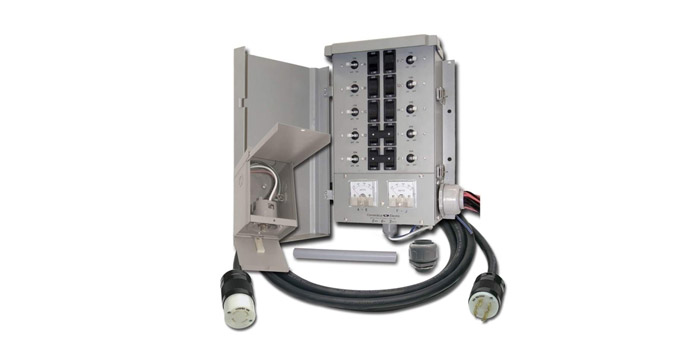 Depending on how your backup wiring was done, here is the place power is directed to essential appliances that need power depending on the amount the generator can deliver. When the utility power gets back, the transfer switch turns off the generator line giving way for the main power line to run the whole house.
And that's how a generator transfer switch works. Now the question is, why do you need to install a transfer switch? That takes us to the next section.
Why Do I Need a Transfer Switch?
If you plan to hardwire your backup generator directly to your home electrical power system, which is the most recommended and ideal for high-power generators, then it's a must, and I repeat – a must to install a transfer switch. Mostly this is needed when you're connecting the heavy-duty equipment such as HVAC, dishwasher, dry-cleaner, industrial tools, or other high-power operations. But why?
Safety
Well, by skipping the device and connecting the generator directly to the electrical power system, you will be putting your family and appliances at risk. The power could fry your appliances, endanger a utility worker working on the line, or even damage your generator back-feeding it.
Electrical Code Requirement
As you already know, the utility line carries a massive voltage load, and any connection made directly without a transfer switch is extremely dangerous. It's required when hardwiring your high-power generator to your power line you get a transfer switch installed. That's why you will notice most of the standby generators transfer switch ready, and some come with the gadget in the package.
Eliminating extension cords
Electrical extension cords pose the same danger to you and your family. They also consume your walking space and takes away the freedom of kids to play around. For that, you need to have the generator hardwired and select the appliances you need it to run on the transfer switch; helps with prioritization.
What is the best transfer switch for the generator?
Transfer switch has many makers, but only a few can make the best, easy-to-operate, reliable switches. Reliance and Generac are the best transfer switch makers in the market. However, there are other makers well-praised by skilled electricians online. Here, I will go through the top 10 best transfer switches, the most trusted and recommended choices.
Here we go!
Top 10 Best transfer switch for the generator
The list starts with the highly-reliable 31406CRK 30-Amp transfer switch kit from Reliance Controls Corporation. Like a Pro/Tran Transfer Switch set, it comes with everything needed for faster and easier installation in your home or office.
It's designed for use with portable generators of up to 7500-watts. Everything is carefully put together and wires well labeled for a more tranquil and quick load center connection.
Pros:
30A built-in power inlet box
Pre-wired transfer switch
Light switch style toggles
10-foot power cord
Extra 20A plug end
Wattage meters
Next in the list is another high-quality super safe transfer switch kit, the 31410CRK Pro/Tran kit made for 10-circuit and 30-Amp system. It's a convenient transfer switch perfectly designed for multi-wiring needs, both commercial and residential.
Similar to the previous model, the set is ideal for a portable generator of up to 7500 maximum running watts. The construction employed here is top-notch. And thanks to the rugged and powder-coated steel cabinet, the unit can handle the test of time comfortably.
Pros:
Rugged, coated steel cabinet
Clearly labeled circuit wires
Reliably-fast installation
Flexible conduit whip
Built-in junction box
Cons:
The wattage gauge needs improvements
If you have a generator with 5000 maximum running watts, then you might want to check out the next Reliance Control 20216, a 6-circuit 20-Amp transfer switch. It comes with a design that allows fast installation in both commercial and residential applications.
The best part is, the provided conduit whip is flexible and easy to attach to a load center. The powder-coated steel cabinet ensures you get a long-lasting unit that never rusts.
Pros:
Residential and commercial applications
Resettable branch rated circuit breakers
Rugged powder-coated steel cabinet
6-combination knockouts
Flexible conduit whip
Reliance Controls doesn't offer portable generator transfer switches only; you can still get a heavy-duty Reliance Controls TWB2006DR, Panel/Link Transfer Panel for your standby generator with up to 15kW maximum wattage. It's designed to deliver circuit breaker combinations of 60A for generators and 200A for utility.
The use of interlocked breakers keeps the generator isolated from the chief utility at all times. It can be used as the primary outdoor power panel or used to feed a sub-power panel.
Pros:
Built-in 60A manual transfer switch
200Amp main breaker load center
4/8 branch circuits provision
Interlinked circuit breakers
Cons:
Requires Manual Switch Flipping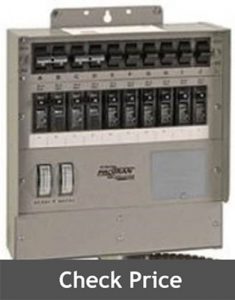 Reliance Control Corporation 510C, which is a Pro/Tran2, Loadside™ manual transfer switch next generation is here to make it safer to use a generator for power backup. As an indoor surface mount transfer switch designed for residential and commercial applications, it's perfect for 50-Amp, 10-circuit systems.
With fast installation and flexible conduit whip, attaching it to a knockout on your load center is easy and straightforward. All the factory wires come marked with colored identification.
Cons:
Pros:
Interchangeable circuit breakers
Durable Painted Steel Cabinet
Color-coded wattmeters
Hinged detachable cover
If you need an automatic transfer switch ideal for use with your single-phase generator and which uses Evolution or Nexus Controller, you need the Generac RXSW200A3. It's a 200Amp smart transfer switch available in a single-phase and with service equipment rated configurations.
It works together with your generator to monitor your utility supply. If interrupted, the switch switches the utility line and transfer the power to the generator. The opposite happens when the power gets back.
Pros:
Aluminum NEMA/UL Type 3R enclosure
Electrostatically applied powder paint
Heavy-duty Generac contactor
Single-phase Smart transfer
200-Amp 120/240 volt
Easy installation
The next model is a uniquely designed manual transfer switch, the Generac's 9855 Home Link. It comes as an upgradeable transfer switch, easier to install, expand and maintain. The best part is, as an improved 50Amp Home Link model, it can be correctly used with a portable generator that features compatible GFCI outlets.
Even better, the use of interchangeable circuit breakers simplifies the reconfiguration process that may be needed during the replacement or expansion of the circuits.
Pros:
Upgradable automatic functionality
Interchangeable circuit breakers
Pre-wired for easy installation
Safe, Versatile and Universal
Power Indicator Lights
Long 10-ft Cord
Cons:
Compatibility issues with the supplied cord
Outdoor rated, NEMA 3R transfer switch from Reliance Controls Corporation. The R306A is a Pro/Tan 2 next-generation transfer switch ideal for outdoor installation for both residential and commercial use. The use of a gasketed steel cabinet with powder coating and lockable key lock ensures your system is well-protected at all times.
Since it comes as a set, inside it is a flexible, liquid-light conduit that comes with its fittings for easy installation. The switch is ideal for the 30Amp 6-circuit system.
Pros:
Non-defeatable double-throw switches
Exclusive color-coded watt meters
Powder-coated steel cabinet
Flexible liquid-tight conduit
Key lock door and keys
Here is another high-quality and highly-reliable transfer switch from Reliance Controls Corporation, the TRC06063D Panel/Link. It's designed to give you a circuit break combination of 60Amp utility input and 30Amp generator input.
Additionally, the unit uses interlinked circuit breakers designed to keep your generator isolated from your building's utility at all times. Besides that, it is a service entrance rated and can be used as a main panel or a sub-panel. The use of a heavy-duty copper bus and an indoor cabinet type gives you a closable, high-power unit that you can rely on every time you have a power emergency.
Pros:
12 to 20 branch circuits provisions
TRC Service entrance rated
Heavy-duty copper bus
Interlinked breakers
UL Listed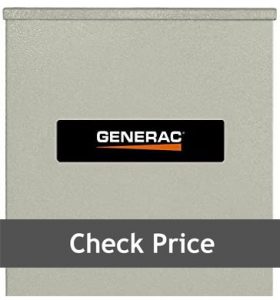 And on this end is the Generac RXSC100A3, a 100Amp single phase transfer switch. It comes as a Smart NEMA 3R switch designed for use with standby generators. It's a perfect match for those single-phase generators using Evolution or Nexus Controller.
As an intelligent transfer switch, it does all the line shifting automatically when there is a power emergency. Installation is a breeze thanks to the unit coming in a set that includes everything needed for the mounting.
Pros:
Smaller control integrated board fuses
Steel NEMA/UL Type 3R enclosure
Heavy duty and UL recognized
Digital power technology
Easy installation
How to Choose the Right Transfer Switch?
There isn't much to consider while buying a transfer switch. Most of the time, homeowners ask their electricians for recommendations, but most of them refer them to shops where they get a discount or something. For you to avoid such, here are some crucial factors your need to check out before you can order one.
1. Wattage
Use the generator output rating to determine the ideal transfer switch for it. The transfer switch needs to handle the rated wattage, or else it will fry up once you connect it. For instance, if you have a generator providing 5500 running watts, then you need to get a transfer switch that can handle around 6000 watts.
2. Accessory kit
Most of the high-end, reputable transfer switch manufacturers like Generac and Reliance Corporation will sell you transfer switch that comes with all the necessary accessories ideal for installation. That allows you to save money that you could have used to buy the additional parts. But, you have to double-check it as there might be a model that comes without, and that will save you any surprises or extra costs when your electrician arrives for the job.
3. Type
Lastly, we have the transfer switch type. The most common are automatic and manual switches, and they both have their ups and downs. However, the auto-type is mostly used for industrial and commercial applications, while the homeowner mainly uses the manual.
A manual transfer switch is ideal for use with portable generators. It's cheaper than an automatic one. If you think you'll be using the generator a few times in a year, getting a manual transfer switch is a reasonable and cost-effective decision. Another thing, the installation of a manual transfer switch is easy, reducing the installation time, saving you more money. The downside of this is, when there is a power outage, you have to go and flip the switch manually to allow the generator to power your appliances.
Automatic transfer switches are mostly used with standby generators. They are perfect for a hand-free approach, and the best part is, they allow the generator to power up almost immediately without needing your effort. With an automatic switch, you don't need to touch anything for the generator to run and power the equipment. At time all you need is turn on the generator, if there is no automatic start. The downside is, it's expensive to buy and install the transfer switch.
4. UL/CUL Certifications
Next, you need to buy a transfer switch that's UL/CUL certified. Yes, most of the reputable brands will have their products certified, but you must double-check it.
FAQs on the Generator transfer switch

Q. How do I connect my generator to the house using a transfer switch?
A. The process is quite simple. Once the transfer switch is installed, all you need now is have a twist outlet connector on your house wall and use a cable with twist lock too to connect the generator.
Q. How much does it cost to install a generator transfer switch?
A. The installation requires an experienced and licensed electrician. You can read everything you need about the installation cost of a transfer switch here.
Conclusion
And that is precisely everything you need to have the best transfer switch for your generator. Everything I have shared here is crucial. I wanted to make sure you have all the information you need about the transfer switch in one article. Follow the links attached here to learn how to install or the cost of installation of a transfer switch. Good Luck!
Related Info: