With the natural disasters that occur throughout the year, from floods to devastating hurricanes, people want, more than ever, to be prepared for unexpected situations. For you to prepare for such events, it may be necessary to have backup power in the event of a failure.
In recent winters, cities have been without electricity for months, so portable generators are more in demand than ever, and a quieter model will be more convenient for you.
However, finding the best is always a long, challenging process which I think you already know. And since you're here, I won't disappoint. I have gathered some of the best quite generators for home use, reviewed them and came with the list below.
I have also given you a comprehensive buying guide to make the process much simpler for you. Read the article, and before you even get to its ending, you will have found your best quiet generator for home use to buy.
8 Best Quiet Generator For Home Use in 2021
If you need the best quiet generator for home use, then you need to get the Westinghouse WGen7500. It comes with a portable, lightweight design that features foldable and padded U-shaped handle and flat-free tires for easy transportation and storage.
It also features a one-touch push-button electric start that includes a remote start key fob allowing you to start your generator conveniently.
The generator is equipped with water-resistant GFCI outlets and comes with a quick touch intuitive control panel for more convenience.
Pros:
Automatic Low Oil Shutdown
CARB, EPA, and CSA Compliant
Plug-and-Play functionality
Transfer Switch Ready
Remote Electric Start
3-Year Warranty
Cons:
Flimsy plastic parts
Customer support could be better
2. DuroStar DS4000S – Portable Generator (air cooled)
Make your home power outage proof by getting the DuroStar DS4000S. The generator will work well as a backup unit that provides 3300 running watts and 4000 surge watts.
It's gas powered and has up to 8 hours run time at 50 percent load. The model is employed with a durable seven horsepower air cooled OHV engine that features a low oil shutoff which protects it from damage after oil depreciates.
It also features a super quiet muffler that allows the powerful engine to run quietly.
Pros:
Durable air cooled OHV engine
Smooth and quiet operation
Power Plug Configuration
Heavy duty steel frame
Full power panel
8 hours run time
Cons:
Expensive
Loud for some users
3. WEN 56200i – Portable Inverter Generator
The first time I came across the WEN 56200i thought it could be reliable, but after reading the reviews and having checked it out personally, I was surprised with the results.
The unit is quite the power and is CARB and EPA III compliant thanks to its quiet, powerful 79.7cc 4-stroke OHV engine.
If you need the best quiet generator for home use, the WEN 56200i as it produces clean power to operate safely and prevent damage to your sensitive home electronics.
Pros:
Parallel Connection capability
CARB and EPA III Compliant
Extremely quiet operation
4-stroke OHV engine
Lightweight Design
Cons:
Lacks wheel kit
Tough to refill engine oil
4. Yamaha EF2000iSv2 – Gas Powered Portable Inverter
The Yamaha EF2000iSv2 is a gas-powered inverter generator that will serve you well as a backup power supply in case there is a power outage.
It comes with a portable design that allows easy to store and carry if you're planning on using it elsewhere other than home. It features a smart throttle which varies engine speed depending on the load.
The feature improves fuel efficiency while reducing the operating noise. And another great thing about this quite portable generator is it comes with a fuel and gasoline petcock.
Pros:
Reliable, efficient, powerful OHV Engine
Technologically sophisticated muffler
Rubber vibration isolation feet
Auto-decompression system
CARB Compliant
Cons:
Very few outlets
Low oil sensor faults
The champion 3800-watt is a quite generator that features dual fuel technology that allows its powerful 224cc engine to run on either propane or gasoline.
The generator also features an intelligence, volt guard and a cold start technology and all these allow you to get clean energy that will protect your sensitive home electronics.
The one thing that gives this generator the power to provide you with 9 hours gasoline run time and 10.5 hours propane run time is the powerful single cylinder 4-stroke engine that is air cooled and with a low oil shutoff.
Pros:
Safety Fuel Selector Switch
Touch Start electric start
3-year limited warranty
4-stroke Engine
Volt Guard
Cons:
Runs a little louder
No GFCI Outlets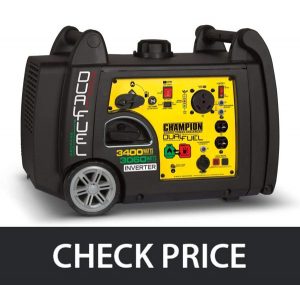 If you're in search for the best quite generator of home use, then I have an ideal match for you – the Champion 3100-watt. Even though the unit doesn't offer much power as its companion above, it's powerful enough to provide you with sufficient and clean energy to keep you in the light when there are power outages.
It comes to RV-ready, so when you need to take an RV tour, you don't need to buy another generator, pick the Champion RV-ready 3100-watt generator.
It quietness makes it great in that you can even place outside your door and not hear a sound from inside the house.
Pros:
Push-to-Reset Circuit Breakers
3-year limited warranty
Smart Economy Mode
Ultra-Quiet Operation
Quick Touch Panel
Low Oil Shut-Off
Cons:
Slightly Noisy
Complicated Break-In Cycle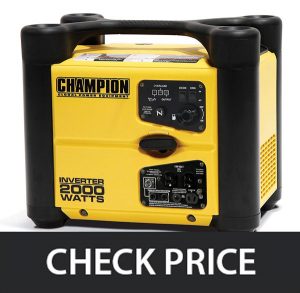 If you're looking for an affordable quite generator for home use, then you need the Champion 73536i inverter generator. It's a champion of power equipment which is run by a reliable 80cc engine that operates under 53 decibel of noise.
It produces 1700 running watts and 2000 starting watts and can run for 9.5 hours at a quarter load. The generator provides power ideal to power lights, TV and provides backup power for some few basics like home lights, TV, router modem, phone charger, and microwave.
But there is one downside on this model as it cannot be used as a power backup supply for stoves, conditioners sumps or furnaces.
Pros:
Space-saving stackable design
Steel Gasoline Tank Material
3-year limited warranty
Smart Economy Mode
Ultra-Quiet Operation
Cons:
Vibrates a lot
Louder than expected
If you have lots of home equipment and appliances that need a large amount of the power and you're looking for the best quiet generator for home use that will offer you enough power, then you need the DuroMax Hybrid XP12000EH.
It is a beast that will give you 12,000-watt maximum energy and features dual fuel technology allowing you to choose from using gasoline or propane. It's powered by a robust and reliable 457cc OHV engine which powers the fully loaded power panel.
One downside of this unit is, if you live in California, then you cannot use it since it's not CARB approved.
Pros:
Stackable inverter generator
Built-in Carry Handle
Overload Protection
Innovative design
Economy Mode
Cons:
A bit heavy
Maintenance issues
Best Quiet Generator For Home Use Buyer's Guide:
After reading the above review, you will see that picking one model isn't that easy. You need to have some specific requirements and considerations that will guide you to choose the best and only the best. Below are some of these considerations that will help you pick the best model to purchase.
Usage
The application of the generator will help you determine the running time, and the wattage required. Depending on how you will be using the home generator, you need to pick a model that will give you the best running time. On the other, you need to determine the required wattage by calculating the wattage required by all the electrical appliances that you will be powering.
A generator comes with a peak wattage and running wattage. Peak wattage is the power required to start up an appliance/equipment, and the running wattage is the operating power. Remember, the peak power is around three times the working power, so be sure to keep that in mind.
Fuel efficiency
When it comes to the best quiet generator for home use, the last thing you expect is a model that consumes a lot of fuel even when it's idle. It's essential that you go for a model that can give the best running power on a single tank of gas.
Noise
A home generator should give you and your neighbors a good quite time while also powering your home. So, you need to pick a model that produces less, noise when running. Pick a model that has less than 60 decibels of sound while operating but remember not to sacrifice the power in an expense of operating noise.
Generator type
Will you go for an Inverter generator or traditional generator? That will highly depend on the amount of power required. Traditional generators usually run on full speed and provide high energy that is ideal for large appliances or multiple appliances that are plugged and operating at a go. The traditional generators produce much noise compared to inverter generators.
On the other hand, an inverter generator uses inverter technology which allows the generator to produce high voltage multi-phase AC power. When the energy is provided, it's in AC which then converted to DC before getting turned back to AC by the inbuilt inverter. That allows the generator to give you clean, stable, consistent power that will be safe for your Digital devices. They are also considered to be super quiet.
Warranty
A machine is always a machine that is subject to any failures and to prevent you from undergoing extra costs of repairs that you had not handed on, and it's vital that you pick a model that comes with a warranty. Use of flimsy materials can also cause an early tear so keep yourself from these unfortunates by getting the best quiet generator model with a warranty. Remember to read the terms and limitation before agreeing to buy.
GLOBO TOOLS OVERVIEW
After reading the above information, you will now agree with me that finding the best quiet generator for home is now a simple process. Now that you have all this information at your fingertips, what are you waiting for? Get out there and find a quite generator that will power your home the way you want to.
Read Also: