There is a lot you can do with a generator, from home backup, tailgating, camping, or even RVing. Today, the generator industry is expanding with every second. Different brands are working their way to ensure you have a powerful generator that doesn't drain everything from your wallet.
Do you know it's possible to find a good working generator under 200? Yes, you might say it's small when it comes to capacity, but some models can offer you enough running power.
In this article, I will go through some of the best generators under 200, which have been used by other consumers and performed quite well. I will also give you a list of aspects to use to ensure that you have picked the best generator under 200 ideal for your needs. So, let's get started.
Top 6 Best Generators under 200 in 2020
Here is a list of the top 6 best generators under $200, which have been positively praised by their consumers.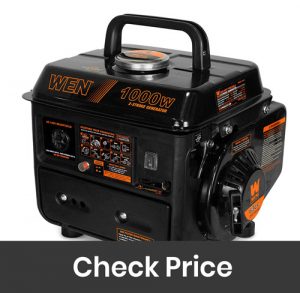 We start with the lightweight and portable Wen 56105 generator. The generator can be used to run residential power tools and also provide portable power for camping and tailgating. What's more, with its 1000 surge watts and 900 running watts, it's a generator that can run a couple of light appliances and lights in case of a blackout.
Another thing, the generator runs off of an oil plus gasoline mixture, allowing you to avoid the annoying oil change routine. It's also best to mention that its CARB and EPA III compliant 63cc engine will give you 5-hours of run time at half load.
Pros:
Compact and lightweight design
Onboard portability handle
EPA III and CARB-compliant
Powerful 63cc engine
Limited Maintenance
Cons:
Fairly loud
Weak recoil components
My next model for you is the robust Pulsar G2319N, a portable, gas-powered inverter generator. It comes in a compact, user-friendly, and ultra-portable design, allowing you to take it where you need power.
The generator runs on a super quiet single-cylinder OHV Engine enabling it to produce a massive 2300 peak and 1800 running power. It's a model I'm sure you will love if you're a camper, tailgater or if you're searching for outdoor or entertainment power.
Its dual 120-volt outlets, a direct connect USB port, and a 12-volt 'cigarette' outlet are entirely safe for a straightforward plugin. I was impressed by the utilization of quiet inverter technology and the parallel capability in this compact system.
Pros:
Stable Sine Wave Technology
Automatic Voltage Regulator
Compact Suitcase Design
Super Quiet Operation
Low Oil Shut-Off
Recoil Start
Cons:
No fuel shut-off
The oil change can be messy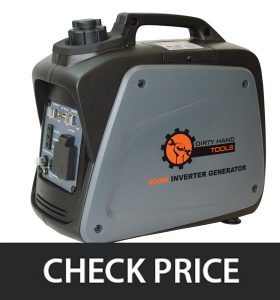 Thirdly, I have the Dirty Hand Tools inverter generator with 700 running watts and 800 surge watts. It's a powerful model powered by a reliable 40cc engine that is quite fuel-efficient. It is superior when it comes to fuel efficiency as it can run for 7-hours on a 50 percent load on a single tank.
It's easy to use recoil start, and the low oil shutoff sensor protects its motor from damage. In addition to its one 120-volt outlet, the generator is also fitted with a 12-volt DC receptacle and a direct USB power port for much more convenience. I also loved its four stabilizing pads as they keep the unit balanced with minimal movements.
Pros:
Powerful, reliable 40cc Engine
Economy control switch
Portable Power Supply
Super Quiet operation
UL circuit protection
EPA/CARB Certified
7 Hour Run Time
Cons:
It is fairly loud
Small fuel tank
Sportsman GEN2000 is another reliable, efficient, and robust generator under 200 that you will adore. As a gas-powered generator, it delivers 1400 running watts and 2000 starting watts. Its sturdy construction gives a superior structure providing with long life span.
The generator is ideal for running common light household appliances and also power tools. It's also a portable generator that you can take with you while camping, tailgating, or when having an outdoor party.
It runs off a reliable and robust 87cc EPA approved OHV engine that comes with a low-oil shutdown sensor. On top of that, this model can provide you with a whopping 9-hours run time at half-load.
Pros:
Portable, lightweight design
Powerful 87cc OHV engine
Convenient Recoil Start
Low oil shutdown
9 hours run-time
EPA approved
This next best generator under 200 is a compact camping generator designed to provide you with clean power, The VETOMILE Portable Power station. It does come as a rechargeable generator fitted with a durable and reliable Lithium battery.
As a power supply pack for your next CPAP, outdoor camping, or backup, the generator has three rechargeable means. You can recharge the unit using a solar panel, through the power socket, or even using your car's 'cigarette' port.
The fact that it produces pure sine wave, this unit is compatible with lots of devices for charging. Another thing, it's durable and ultra-safe; the generator is made from sturdy ABS and PC material, which are fireproof and also chock-resistant.
Pros:
High-quality lithium-ion battery
High stability and long life span
DURABLE ABS and PC material
Fireproof and shock-resistant
3-WAY RECHARGING
Pure Sine Wave
Cons:
Cannot be charged and used at the same time
Here is another portable power station ideal for travel camping, outdoor activities, and emergencies, The FLashFish Solar Generator. One thing I love most about this unit is the fact that it has a full application.
It comes with two 110-volt outlets, three USB ports, and two DC ports allowing you to charge and run several applications. With a capacity of 4500mAh, the generator can provide you with 150 watts AC continuous power and also 200 Watt AC peak power.
I was also impressed by the compact and lightweight design employed here, which makes this generator more convenient to carry outdoors. Similar to my previous model, this, too, has three charging means; through the wall outlet, a solar panel, and also the 12-volt car outlet.
Pros:
Wide Application
Compact and lightweight design
Ultra-Safety Performance
3-Ways recharging modes
Simple to use
Cons:
Cannot be charged and used at the same time
Best Generator Under 200 Dollars [Buying Guide]
Buying a good generator under 200 comes with a lot of challenges. Some models are cheaply made to cater to the pricing while others are low powered to cover the price. That means you got to be careful while making your selection. Even though I have selected the top best model for you, you still need to consider some aspects to ensure you buy the right model. Here they are:
(1) Power Requirement
The first thing you need to figure out is where or how do you want to use the generator. Generators under 200 are low powered, meaning they aren't enough to run your home furnace but can run a couple of other appliances. If you're planning to buy an emergency unit for your home lights, they need to do the right power estimation.
Check on the power rating of all the small appliances you want to run and list them down. Add all up, and you will have the running power required. Your generator should provide you with over that values for the running watts. The starting watts should almost double that value.
(2) Generator Type
When it comes to the best generator under 200, there majorly three types of generators; that's the gas-powered, solar/rechargeable generator and oil-gas-powered generator. The gas-powered generators are the most powerful, followed by the low-maintenance oil/gas-powered generators and, lastly, the rechargeable generator. The pricing also reduces with their powerfulness.
If you need a portable completely silent model, then the rechargeable generator is the best. However, remember its low powered, so it might charge your devices and give you light only. The other two models are also portable but a bit noisy. However, they offer some ideal power enough to run some home appliances like the toaster.
(3) Construction Quality
The build and construction of the generator is a crucial factor that you might want never to forget to check. Here, you need to consider the overall structure as well as the components use. The materials need to be high-quality and rust/corrosion resistant. The generator should be able to last long and at least allow you to exhaust your investment.
(4) Portability
Yes, generators under 200 are small, but that doesn't mean they are always portable. If you need something for outdoor activities like camping and tailgating, then you might want to consider a model with a lightweight, compact design. You need a generator with a handle, and if somehow heavy, it needs to have some wheels.
(5) Outlets
Now that you have checked every other thing, it's time you check on the outlets provided. For an outside generator, you need something that can charge your devices directly. That calls for charging-ready USB ports. Also, having at least one DC and one AC outlet would be ideal.
Frequently Asked Question (FAQs)
What gasoline grade should I use to run my gas-powered generator?
The recommended is the regular unleaded gas that contains at least 85 Octane.
Can I use my rechargeable power station while it recharges?
No! A power station is built in such a way that, when it's recharging, the power outlets shut off and wait till it's full or unplugged. It won't allow you to drain power while it feeds itself.
GLOBO TOOLS OVERVIEW:
With all the above info, I think you can now smile knowing the hassle of finding the best generator under 200 is over. Everything I have provided in this guide is centered on helping you; absolutely nothing should hinder you from buying the ideal generator for your needs. Good Luck!
Related Buyer's Guides and Globo Tools  Review Lists: