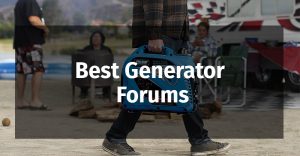 The applications of generators are plenty. You can use them as a backup power source or a consistent power source for your RV. You can even use them at campsites as well as when you're living off the grid. If you're new to generators, it can be a bit difficult to understand how you can best use them.
In such a case, it is a good idea to turn towards the Internet. The question which remains is, which forums or communities you should join to solve this problem.
Best Generator Forums For 2019
Power Equipment Generator

International Generator Technical

My Tractor Generator

Terry Love Electrical

Electrician Talk

Generators & Electric Motors

Electricians

Electrical Sub-reddit

Ultimate Handyman Electric

Electrical Engineering
Instead of looking it up on the search engine, it is a good idea to ask someone who has a proper experience. Forums can help you do so. I will today share the top 10 generator forums which you can join to discuss these generators before buying them.
The forum which I am highlighting now has a separate section for generators. It means that whether you're looking to get instructions to operate the generator or looking to choose the best one, you will easily find guidance. The forum is active and covers a wide variety of generators.
That is why; chances are the information that you need is readily available on the forum. Also, if you want, you can easily open a thread regarding the topic that you want to discover, and you will be able to get information in a short time. It is one of the very few forums that have a dedicated subforum for generators.
The next forum is the International generator community. The interaction options might be limited, but you can easily monitor the various forum topics. The resources on the website are plenty, which means that you can access information about numerous generators. When it comes to a reliable source of information, it is one of the best generator forums to browse through.
While this website relates more to tractors but it has a dedicated generator subforum. You can easily discuss a variety of generator-related questions. You can go through older threads to read more about the personal experiences of people who have used generators.
It will make it easy for you to choose the right generator. The forum specializes in industrial generators and heavy-duty generators, and most of the interactions are on those lines. That is why, if you're looking for a website or forum to gain more insights about heavy-duty and industrial generators, you can browse this forum.
The electrical forum on my list now consists of various topics, including generators. So, if you're looking for the best ways to install a generator or just trying to choose one, you can interact with the members of this forum to gain more insights.
It also has a blog, which means that you can find more information about the generators and various electrical components. When you're looking for a forum that provides you holistic electrical knowledge including that of generators, you cannot miss this one.
The website on this list is a holistic electrical forum. You can gain information, not just about the generators but a variety of other circuits and electrical gadgets. That is why, when you're looking for a forum that can provide you with knowledge on every topic ranging.
It is the one which you should refer to since; it covers everything from generators to solar lights to fire suppression systems. The forum is active, so you can almost always find someone whom you can interact with on the forum.
With close to 100,000 members, this forum caters to generators, engines, and older tractors. There is a subforum for generators which covers the generators based on their brand as well as their application.
With such a large concentration of members, whether you're looking for a first-hand generator review or information to install it, you will find all of this on this forum quite easily. Additionally, since it has subforums dedicated to tractors and engine's as well, you can understand how to use the generators for a variety of different applications.
The forum which I am highlighting now has over 1 million members. It covers and caters to all kinds of electrical topics. You will find General chat about electrical concepts as well as specific ones like green energy, hydroelectric power, DIY projects, lighting forum and electrical appliances including generators.
The main advantage is that it has a large number of members. So, you can easily find someone who knows the topics that you want to discuss. Hence; you cannot ignore this one when you're looking for the best generator forums.
The electrical subreddit has over 7000 members. You can discuss anything, including generators. With a large active member base, you can quickly get information about the topics you want. Moreover, you will not have to worry about spam as well, since; it is a moderated subreddit.
Chances are, the information which you need might already be present in some other topic. You can find that information using the search bar. It can help you in gaining answers in real-time rather than having to wait for someone to reply. That is why; it is such a good option.
The Ultimate Handyman Electric Forum caters to the UK audience. It consists of an electric subforum in which you can discuss not only lighting, generators but a variety of other electrical fixtures. It has an active member base; that is why you will be able to find reviews, instructions, and troubleshooting tips when it comes to generators. Thus, when you're looking for an electric forum to discuss generators and get all your queries solved; it doesn't get any better than this one.
The last community on this list is an electrical engineering Forum. The advantage of this forum is that if you want to go into the nitty-gritty of generators, there are plenty of people who will be more than happy to accompany you in the discussion. If you're looking for much more than just checking out the reviews of the generators, this is the forum which you should not miss out. The navigation and the interface are easy to understand, so, finding information on the forum is quite easy.
GLOBO TOOLS OVERVIEW:
So, if you're searching for the best generator forums, my list above will certainly help you out. This list aims to help you find communities where you can discuss generators and solve your doubts. Any forum from the above list can certainly help you in doing so. The next time around, you're looking for some information, instead of visiting different websites to find it, join any of these forums and ask your questions there.