Live sound is a set up that involves connecting multiple systems concurrently to create a loud, hearable, and clear sound. It also requires a reliable, efficient, and robust power source, which you can get from a generator. The best generator for live sound will provide you with enough energy to run your systems and also keep the energy-demanding lights on too. However, it's not easy to buy a generator that won't disappoint.
Luckily, I've decided to offer my help using my expertise and experience. I have done research where I selected the top-performing, durable, and efficient generators that have been used for live sound. I also went through some customer reviews to ascertain I'm giving you the best products. I've also given you a buying guide to make the process smooth and faster. Let's get started.
Top 6 Best Generators for Live Sound in 2021
When you have a shortlist of options, decision making becomes more comfortable. That's why I've given you this shortlist of the top-performing, highly rated, and super-efficient generators ideal for use with live sound.
My first best generator for live sound is the robust and reliable Westinghouse WGen7500 generator. It's designed to give you quiet portable power and much more. It comes as a perfect movable power solution fitted with mobility kit, no-flat tires, and a foldaway handle. On top of that, it offers a variety of innovative premium features at an exceptional value. The 7500 Rated Watts and 9500 Peak Watts are enough to power a couple of sound systems and lights at a go.
The Westinghouse WGen7500 does come with an intuitive control panel fitted with conveniently located controls to allow you to have a convenient and comfortable time while operating it. It also comes with a built-in low oil sensor ideal for protecting the engine from damage in case the oil goes below the required level. The data center is here to allow you to monitor the voltage, amps, and run time while you run your live sound systems.
Pros:
Powerful 420 cc Westinghouse OHV Engine
Convenient Remote Start Key Fob
EPA, CARB, and CSA Compliant
Automatic Low Oil Shutdown
Minimal Assembly Required
Digital Hour Meter
Pulse-Flo Muffler
Plug-and-Play
My Second generator is the Champion 75531i, which is a powerful generator designed to provides 3100 starting watts and 2800 running watts. Its run-time is 8 hours at a half-full load, which I would say is impressive for live sound. The fact that it's an inverter generator provides clean power and comes with multiple outlets, makes it among the best generators you can use.
According to customer reviews, the generator operates at low noise levels. It also has a convenient quick touch panel put in place to make it easy for you to access all the controls in a single spot. What's more, it does also have the smart economy mode designed to reduce the electrical load, offer quieter operation, provide better fuel efficiency, and also boost the engine life. According to some real users, it is very suitable for DJ equipment.
Pros:
Built-in carrying handles and never-flat tires
Inverter Technology Ultra-Quiet Operation
Robust, reliable 171cc Champion engine
EPA certified and CARB compliant
Low oil shut-off sensor
Cold Start Technology
Cons:
No gas drain
No Hour meter
Are you not yet pleased with the first two? Here is another best generator for live sound, the robust WEN 56682. The generator is high power rated to give you enough ability to run your live sound systems and also the energy-demanding lights for your event. It runs on a robust and reliable 13HP 390cc OHV engine that allows it to provide 5500 running watts and 7000 surge watts.
Furthermore, WEN 56682 comes with a convenient ignition with a keyless electric start backed up by an easy recoil starter for easy and convenient starting. What's more, it's fitted with a wheel kit, and the foldaway handles, ensuring you get the power wherever the live sound event takes you. It does also come with a digital readout, which will help you manage the oil changes and even the maintenance schedule.
Pros:
Low-oil shutdown and overload protection
Wheel kit and foldable Handle Kit
Automatic Voltage Regulator
Keyless Electric Start
Digital Hour Counter
Low-Oil Shutdown
2-Year Warranty
Cons:
Slightly noisy
No GFCI protection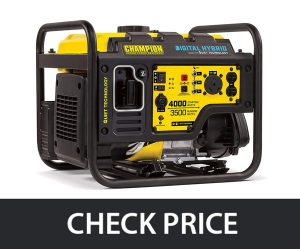 Next is the Champion 100302, which is an RV-ready, portable generator using the quiet inverter technology. It will provide you with a clean and smooth operation allowing your sound system to be loud enough and transparent. As a Champion DH series, it comes with an Advanced Open Frame design. That will enable it to creates a 50 percent quieter and 20 percent lighter model that the traditional Champion 3500w model.
The Champion 100302 also has an economy mode which you can use to lower the electrical load, reducing the operation noise and also boost the fuel efficiency. I loved the fact that it provides clean energy, which would be great for your sensitive sound systems and other electronics. If you travel using your RV, it comes RV-ready, all you need is connect it to your RV, and you're good to enjoy your mobile home.
Pros:
Quiet Technology and Extended Run Time
Advanced Open Frame Inverter Design
All controls on one panel
Extended Run Time
Fully Assembled
Economy Mode
Clean Power
Cons:
No wheel kit
No GFCI Outlets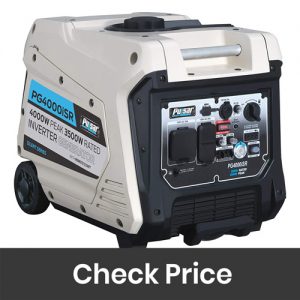 Next up is the Pulsar PG4000iSR that provides quiet and portable power. With the need for reliable live sound power, this generator gives you whopping 4000 peak watts and 3500 running watts enough to run a couple of systems together. It's capable of running for up to 15 hours at half load on its 3.4 gallons fuel tank.
As a portable generator model, it comes with a compact, lightweight designed featuring an extended handle and flat-free tires for secure handling and mobility. On top of that, this Pulsar PG4000iSR generator uses stable sine wave technology, allowing it to provide pure, clean electrical power ideal for powering your electrical sound systems. The generator is CARB, CSA, and EPA approve, meaning you can use it wherever your live event takes you.
Pros:
Easy handling and storage capability
Convenient wireless remote start
Economical and reliable power
Stable sine WAVE Technology
Carb, EPA, & CSA approved
Virtually silent operation
Parallel capability
My list ends with the giant Westinghouse iGen4500 portable generator. It's a unit that will bring you portable, reliable, and clean energy enough to run a variety of live sound systems. As a Lightweight and Powerful system, the generator provides 3700 Rated Watts and 4500 Peak Watts clean power with less than three percent THD.
Besides that, the unit uses a remote, electric, and recoil start allowing you to have the most comfortable time beginning this unit. I would also like to mention something that caught my attention, the LED data center. It features a rotating digital display that shows fuel level, remaining run time, lifetime hours, voltage output, and power output. It is an addition that will help you plan your program well.
Pros:
Convenient remote start and electric start
Lightweight and Powerful power
Ultimate hassle-free portability
Quiet Operation
RV Ready
Cons:
Expensive
Limited instructions
Best Generator for Live Sound Buyer's Guide:
Now that you're familiar with the best generators ideal for live sound, it's time I get to tell you the few things to look at while making your selection. Here are the top factors to consider if you want to buy the right generator for your live sound systems.
Power output
You need to estimate the power the system requires to run concurrently. For you to do that, you need to list all your live sound systems, appliances, and electronics. Once you've done that, calculate the total power needed by adding up their wattage rating. If the appliance doesn't have the watts rating, then you will have to calculate using this formula:
Watts = volts x amps
Remember to consider both starting and running wattage for the motor-driven appliances like the amplifier or fan. Once you have the total wattage, use that to size the generator. Pick a generator that gives you 20% extra power.
Run Time
A live sound is an event that doesn't go well with power interruptions. That's why you have to make sure you have bought a generator that can give you enough run time. It needs to provide reliable power during the entire performance without needing refilling.
Durability
A generator is an investment that you buy to provide you with power, not for a day buy for years to come. And to ensure you get this right, you need to consider a model that features high-quality materials. A generator with a frame, the frame needs to be of high-quality, rust-resistant metal. The engine should also have some protection to keep it rust and damage-free. If it's an inverter generator, then you need to make sure that the casing is UV-resistant and also hard-break.
Noise
Noise is something we all don't like. It happens that sound systems also need to be loud enough, and that can't happen if they are fighting for the loudness with your generator. That's why I advocate you buy a super-quiet model that gives you some peace of mind while you play your live sound system.
Portability
Live sound at times might be outdoors, and that will require you to move your generator here and there. That calls for an easy-to-move unit, which is lightweight and also compact. That way, it'll be hassle-free to move it out of storage and back. Additionally, with a portable generator, it will be much easier to carry it with you when live sound event demands you move to a new place or city.
Best Generators for Live Sound (FAQs)
Do I need a transfer switch to connect my portable inverter generator to my live sound systems?
You don't unless you will be using it as a backup. When you connect the systems directly to the generator, with no electric line involved, you do not need a transfer switch at all.
Why is an inverter generator the most recommended type for use with live sound?
An inverter generator is lighter, compact, quieter, and more efficient compared to conventional generators. It's designed to produce more electrical energy per a single-engine rotation. It's more reliable and lighter.
GLOBO TOOLS OVERVIEW
There you've it; everything you need to buy the ideal generator for use with your live sound. Everything I have provided here will help you settle on a robust, reliable, and efficient generator. It's up to you now to use the guide to make the best decision. Good Luck!
Related Buyer's Guides and Tools  Review Lists: