Wind energy presents an excellent way to reduce utility bills and access to electricity in remote areas. Additionally, a wind generator provides a power backup strategy needed if there is a power loss.  For you to enjoy these benefits, you do need to have the right battery storage bank.
That means you've to buy the best wind batteries for the wind generator. With the different advancement in this field, wind energy storage batteries have been improved and upgraded to suit every consumer needs.  Here I will give some of the top best batteries ideal for use with wind generators and a buying guide to help you buy the best.
With differences in durability, performance, capacity, discharge rate, and the charging time, and not forgetting the different manufacturers, buying the best battery can be tricky. Here is a list of the top best cells for wind generator available today.
Top 6 Best Batteries for Wind Generators in 2020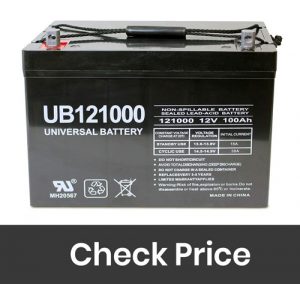 My first best battery for a wind generator is the Universal Power Group AGM battery, which is a high-end deep cycle VRLA battery. It's well suited for various applications ranging from boats, yachts, and home applications.
Additionally, this AGM battery has 100aH power, which is quite impressive and makes sure your battery provide enough power and lasts long. Above that, this battery does feature a low self-charge of around 2% per month.
That means you can leave it charged for a long time without the need for frequent recharging. Since it's an AGM battery, it's chock and vibration proof, no matter the powerfulness of the wave and shock. Besides that, the battery has a spill-proof construction allowing easy mounting on any position.
Pros:
Works in any weather condition
Resists shocks and vibration
Maintenance-free
Shock resistant
Spill-proof
The next model in this list of best batteries for a wind generator is the Vmaxtanks VMaxslr125, which is also a high-quality deep cycle rechargeable battery. It's ideal for use with chargers, PV solar panels, and wind turbines. The battery is designed to provide superior performance and a life-span of 8-10 year in a float mode.
The battery is well-known for its reliability and heavy-duty construction. It's approved for air, surface, and maritime transport. It is built using heavy-duty and high-quality material ideal for increasing its performance and durability.
On top of that, its design is solid enough to make sure the battery withstands even the harsh weather conditions. I was impressed by the low self-discharge rate while lies between 1-2% per month at room temperature. Additionally, this model does feature ultra-low resistance, which makes it 99% efficient.
Pros:
Heavy-duty construction
Low self-discharge rate
Full-sealed construction
Ultra-low resistance
Maintenance-free
The Mighty Max ML100-12, a rechargeable, maintenance-free VRLA battery is my next model. It's also a factory activated AGM/SLA battery with sealed, heavy-duty construction. With this battery, you do not need to add water or fluids; all you need is recharge it.
It comes with an advanced design allowing it to work right out of the box. It's a battery loved by many for its ability to be mounted in any position. Additionally, it does feature a low discharge rate, deep discharge recovery, and extensive operating temperatures.
According to consumers' testimonies, the battery does feature a long maintenance-free service life, which I would say is needed for wind generators. Its ability to offer high-performance in both high and low temperatures also made this battery a favorite to many customers.
Pros:
Shock and vibration resistance
Heavy-duty, calcium-alloy grid
Exceptional performance
Valve regulated design
Wide application
Here is another high-performance AGM battery from VMaxTanks. The SLR125 battery is an AGM deep cycle rechargeable battery ideal for charging with solar, AC, and wind power. The battery offers a perfect emergency backup system. As a 12-Volt VMax battery, it's ideal for supplying 125Ah deep cycle power.
It's also a heavy-duty battery made from military-grade custom made plastics allowing it to withstand extreme weather conditions. Above that, as an AGM battery with 99% combination capabilities, this model is super safer and produces no dangerous gases or fumes.
Its self-discharge rate is meager, allowing it to stay on the shelf without needing frequent recharging. Like all the above models, this battery also features a sealed non-spilling construction which allows an all-position mounting.
Pros:
Weather, Vibrations Heat and resistant
Fast Charge Delivery Capabilities
Electrolyte Suspension System
Custom Military Grade Alloys
Maintenance-free Operation
Maximum Power Density
Low Self Discharge Rate
Next up is the WindyNation BettaMax AGM battery. It's also a right deep cycle battery designed for providing off-grid power. It comes with a sealed and maintenance-free design which is perfect safe-environment use.
As a top-performing deep cycle battery, it's ideal for use in areas where the battery needs recharging for thousands of times. It features heavy-duty plates which allow deep, repetitive discharges and recharging.
Additionally, you should note that its 99.995% pure virgin lead ensures meager discharge rate and allow maximum power storage. According to its manufacturer, its float life is around 10-12 years at the room temperature.
As a constant power provider, this battery can hold a charge for a long time. Its low discharging rate of 2% per month allows you to expend it when not in use.
Pros:
A Sealed, non-spillable construction
Acid proof and shock-resistant
High capacity battery
Long float life-span
Cost-effective
Lastly, we have the fantastic LFP12100 SLA from Weize. It's a 12V 100AH Sealed Lead Acid Battery with AGM Deep Cycle properties. Moreover. It's a high performance, rechargeable, and maintenance-free battery with long service life and a deep discharge recover.
It's fit for solar marine, wind turbine energy storage, trolling motor and more. The Weize battery uses state of the art, heavy-duty, calcium grid. The design ensures it delivers superior performance and has a long service life in either float or cyclic applications.
Furthermore, it uses the AGM technology, which has a valve regulated design. The design allows it to be utilized indoors without leaking and no maintenance, allowing it to offer fantastic performance.
Pros:
Maintenance-Free Operation
Impressive reserve capacity
Ultra-Low Resistance
Leakproof operation
Low Self Discharge
Best Batteries for Wind Generator Buying Guide
Wind generator, as well known is unstable but efficient. Well, for you to ensure you get the ideal power supply you need and keep your battery or batteries in check is by buying the ideal one. To do so, you need to consider the factor I have highlighted here before you make your buying decision.
1) Battery Type
The ideal batteries for wind generator charging are the deep cycle batteries. Why? These batteries use chemical reactions inside them to develop voltage, which is then used to power a load. They're designed for frequent discharge and recharge. It's precisely what you need for the wind generator.
Unlike those conventional car batteries which provide electrical energy in bursts and in a short time, the deep cycle type provides steady power over a long time.
There are two types of deep cycle batteries which you need now to consider. You can either use an Absorbed Glass Mat battery (AGM) or the GEL Cell. The two are highly resistant to deep discharges, and they are fully sealed. They are also maintenance-free, making them suitable for remote areas and safe to handle.
The AGM battery features a special absorbed glass mat designed to wink electrolyte inside between the battery plates. They also contain enough fluid to keep the rug wet for the electrolyte. That means when broken no liquid spills and require zero maintenance.
The GEL cell batteries, on the other hand, contain silica gel where the battery electrolyte suspends in. It's a thick paste which allows the electrons to flow through the plates and cannot spill/leak.
Here consider your budget and preference and the rest of the features.
Amp Hour Rate
While buying the best batteries for wind generators, you have to consider the time it will take the battery to need recharging. If you're looking for long hour power supply or high-end purposes, then I suggest you buy a cell with a high Amp-Hour rating.
Volts
The volt capacity will tell you how much power the battery provides. Similar to the amp-hour rate, you do need a battery with enough energy, especially if you will be using it for the high-end applications. For this type of tasks, you will need a higher volt rating. Since wind is unreliable, I advise you to go with the high volt capacity.
Charge Time
Next, know the time it takes to be fully charged. If you need a frequent or continuous use battery, the best battery is with the lowest charging time. That allows you to use the battery faster when it's down. Check the info on the battery specs before buying.
Size and Weight
It might not be necessary for some consumers, but weight and size is also a factor to consider. That's if you will be moving it now and then. Movability will depend on the overall weight of the battery. A smaller battery will be much easier to move.
Frequently Asked Questions (FAQs)
What's the life expectancy of an AGM battery?
The service life expectancy or life span is between 6-15 years depending on usage and exposure to harsh conditions.
Can I use my AGM battery with a solar panel?
Yes, if it's designed to work with a solar charging system. You have to make sure of that before you connect it.
GLOBO TOOLS OVERVIEW:
Each battery in this list is high-capacity, top-performing, and ideal for charging using a wind generator. I have carefully considered every aspect required by a wind generator battery.
So, nothing, and I mean nothing can stop you from buying the best battery for your wind turbine. If still having some problem selecting a model, pick any battery and proceed to purchase. Good Luck!
Related Buyer's Guides and Globo Tools  Review Lists: