A wind turbine alternator, an electrical machine, is a device designed to allow conversion of mechanical energy to electrical energy. When the wind turbines rotate, the mechanical energy is generated, which is then passed to the alternator for the conversion.
The small device is principally a multi-phase AC synchronous machine that delivers balanced AC voltages and currents. With that in mind, you must buy the ideal alternator for you to get the best result and perfect efficiency.
The power output and reliability of your wind turbine will highly depend on the performance of your alternator. My goal today is to help you shorten your search by giving you the top best alternators ideal for use with a wind turbine. Let's get to it.
Top 6 Best Alternator For Wind Turbine in 2021
Many people go through a very long process of trying to create a list of ideal wind turbine alternators and select one to buy. Imagine having the products at your fingertips? Here is a list of the top best alternators for wind turbine available in 2019.
WindGenKits FP-640 PMA is my first best alternator for a wind turbine. It's a powerful and versatile PMA ideal for charging 12, 24 and 48-volt applications.
As a high-quality, versatile alternator it does feature a rotor, stator, a custom hub assembly and a mounting bracket. It's also ideal for building a horizontal axis or vertical axis wind turbine.
Its universal mounting bracket is designed for this PMA in several applications. Apart from being a durable magnetic alternator, its high efficiency is driven from the radial-designed iron core stator featuring a close air gap.
Pros:
Powerful and versatile PMA
Standard mounting bracket
High-efficiency radial design
Custom hub assembly
Iron core stator
A close air gap
Cons:
Not waterproof; require covering
In the second place is yet another well-constructed permanent magnet generator alternator but this time from Marsrock. It's a vertical/horizontal AC alternator ideal for up to 100W wind turbine and 24v applications.
Since it uses the best NdFeb Permanent Magnet together with a high-grade pure copper winding, this alternator is for sure a product for reliable power stably and high efficiency.
I was impressed to learn that it features specially-designed rotator and rotor for a low resistance moment during start-up, which is ideal at cooling.
Besides that, this model is gearless and uses a direct drive making it easy and safe for operation and maintenance. The alternator casing is made from a lightweight yet robust aluminum alloy case which is of durability, rustproof and corrosion-resistant.
Pros:
Specially-designed rotator and rotor
High-grade pure copper winding
Low resistance start-up moment
Die-cast aluminum alloy case
NdFeB Permanent Magnet
Easy and safe operating
Freedom II PMG from Missouri Wind and Solar is my next model in this list. It's a 2018 release packed with power generation innovation. With up to 2800watts output, this motor uses the double rotor and double stator design for high efficiency and dependability.
It also comes with a keyed shaft and a hub stabilizer not forgetting the self-tightening cam-lock washer which prevents the blades from spinning on the axis ever.
Additionally, this Freedom 11 PMG Alternator brings a smoother and easier rotation. Its internal parts are designed using new technology to give the wind turbine an easier start-up and create more power. The model also comes with a thin, lightweight yet protective aluminum housing and a pressed-in stator which is ideal for proper alignment and durability.
Pros:
High-grade electrical steel
No cogging, easy to turn
Heavy-duty rectifiers
Hub spacer stabilizer
Skewed stator core
Bridge rectifiers
Cons:
Designed for vertical wind turbines only
Next up is another high-efficiency PMG alternator. The Inova Wind PMG Alternator uses rare earth neodymium magnets and powerful hand-wound stator coils, all designed for high-efficiency wind power efficiency.
It's ideal for 12-volt battery charging. Additionally, this alternator model is Bi-rotational, meaning it produces power in both directions. Furthermore, it features anti-cogging innovation for continuous and reliable performance.
Its easy turning allows the wind turbine to require low start-up speeds. It's an ideal alternator for the small wind start-up. It's proudly hand-built design ensures it's free from machine errors. It's built, and quality checked in the USA to ensure it performs as required.
Pros:
Rare earth neodymium magnet rotor
Stainless steel shaft compatible
Heavy-duty copper winding
Built-in DC bridge rectifier
Polished aluminum case
The next best alternator for a wind turbine is another MarsRock model that uses permanent magnet generator AC. It's made to fit most 24-volt vertical wind turbine generators. The fact that this model uses the NdFeB permanent magnets is a clear indication that it's a high-efficiency alternator.
On top of this, it does use high-grade copper winding, which ensures it offers desired power stably and high efficiency. Additionally, it comes with a specially-designed rotator and rotor ideal for low-speed start-ups and low resistance, meaning it delivers smooth rotations.
The die-cast aluminum alloy casing keeps the interior parts safe while also ensuring this alternator is exceptionally durable. The construction also keeps it rust-free and corrosion-resistant.
Pros:
High-grade electrical steel
High-efficiency radial design
Custom hub assembly
Heavy-duty rectifiers
Skewed stator core
Cons:
Designed for vertical wind turbines only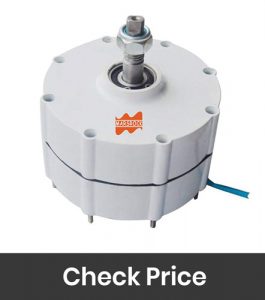 My list ends with yet another high-performance alternator from MarsRock. As a 500W 900r/m permanent magnet generator alternator it's ideal for 12v, 24v, and 48v outputs. It's also a bi-rotational model that generates energy in both directions.
The best part is, it uses the best NdFeB Permanent Magnets together with high-grade pure copper winding guaranteeing power stably and high efficiency. Additionally, the alternator comes with a specially-designed rotator and rotor ideal for low resistance and smooth start-up even in the low-speed wind.
The design is also ideal for an excellent cooling of the alternator. It comes with a high-quality die-cast aluminum alloy case which keeps it rust-free and corrosion-resistant. Since it's a direct-drive, gearless alternator that uses the low rev rare earth permanent magnets, it's quite safe and easy to operate and maintain.
Pros:
Operating and maintenance safe
High-efficiency rotor and rotator
High-grade copper winding
NdFeB Permanent Magnet
Die casting aluminum case
Cons:
Designed for vertical wind turbines only
Best Alternator for Wind Turbine Reviews Buying Guide:
You don't have to be an engineer for you to buy the right alternator for your wind turbine. With the proper factors and consideration, you can buy the best alternator for your needs. Here is a list of the things you need to consider while purchasing the best alternator for a wind turbine.
Type of wind turbine
Before anything, you do need to know the type of wind turbine you have, or you intend to build. It can be vertical or horizontal. An alternator can be designed to work with either or both. That is why you need to be sure before purchase.
Build Quality and durability
Next, the best alternators for a wind turbine are typically constructed from durable, high-quality materials like aluminum alloy and copper wounding. The articles are preferred for their long-lasting durability, efficiency, and weather-resistant qualities.
Also, the model does need to feature a well-designed rotor and rotator for a smooth and low-speed start-up. It would also be great if your alternator a heavy-duty, durable casing which is corrosion resistant and rustproof.
Magnets
For a maximized power output and reliable performance, you do need to make sure that the alternator utilizes the best magnets. Mostly, the best alternator for wind turbine uses the permanent magnet generator, PMG. There various types of these magnets like NdFeB which are ideal for high performance and power generation efficiency.
Installation
While making your choices, remember to check on how easy it's to install/mount the alternator. Does it come with the necessary installation instruction and accessories? Buy a model that comes with mounting brackets, washers, and DIY equipment for an easy installation. The mounting instructions should be easy to understand and straightforward.
Best Alternator for Wind Turbine (FAQs)
Are all Permanent Magnet Alternators Bi-rotational?
Yes, the wind is bi-rotational, and that means the alternator needs to rotate on both directions for the best wind generation output. All PMAs and PMGs are designed to be bi-rotational to maximize the output.
Is a permanent magnet alternator self-running?
No! It relies on wind turbine rotational power.
GLOBO TOOLS OVERVIEW
Give yourself the chance to get high power output by buying the ideal wind turbine alternator. With the best model, the wind turbine will have the best smooth running with minimal maintenance required. So, I advise you to read all the information above, and your best alternator for wind turbine purchase will be a huge success.
Related Buyer's Guides Review Lists: